Chasten Buttigieg–the husband of Pete Buttigieg, who is currently serving as United States Secretary of Transportation, has no time for homophobic trolls.

Chasten welcomed 2022 by posting an Instagram photo of him and Pete holding their twin babies, Penelope and Joseph.
"2021 brought with it many challenges, but it also gave us a lot to be grateful for," wrote Chasten in the photo caption, adding, "#HappyNewYear, friends. Here's to a peaceful and joyful 2022!"
People were moved by the photo taken inside the White House, with many of the comments hinting it was a portrait of things to come with the Buttigieg family in their "someday home."
Among the positive comments in the thread, however, was a homophobic troll who shamed the Buttigiegs with an LGBTQ+ slur for being parents.
According to a screenshot Chasten posted on his Instagram Story, the troll was an individual who went by the name of Andre Kravchenko, who wrote:

"Someone gave these qu**rs kids??? Holy ****."
Chasten posted the screenshot along with his response calling out Kravchenko, which read:
"In the year 2022, you'd think these people would be wise enough to post their homophobia from an alt account, not one easily connected to their job."
He tagged Kravchenko's employer, American Homes 4 Rent–a Calabasas, California-based real estate investment trust that invests in single-family rental homes.
According to their website, the company purports to champion "sustainability; diversity, equity, and inclusion."

Chasten wrote:
"Rather embarrassing for @AmericanHomes4Rent, a company that claims to be an equal housing provider and one that's 'building a culture of inclusion and belonging.'
"I worry for your tenants."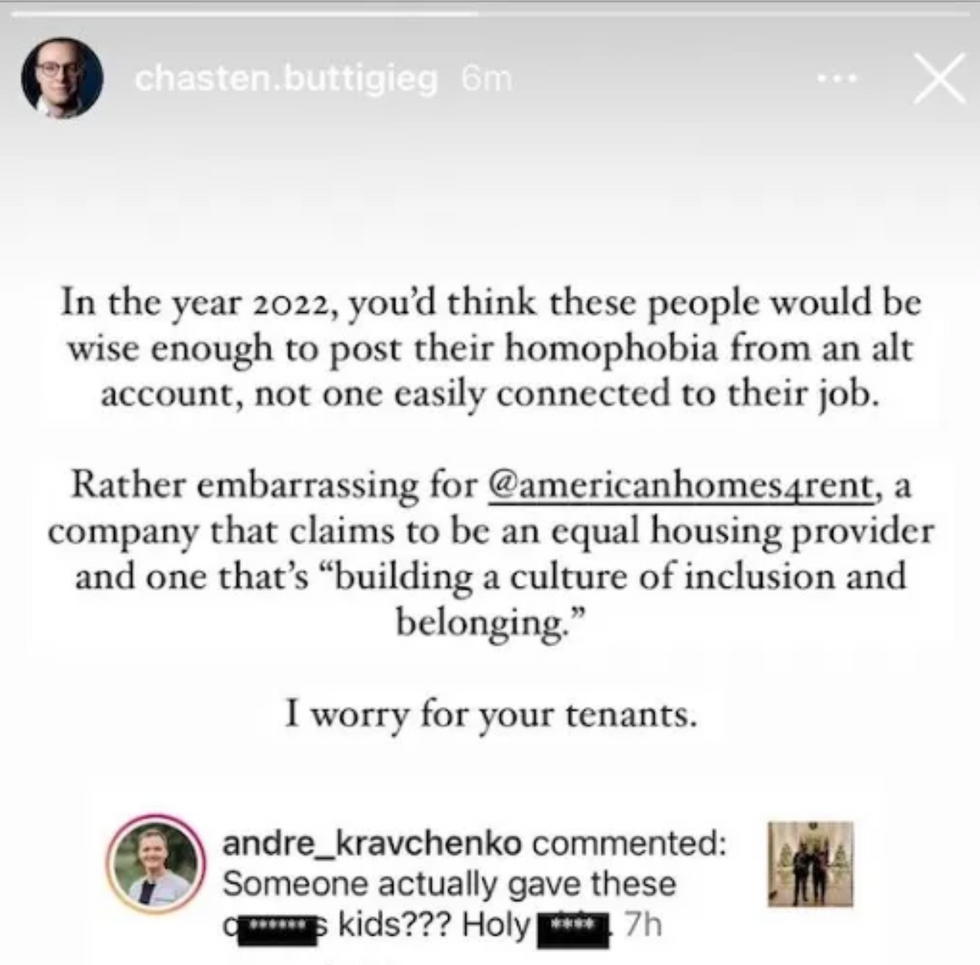 @chasten.buttigieg/Instagram
Chasten's post sparked a barrage of comments slamming Kravchenko's homophobia on the American Homes 4 Rent Instagram feed.
Kravchenko's account has since been taken down.
Skyline Properties, another company Kravchenko worked for as a licensed broker, wrote a comment in response.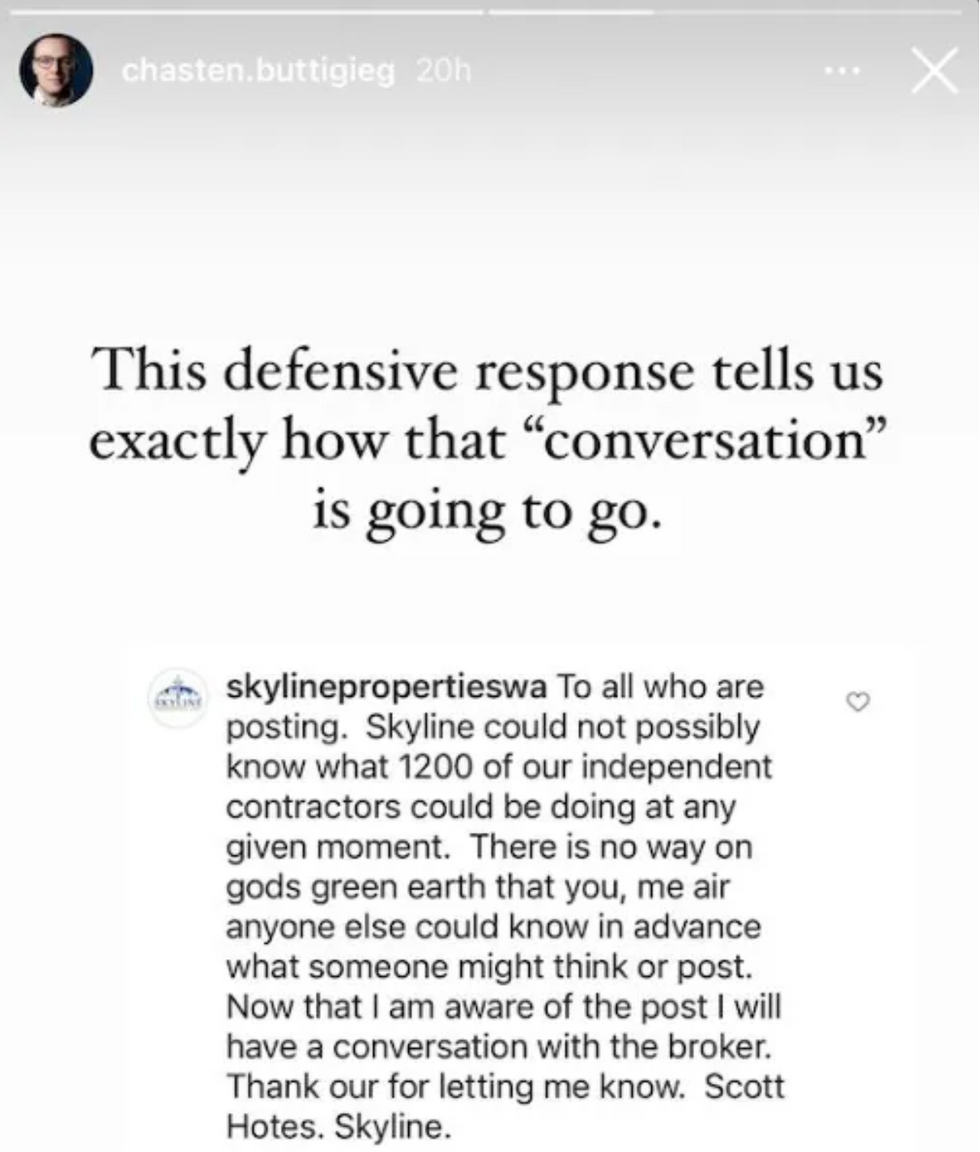 @chasten.buttigieg/Instagram
In response to the controversy, the Seattle-based company wrote:

"To all who are posting, Skyline could not possibly know what 1,200 of our independent contractors could be doing at any given moment."
"There is no way on gods [sic] green earth that you, me air [sic] anyone else could know in advance what someone might think or post. Now that I am aware of the post I will have a conversation with the broker."
"Thank our [sic] for letting me know. Scott Hotes. Skyline."
Chasten's response indicated he wasn't going to be holding his breath.
"This defensive response tells us exactly how that 'conversation' is going to go," he wrote.
Whether or not it was an effort to save face and prevent a further crisis, Skyline Properties responded with an announcement saying Kravchenko was fired after the company claimed they spent "time to properly review" his comments.
The announcement was followed by an apology toward the Buttigiegs and to the LGBTQ+ community "for any harm that came from the bigotry of this individual."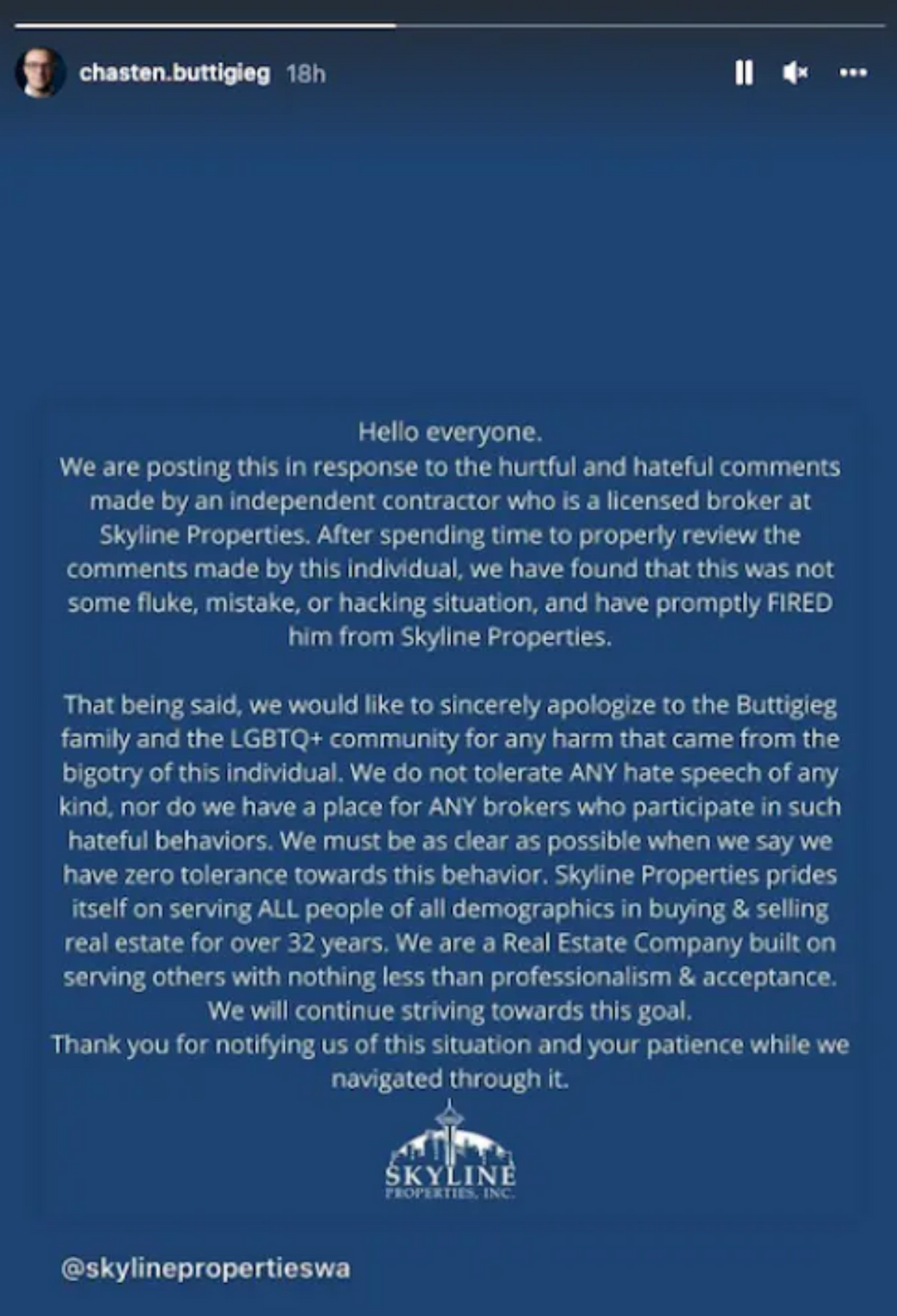 @chasten.buttigieg/Instagram
As for American Homes 4 Rent, they did respond to social media complaints against Kravchenko and claimed he had not been working for the company for over five years.
They issued the following statement.
"We were saddened to learn that a former employee—or someone using their account—recently posted an offensive comment aimed at @ chasten.buttigieg and @pete.buttigieg."
"We want to clarify that, despite this individual's outdated LinkedIn account information, they have not been employed by our company for 5+ years, and further do not represent our beliefs and policies."
"We do not approve of nor do we condone discriminatory language or behavior."
Pete Buttigieg made history as the first openly gay presidential cabinet member to be confirmed by the Senate. He was also a Democratic candidate in the 2020 presidential election and was the Mayor of South Bend, Indiana.
In August, he tweeted about wanting to start a family together with Chasten, whom he married in 2018.

"For some time, Chasten and I have wanted to grow our family. We're overjoyed to share that we've become parents!"
"The process isn't done yet and we're thankful for the love, support, and respect for our privacy that has been offered to us. We can't wait to share more soon."
On September 4, 2021, the couple introduced their twin babies with a black-and-white photo on social media of them each cradling a newborn in a hospital bed.
"Chasten and I are beyond thankful for all the kind wishes since first sharing the news that we're becoming parents," wrote Pete.
"We are delighted to welcome Penelope Rose and Joseph August Buttigieg to our family."