Former President Donald Trump lashed out at Arizona Republican House Speaker Rusty Bowers after Bowers said Trump has "no idea what courage is" and referred to him as a "demagogue" during an interview with ABC News.

Bowers recently testified to the House Select Committee tasked with investigating the January 6 insurrection about Trump's attempts to pressure him into overturning his state's votes for Democrat Joe Biden.
An embittered Trump later responded to Bowers with a childish clapback, posting on his struggling Truth Social platform the name "Rusty" is appropriate "because he is Rusty, just like steel gets rusty and weak."
Trump called Bowers "absolutely terrible" and said he is "wrong on everything" affecting Arizona "including your horrible Open Border and pathetic election 'counting'."
You can see the post here: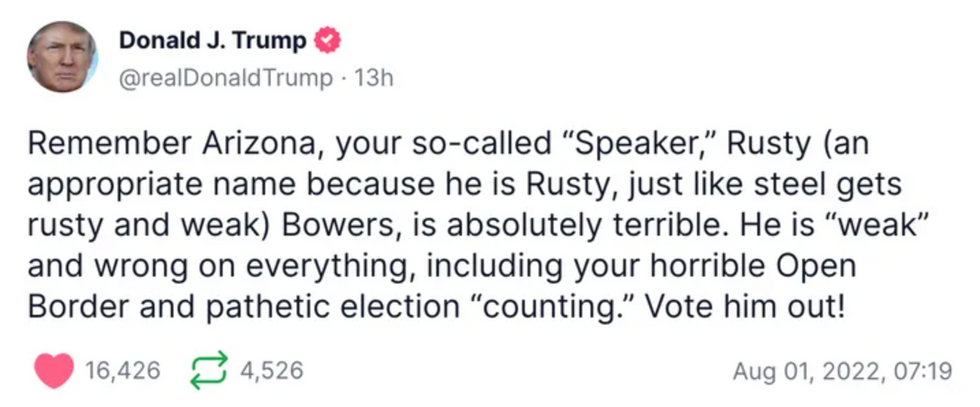 @realDonaldTrump/Truth Social
Bowers had once supported Trump but could not in good conscience continue to back him after Trump attempted to overturn the results of the 2020 general election.
Trump has continued to falsely assert he won over Biden despite never providing any credible evidence, instead citing yard signs and crowd size during the height of the pandemic as "proof."
The impact of Trump's lie was so great it spurred a White nationalist lead mob of his supporters to attack the United States Capitol on January 6, 2021, on the false premise the election had been stolen. The violence that erupted that day left at least five people dead and resulted in over 100 injuries to law enforcement as well as millions of dollars in damages.
Bowers said he would "never vote for Trump again."
That declaration has garnered him praise despite Trump's childish attack.
Republican backlash to Bowers has been swift given that he just lost the Republican primary for an open state Senate seat in his state.
Bowers lost to former state Senator David Farnsworth, who had earned Trump's endorsement.
After endorsing Farnsworth,Trump described Bowers as "a RINO coward who participated against the Republican Party in the totally partisan unselect committee of political thugs and hacks the other day and disgraced himself, and he disgraced the state of Arizona."