Pop singer Sabrina Carpenter issued a heartfelt apology after her concert in Portland, Oregon was canceled at the last minute due to a bomb threat.
The "Can't Blame a Girl for Trying"' singer started out as an actress in TV shows like the Disney Channel's Girl Meets World and in Netflix films like Tall Girl and Work It.

A TikTok video posted by concertgoer @itsriogrande showed an announcer appearing on stage nearly an hour before Carpenter was scheduled to perform following the opening act and breaking the news to the crowd.
Confused and disappointed fans were heard booing after being told:
"We apologize for the delay, but due to unforeseen circumstances Sabrina will not be able to perform tonight."
You can see a video clip here.
On Monday, the Portland Police Bureau revealed in a Rolling Stone interview what the "credible security threat" was.

The bureau said that the Crystal Ballroom–the location where theconcert was scheduled to take place prior to moving to the Keller Auditorium–had received:
"a phone call from an anonymous person claiming they were going to blow up the venue."
Immediately following news of the cancellation, Carpenter took to her socials and expressed her regret for the inconvenience.
"I can't tell you how much it breaks my heart, this is the last thing I wanted to do but due to unforeseen circumstances we will not be able to perform tonight."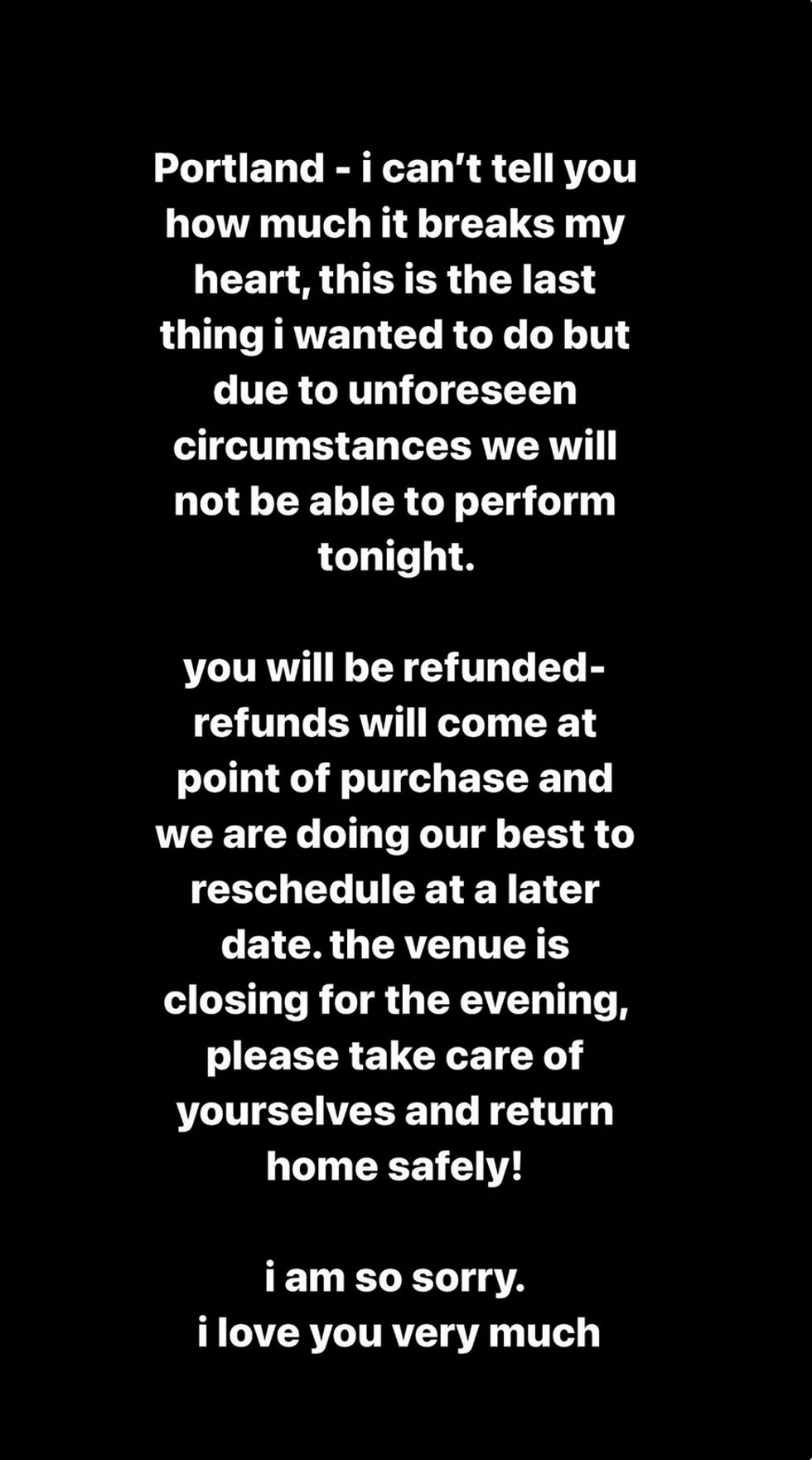 @SabrinaAnnLynn/Twitter
She informed those who were hoping to see their favorite idol performing live that night that they will be refunded "at point of purchase."
She also promised the concert would be rescheduled for another time.
"The venue is closed for the evening," she added.

"Please take care of yourselves and return home safely."
"I am so sorry. I love you very much."
Prior to the revelation of the bomb threat, some frustrated fans demanded answers.
Concerned fans hoped the singer was okay, indicating that they understood there must've been a significant reason for the drastic measure on such short notice.

Some TikTokers responding to the video of the cancellation announcement understood the gravity of the situation.

@itsriogrande/TikTok

@itsriogrande/TikTok

@itsriogrande/TikTok
A tour promoter spokesperson told Rolling Stone:
"While the threat was not directed at Keller Auditorium specifically, Sabrina and event organizers agreed that out of an abundance of caution, the show be called off."
"Steps were taken to ensure that the audience exited the venue calmly, quickly, and safely."
Seattle's Paramount Theatre instituted a clear bag policy for concertgoers for Carpenter's April 11th performance following the security threat in Portland.
While it must have been frustrating for the fans who were inconvenienced after paying for travel and hotel expenses, it could have been a lot worse.