A heinous attempt to compare the former Trump chief of staff Reince Priebus to Bill from Bill and Ted's Excellent Adventure results in a bodacious Twitter exchange—excellent!
It all began when Walter Shaub, the former director of the U.S. Office of Government Ethics, was conversing with investor/Kremlin critic, Bill Browder regarding former White House chief of staff Reince Priebus via Twitter.
---
Browder started off the exchange:
And that's when Shaub stepped in it—invoking a legendary icon of 80s/90s pop culture in reference to a former member of the Trump administration.

He said: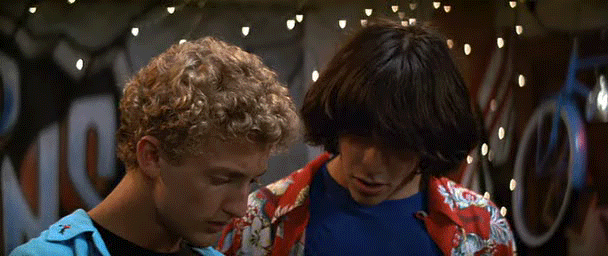 Bill and Ted from 'Bill and Ted's Excellent Adventure'
Best known for his role as Bill S. Preston, Esq. in Bill & Ted's Excellent Adventure (1989) and its sequel Bill & Ted's Bogus Journey (1991), Alex Winter (the "other famous Bill" Shaub was referring to) arrived on the scene to defend his good name.
And this is where it all gets interesting:
And that's when Shaub metamorphosed into an Alex Winter fanboy.
Falling all over himself he quickly apologized:
But Winter was magnanimous, and in the end—they were excellent to each other:

Fans of Winter (and Shaub) loved the exchange:
If you're anything like Shaub, you probably can't get enough of that bodacious duo—which means, you might be in luck:
Fans of Bill and Ted may be in for a treat—fingers crossed. If you've ever wished for a third film in the movie franchise, Bill & Ted Face the Music is in the development phase. The only problem is, it's been in the development phase for ten years now.

So what's the hold-up?
In an exclusive interview with Digital Spy, the film's writer Ed Solomon (who was a writer on both of the original movies) says it's twofold: a lack of funding and pressure for a Bill & Ted reboot with new, younger actors rather than a true third installment of the series with Winter and Keanu Reeves.
In the interview, Solomon talks about his vision for the film which would pay tribute to George Carlin's character Rufus:
"This is not, 'Hey let's all cash-in on the Bill & Ted thing for money' – this is the opposite. This is, 'We love these characters, they've been with us for our whole lives' – Chris and me, and Alex and Keanu – and we wanted to visit them again as middle-aged men. We thought it would be really fun, and funny, and sweet.
"We really think there's another movie to be done that is the opposite of cynical, that is actually made with love. [It'll be] made with love and affection for the characters, and affection for the fans of Bill & Ted. All of us really want to give the people who love Bill & Ted, and people who haven't even discovered Bill & Ted yet, a movie that is worthy of their affection. And we're trying!"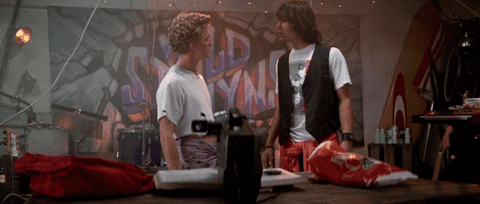 Bill and Ted's Excellent Adventure Giphy
Meanwhile…
In another segment of the universe, two other party dudes have been contemplating a third installment of their own: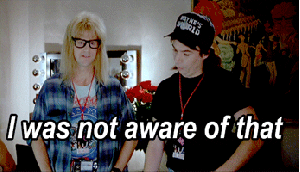 Garth and Wayne of Wayne's World
Dude, if we get both movies, it will be the 90s all over again: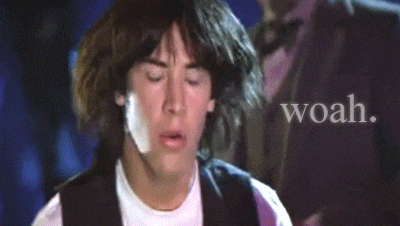 Ted "Theodore" Logan in Bill and Ted's Excellent Adventure Giphy