President Joe Biden is generating buzz and excitement for his summer speaking tour, drawing inspiration from the music world.
In a captivating Twitter post, the president showcased a glossy poster resembling the aesthetic of popular music festivals, particularly the iconic Coachella Music Festival in California.
The eye-catching design and references to a bustling factory symbolize Biden's commitment to investing in America.
The tour aims to promote Biden's "Investing in America" agenda, highlighting its impact on the economy and job creation. Accompanied by prominent Democratic leaders, Biden's cross-country tour is set to make its mark in key swing states.
The White House wrote:

"Getting the band back together for the second round of the Investing in America Tour. See you out there!"
You can see the White House's status below.

Indeed, the White House employed a design reminiscent of music festival posters. The sherbet-hued poster featured bold chunks of names against a sunset backdrop, evoking the spirit of popular music festivals like Coachella.
You can see the poster below.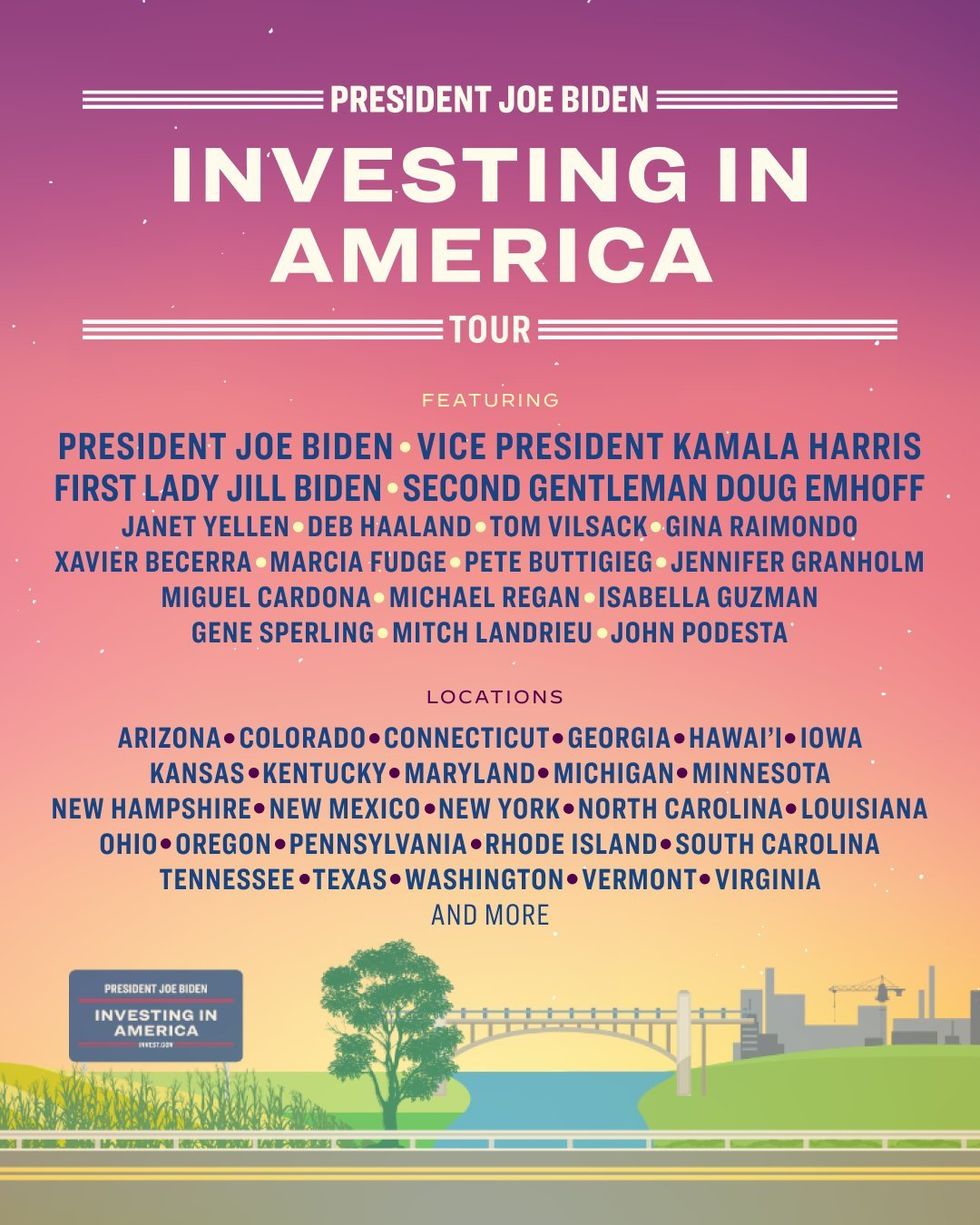 @WhiteHouse/Twitter
Twitter users quickly recognized the resemblance and embraced the playful tribute, contributing to the positive response online.
Biden's tour serves as a platform to rally support for his "Investing in America" agenda, which emphasizes revitalizing the economy and creating opportunities nationwide.
The president and his allies aim to convince voters that their efforts have resulted in significant economic progress and job growth.
Joining Biden on the tour are influential Democratic leaders, including Vice President Kamala Harris, Treasury Secretary Janet Yellen, Secretary of Transportation Pete Buttigieg, and John Podesta, former chief of staff to President Clinton.
Following its official kickoff, the second leg of the "Investing in America" tour is well underway. The tour will traverse key swing states such as Arizona, Colorado, Georgia, and more over the coming weeks.
By visiting these crucial states, President Biden aims to engage directly with voters, highlighting the positive impact of his agenda on their communities and emphasizing the importance of continued support.