President Joe Biden issued a harsh condemnation of a Texas law that went into effect Wednesday that prohibits virtually all abortions after a heartbeat is detected, which is typically after six weeks of pregnancy.
The law, referred to as a "fetal heartbeat bill," would also allow citizens to file lawsuits against abortion providers suspected of violating the new policy.
In his remarks, Biden said the law "blatantly violates the constitutional right established under Roe v. Wade," the landmark Supreme Court decision that protects a pregnant woman's right to choose reproductive healthcare without excessive government restriction.
"Today, Texas law SB8 [Senate Bill 8] went into effect."
"This extreme Texas law blatantly violates the constitutional right established under Roe v. Wade and upheld as precedent for nearly half a century."
Biden stressed the legislation will disproportionately impact already marginalized people:
"The Texas law will significantly impair women's access to the health care they need, particularly for communities of color and individuals with low incomes."
He reserved particular ire for the provision in the legislation empowering private citizens to bring forth lawsuits.
"Outrageously, it deputizes private citizens to bring lawsuits against anyone who they believe has helped another person get an abortion, which might even include family members, health care workers, front desk staff at a health care clinic, or strangers with no connection to the individual."
The President concluded by reaffirming his administration's commitment to Roe v. Wade as settled law.
"My administration is deeply committed to the constitutional right established in Roe v. Wade nearly five decades ago and will protect and defend that right."
He would later reiterate these points on Twitter.
After the Supreme Court finally issued its reasoning for not blocking the law in a 5-4 shadow docket decision, Biden released a follow-up statement vowing to do all he can in his powers to protect the constitutional rights on women in Texas.
The Supreme Court's ruling overnight is an unprecedented assault on a woman's constitutional rights under Roe v. Wade, which has been the law of the land for almost fifty years. By allowing a law to go into effect that empowers private citizens in Texas to sue health care providers, family members supporting a woman exercising her right to choose after six weeks, or even a friend who drives her to a hospital or clinic, it unleashes unconstitutional chaos and empowers self-anointed enforcers to have devastating impacts.
...
I am directing that Council and the Office of the White House Counsel to launch a whole-of-government effort to respond to this decision, looking specifically to the Department of Health and Human Services and the Department of Justice to see what steps the Federal Government can take to ensure that women in Texas have access to safe and legal abortions as protected by Roe, and what legal tools we have to insulate women and providers from the impact of Texas' bizarre scheme of outsourced enforcement to private parties.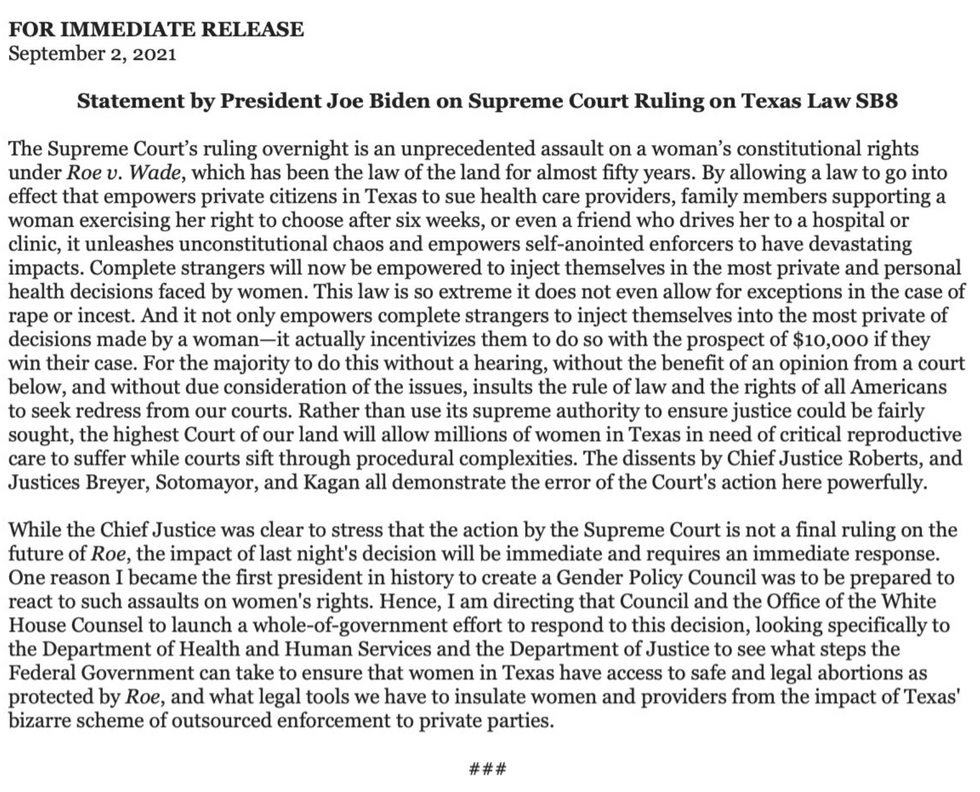 WhiteHouse.gov
Biden has been widely praised for his remarks.
Others criticized the Texas legislature for advancing the law in the first place.
Texas Republican Governor Greg Abbott signed the bill into law in May, further codifying his party's hard-right agenda.
He praised the legislation at a bill-signing ceremony.
"Our creator endowed us with the right to life and yet millions of children lose their right to life every year because of abortion."
At the time, Abbott added the Texas State Legislature successfully passed legislation "that ensures that the life of every unborn child who has a heartbeat will be saved from the ravages of abortion."
The law went into effect after the Supreme Court declined to respond in time to an emergency request to block the law before it went into effect.
While the Supreme Court could still grant a request from abortion providers to block the law, for the time being Texas clinics will no longer provide abortions more than six weeks from a woman's last period.