Original "Frotcast" co-founder Ben Kaplan was stricken with terminal cancer, preventing him from seeing Blade Runner 2049 in theaters; but thanks to a friend, Alcon Entertainment hand-delivered a copy to him.
---
Uproxx senior editor Vince Mancini wrote a piece on how Kaplan experienced a little bit of happiness under the worst circumstances. Ben "is happy to be out of hospitals forever, despite what that means," wrote Mancini. "I always felt, and still feel, weird writing about his illness. For a lot of reasons, but especially because I don't want to turn Ben into some 'tragic cancer guy,' where everything he is and has done in his life gets subsumed by the last crappy chapter."
The story of how Alcon Ent flew out a copy of Blade Runner 2049 to make a dying friend's day https://t.co/e7LmepvZav

— Vince Mancini (@Vince Mancini) 1510849431.0
Mancini struggled with how he could be there for his ailing, bed-ridden friend. He didn't know whether paying a visit would exhaust Kaplan or not, but he concluded that "There's no way to know what to do and doing nothing is even worse."
When Kaplan's brother moved back to their mother's home, he discovered that there was one thing Ben wanted: To see the movie, Blade Runner 2049. Unfortunately, physically going to the theater was not possible, and Kaplan would not live long enough for the film's release on Blu-ray.
That sent Mancini on a mission - to get his sci-fi fanatic buddy to experience the movie, somehow. It wouldn't be an easy task, but it was one he was determined to make happen.
After an endless amount of emails, Mancini exhausted his list of studio contacts before realizing he had one last option. He had a friend who worked at Warner Bros. studios.
Justin put us in touch with a producer he knew who had co-produced Blade Runner 2049, Steve Wegner at Alcon Entertainment. Things immediately seemed promising when Wegner emailed me back right away asking for more information, rather than doing what most of the other people did — not respond, or say they were forwarding me along to someone else who they didn't name.
The logistics of getting a playable copy of the movie didn't deter Wegner. He worked some magic and made it happen for a stranger.
I don't know what all strings Wegner had to pull, but in the end, someone from Alcon actually had to fly out to Mountain View, with a Blu-Ray copy of the movie in hand, to present Ben with the film in person. That turned out to be Rachel Alterman, who flew all the way up with the screener and dropped it off at Ben's, where he had two days to watch and return it.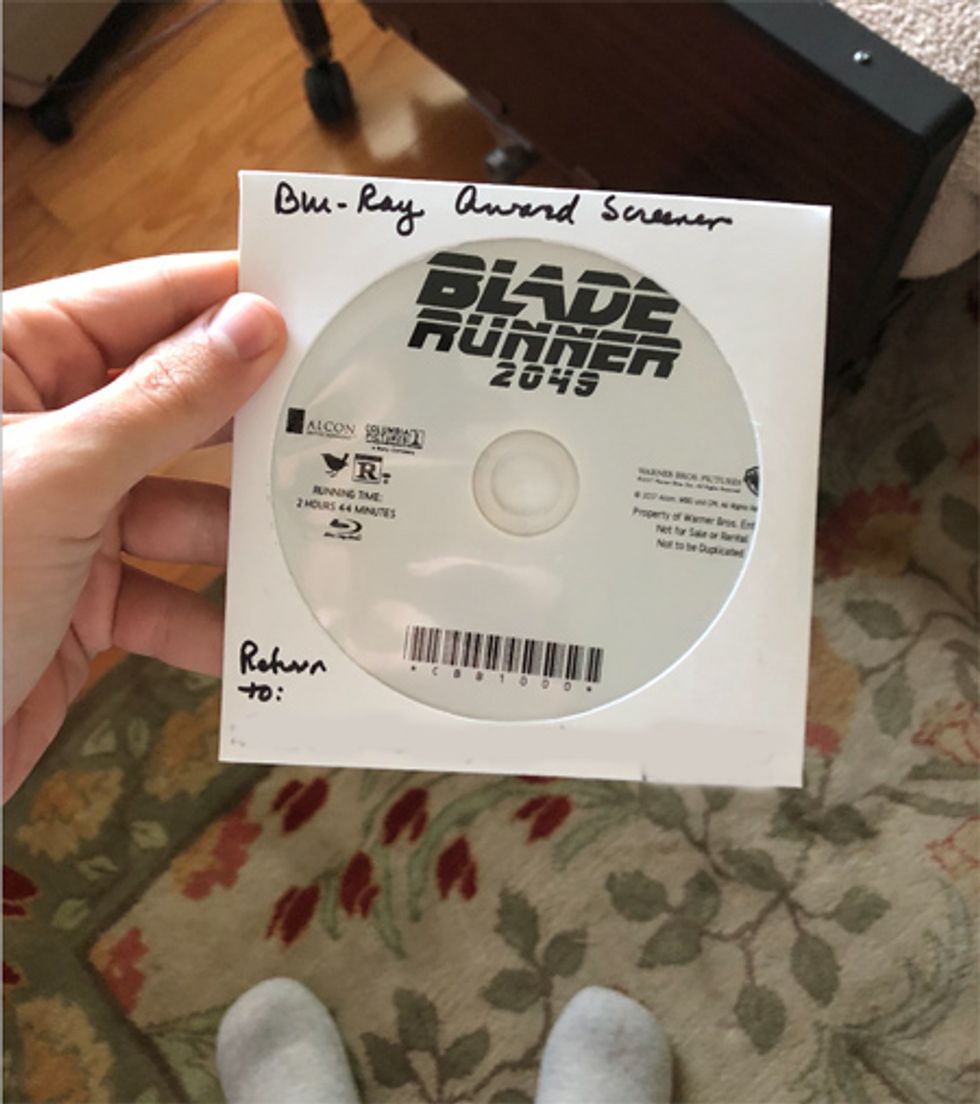 Kaplan expressed to Mancini his enthusiasm for the rare opportunity:
It's weird to say, but I wasn't sure I would ever get to see it in my life, and it was a dream come true (implanted dream?) to get to see it. I give it a solid A rating.
@Filmdrunk I clicked this while waiting for my food at a mall Food Court without realizing it was about Ben, and no… https://t.co/Xm3pl4LUde

— Byron Hooper (@Byron Hooper) 1510854001.0
@Filmdrunk No, you're crying at work https://t.co/1Ayx20pijs

— JLeigh (@JLeigh) 1510855797.0
Wegner emailed Mancini about what it meant to be able to help someone who whom he shares such an appreciation for the original iconic movie.
Blade Runner means a lot to me as well. I saw it in a theatre when I was 13 years old and a few years later I wrote a term paper on it film at USC. The idea that I got to come full circle and work on the sequel is incredible. The power of film is an amazing thing. It's not saving lives, but it touches people in a variety of ways. This is why we had to make sure Ben saw the film.
In a world full of shitty dicks this was supremely cool. @justin_halpern @AlconEnt

— Vince Mancini (@Vince Mancini) 1510849550.0
@Filmdrunk @justin_halpern @AlconEnt Thanks for sharing this. Props to everyone involved for doing something nice w… https://t.co/OxED2Yn4Vj

— Eric Vernsten (@Eric Vernsten) 1510849941.0
For Mancini, the takeaway from the experience was that Wegner's gesture shattered negative perceptions of studios that are usually "incapable of making concessions to human dignity...When humans recognize the humanity of other humans, and put forth the energy to make someone's day a little bit better, even if they don't know them."
Please SHARE this with your friends and family.