According to the latest data in Axios' midterm dashboard, issues such as crime, immigration, and inflation—issues that are typically favorable to Republicans—are in the bottom half of Google searches.
Axios notes that while issues like inflation, gas prices and immigration still maintain "a relatively high interest," they "have not spiked notably over the past week or so." Crime, for instance, has dropped from No. 10 to No. 11 on a list of most searched topics even though interest in crime remains relatively steady.

Just ahead of crime is student loan forgiveness, interest in which has surged now that the Biden administration's online portal is open, allowing millions of Americans to sign up for relief. Searches about firearms have also climbed the list, likely in response to a mass shooting in North Carolina that resulted in six deaths.
Currently, the top five issues Americans are interested in are jobs, taxes, firearms, wages, and the ongoing war in Ukraine. Former Republican President Donald Trump is just outside the top five most searched topics, with Russia, China, Democratic President Joe Biden, and student loan forgiveness rounding out the top ten.
You can see the graph below.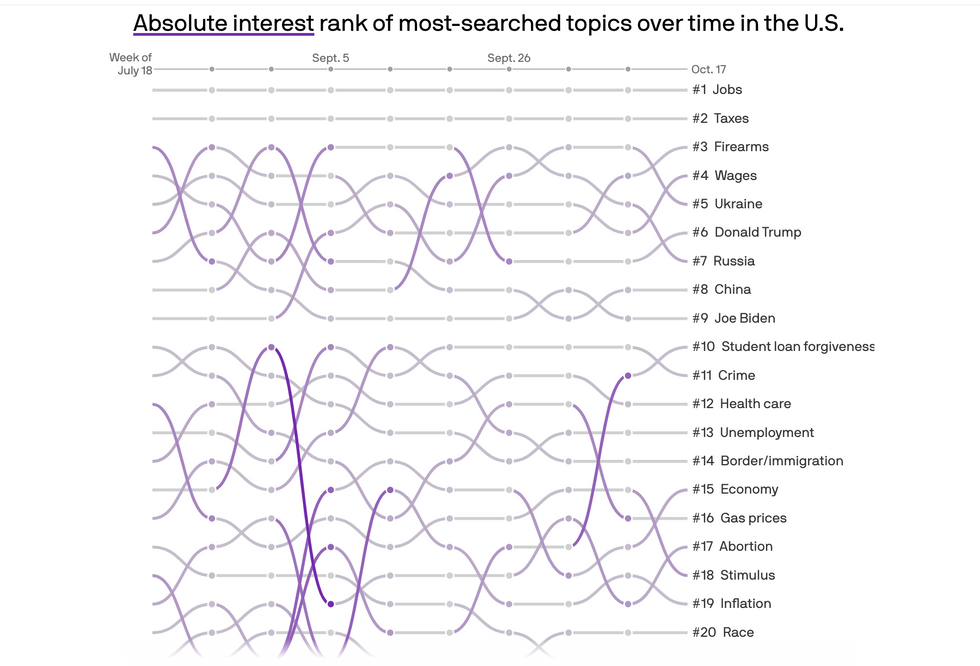 Jacque Schrag and Will Chase/Axios
The data is important, Axios points out, because "the issues Americans are paying closest attention to seem to be stabilizing — with a few key issues like firearms and student loan forgiveness grabbing new attention" as early voting begins and with two weeks to go until the midterms.
The top five searches alone suggest that Americans are less interested in culture war topics—such as the continued Republican attacks against transgender students and the ongoing obsession with critical race theory that has rocked school boards nationwide.
For example, a closer look at the data about Google searches related to jobs shows that there is a high relative interest in areas nationwide that lean or are solidly Republican.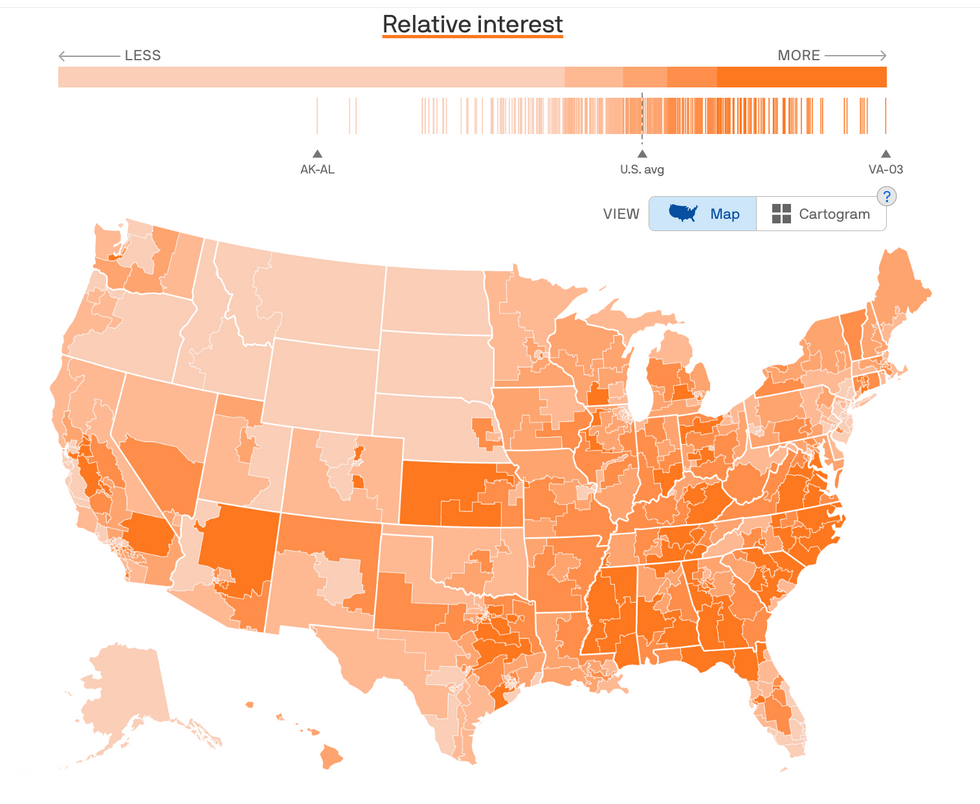 Axios
Axios' research drew significant responses online, and the data appears to suggest that media coverage of the upcoming midterms is misleading.
The shift is particularly striking given that just one month ago, Google searches and story interactions about crime and immigration had overtaken searches about abortion and the federal raid of Trump's Mar-a-Lago estate.
The data comes as news outlets continue to discuss the growing possibility of a red wave in districts nationwide.
Republicans only need to win a handful of seats to gain control of the House of Representatives, as a New York Times article noted earlier this week, stressing that voters are likely to "punish" the Biden administration even in solidly blue areas.