An artist has found the paw-fect muse in her rescue Chihuahua – selling portraits of the pooch dressed as everything from Queen Elizabeth I to Wonder Woman, for £600 (~$744) a pop.
---
After years of struggling with a creative block, Becki Flack, 54, finally discovered the ideal life model – in the form of her seven-year-old pup Tita.
Spending anywhere from three days to three weeks creating oil paintings of the pooch, she even hand-makes tiny costumes, wigs, and props for her.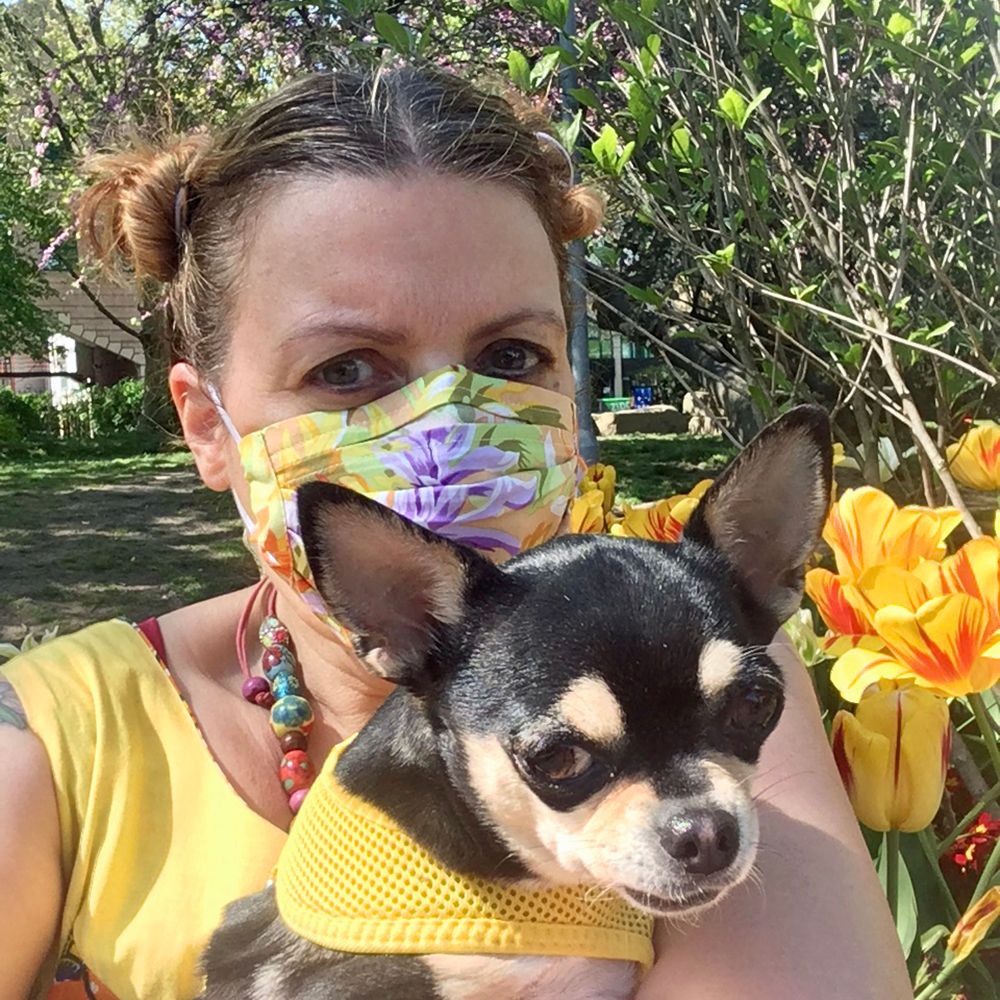 Tita and Becki during lockdown (PA Real Life/Becki Flack)
Now, Becki, of Earls Court, south west London, is more hopeful than ever that her artwork will gain critical acclaim.
She said:
"I felt like it was meant to be – I'd found Tita just at the right time."
"I think she loves being my muse. She is not a fan of the wigs, but she loves the clothes. When I put them on, she lifts her left paw and gets into them herself."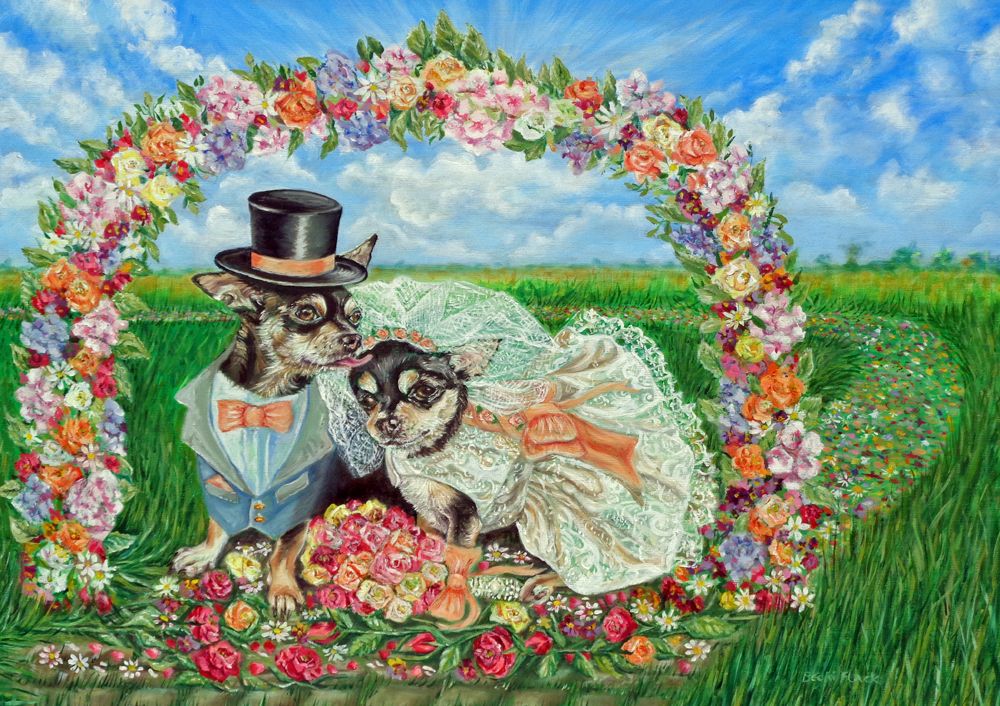 'The Wedding of Tita of Tita Petita Chihuahua' (PA Real Life/Becki Flack)
She continued:
"She's given me never-ending subject matter – there's just so many options that she's all I want to paint. I feel so very lucky have this little bundle of joy that brings me so much inspiration each day."
Following encouragement from her antique dealer father Colin, who died of a heart attack aged 67, in 1999, Becki first tried oil painting when she was a child.
At first, she focused on still life pieces, before moving onto landscapes, which she took up while studying fine art at Leicester Polytechnic – now De Montfort University.
But, "bouncing between" various jobs after graduating in 1987, including a four-year stint as a framing assistant at London's prestigious Royal Academy of Art, she found herself with little time to focus on painting.
Then, in 2014, she began to take stock of her life as she approached 50 and, panicking that she "might only have 20 years left," ditched frame-making to become a professional painter.
She said:
"I was nearly 50 and I realized I might only have 20 years of my life left. All I could think was, 'If I was on my death bed, would I be happy I'd spent my life framing?'"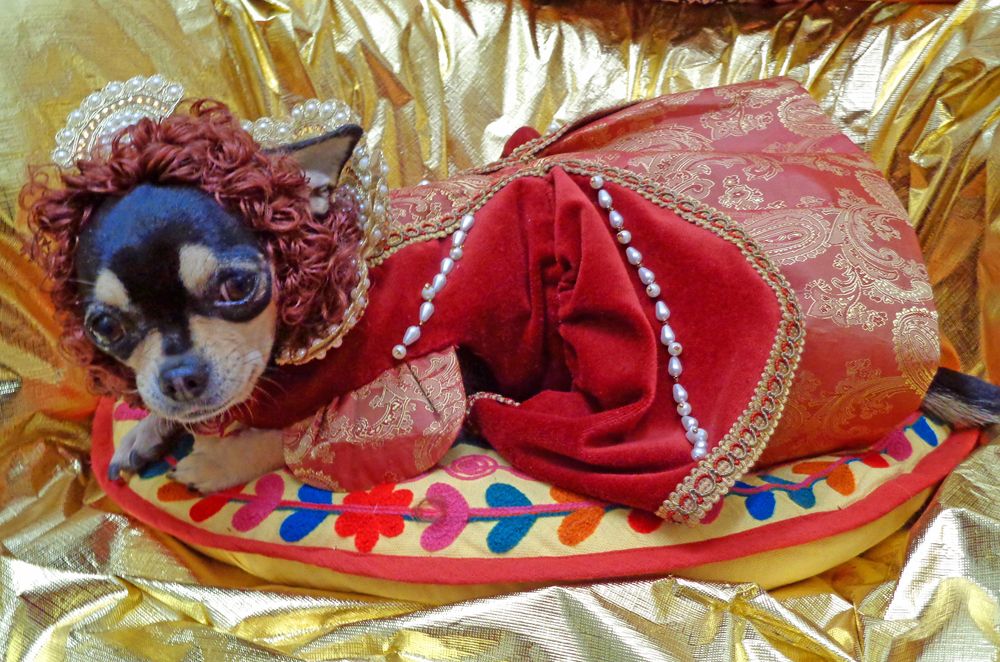 Tita as Queen Elizabeth I (PA Real Life/Becki Flack)
She continued:
"I knew then I couldn't go back to that – I was a painter and I had to make a go of it."
Taking the plunge, Becki used her savings to rent a space in Wimbledon Art Studios, south west London.
Sadly, not long after, tragedy struck when her black and white British short haired cat, Stanley, died aged 19.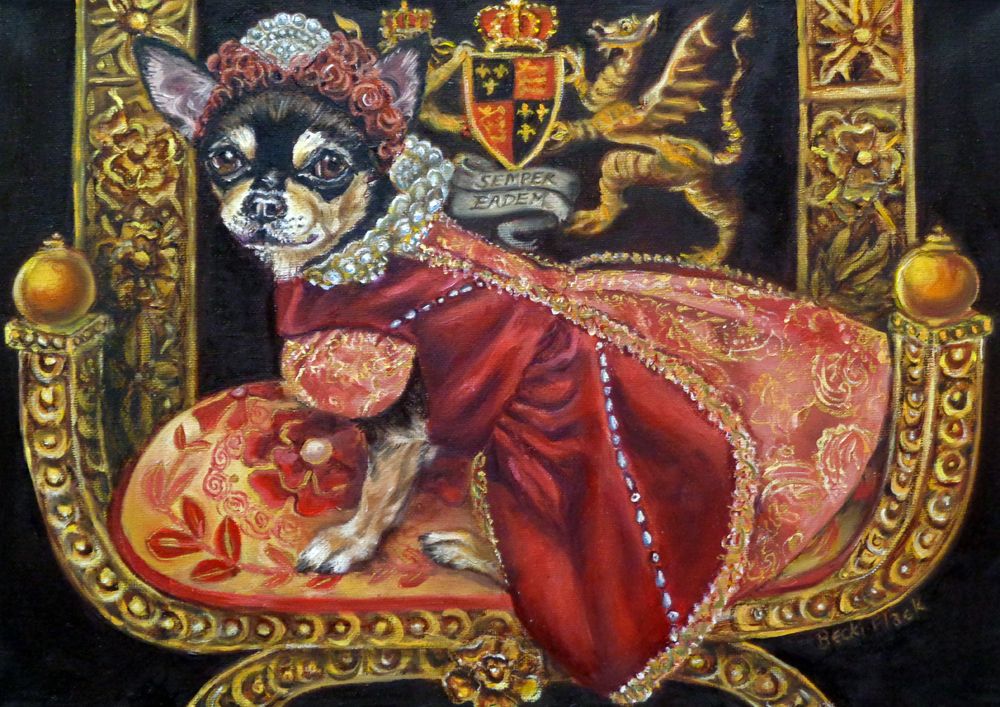 'Good Queen Bess' (PA Real Life/Becki Flack)
But Becki soon found another four-legged companion, Tita, who needed re-homing from a family that could no longer care for her, and agreed to adopt her that September.
"When Stanley passed away, I was heartbroken and really grieving," she explained. "I just knew no cat would ever be as good as him, so I got a dog instead."
"I fell in love with Tita straight away and she settled in so quickly."
She continued:
"She filled a hole missing from Stanley. It's been perfect ever since – she's my soulmate."
A month after bringing Tita home, Becki took the pint-sized pup to her art studio for her first paw-trait.
"I knew there was no way she'd pose for hours on end – she's such a fidget," Becki explained.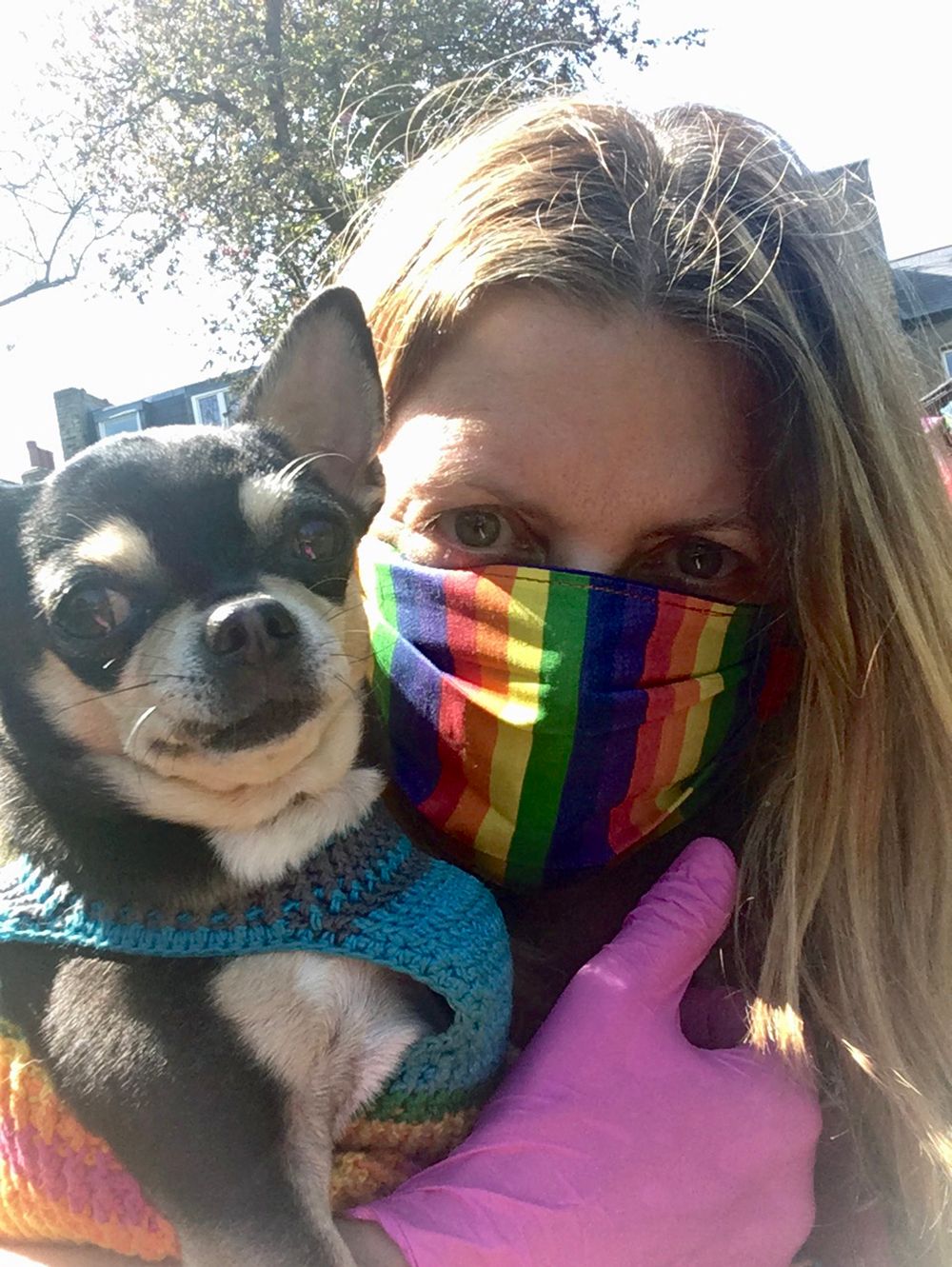 Tita and Becki during lockdown (PA Real Life/Becki Flack)
She continued:
"So I put her in a lovely crocheted collar and posed her on some cushions at home on the sofa, which I took a photo of, and worked from that."
From there, her canine companion became her muse, and the subject of many a painting.
Becki, who describes her artwork as "constantly evolving," has painted Tita in an array of different costumes, including a rapper, a nurse and a superhero.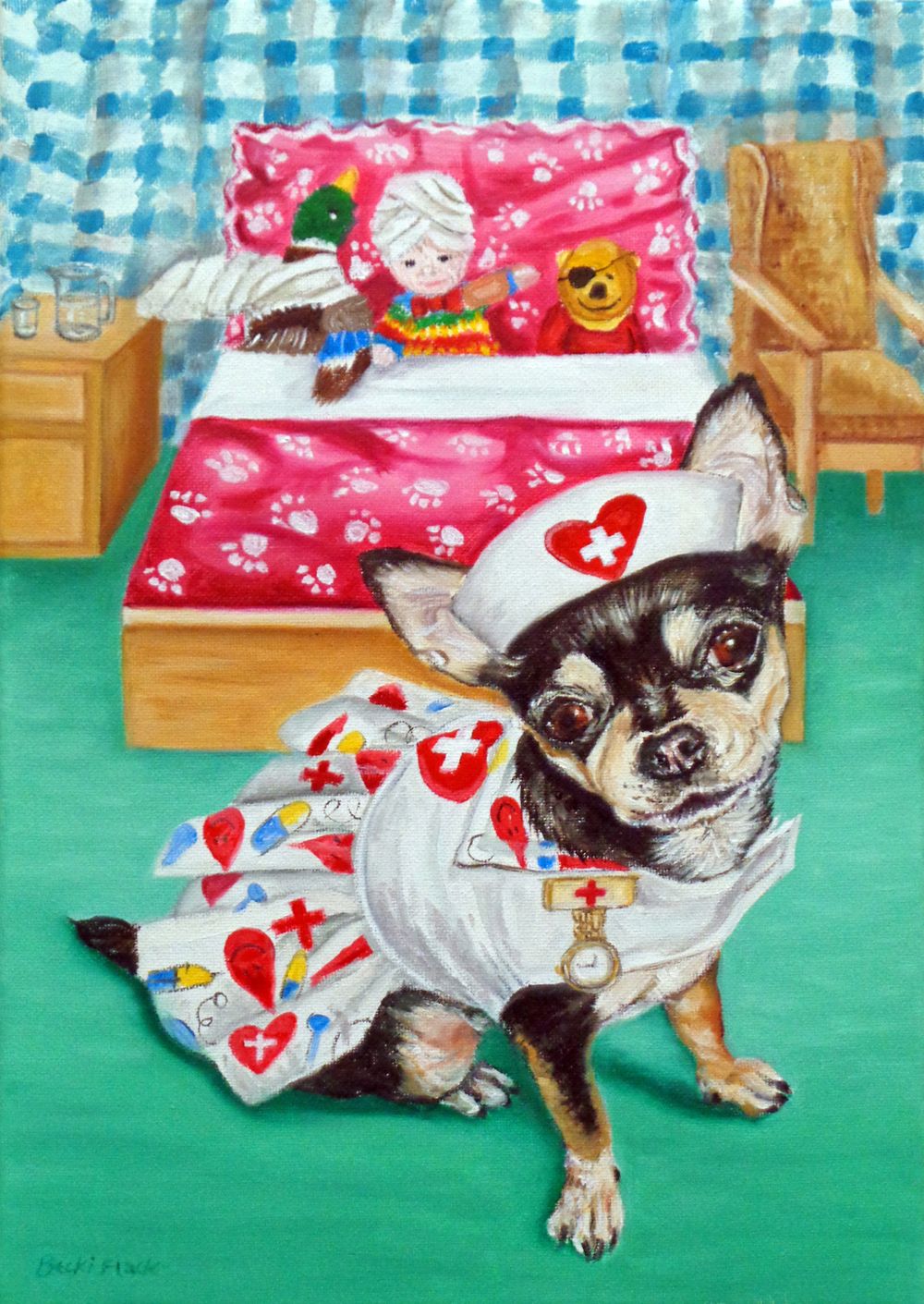 'Nurse Tita Petita' (PA Real Life/Becki Flack)
"I started painting Tita and I just couldn't stop," she said. "I spent the first year or two of having her scouring the web for doggy outfits. If one caught my fancy, I'd order it."
Like Picasso before her – known for the individual stages of his career, such as cubism and his Blue Period – Becki has also evolved stylistically.
Last year, after dressing Tita in a fetching cowgirl outfit, she began what she calls her "stage art" phase.
She explained:
"When the cowgirl outfit came, I couldn't believe how rubbish it was, so I decided to make my own."

"From there, I just kept making her costumes myself. I've done historical characters like Queen Elizabeth I and Marie-Antoinette, using materials such as dolls' hair, tutu netting, velvet and silk."
"I let my mind run wild and the inspiration comes to me."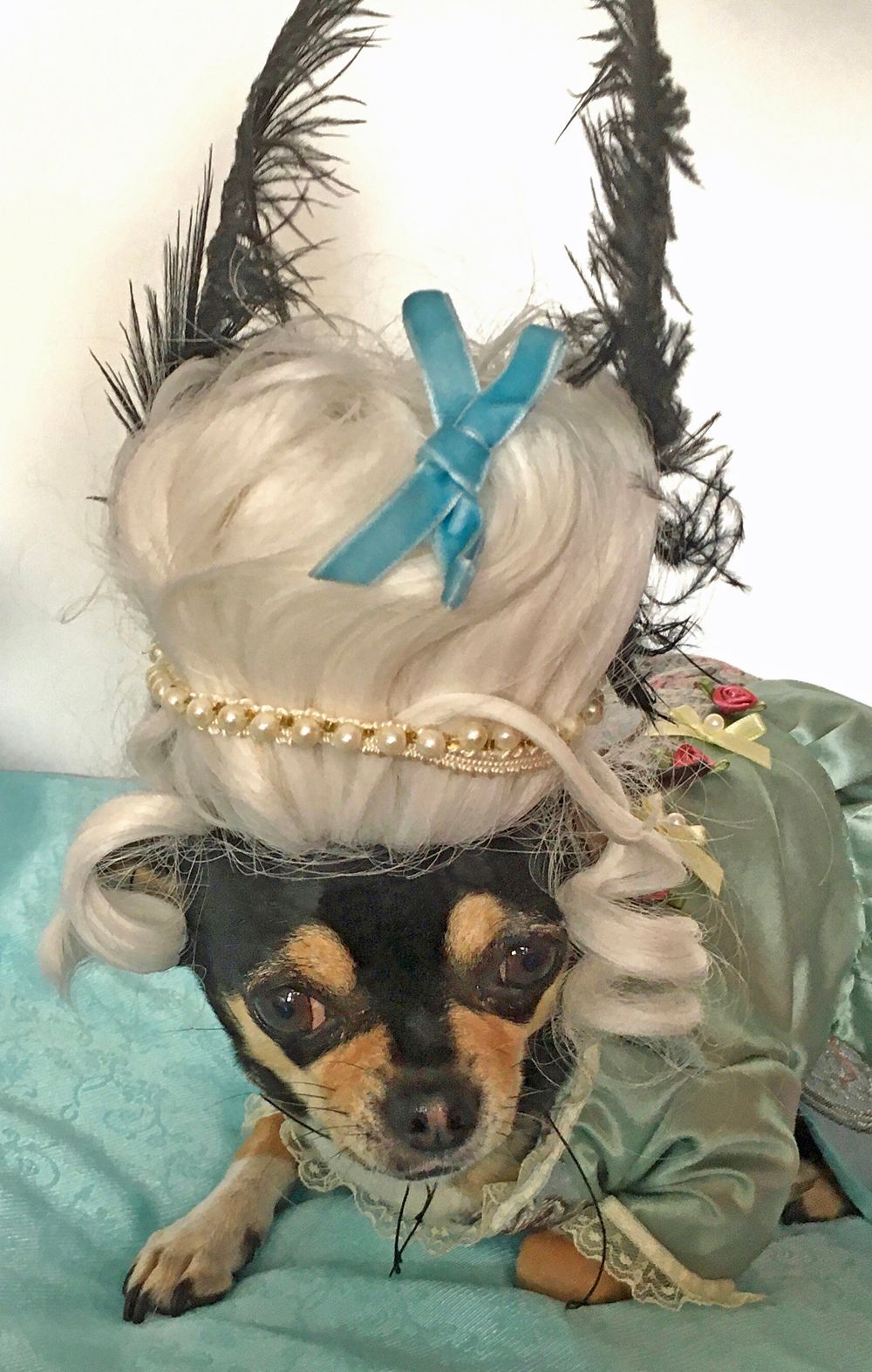 Tita as Marie Antoinette (PA Real Life/Becki Flack)
She continued:
"Sometimes I want to paint Tita traveling the world – to places like Japan, Hawaii and Africa – and sometimes I want to make her a powerful woman, like Frida Kahlo."
"I tend to get her dressed, which she does quite happily, and will use treats to get her to look at the camera in just the right way," she explained. "Because she likes it, it doesn't take long at all."
As well as crafting customized outfits and themed props, Becki writes poetry to accompany her artwork.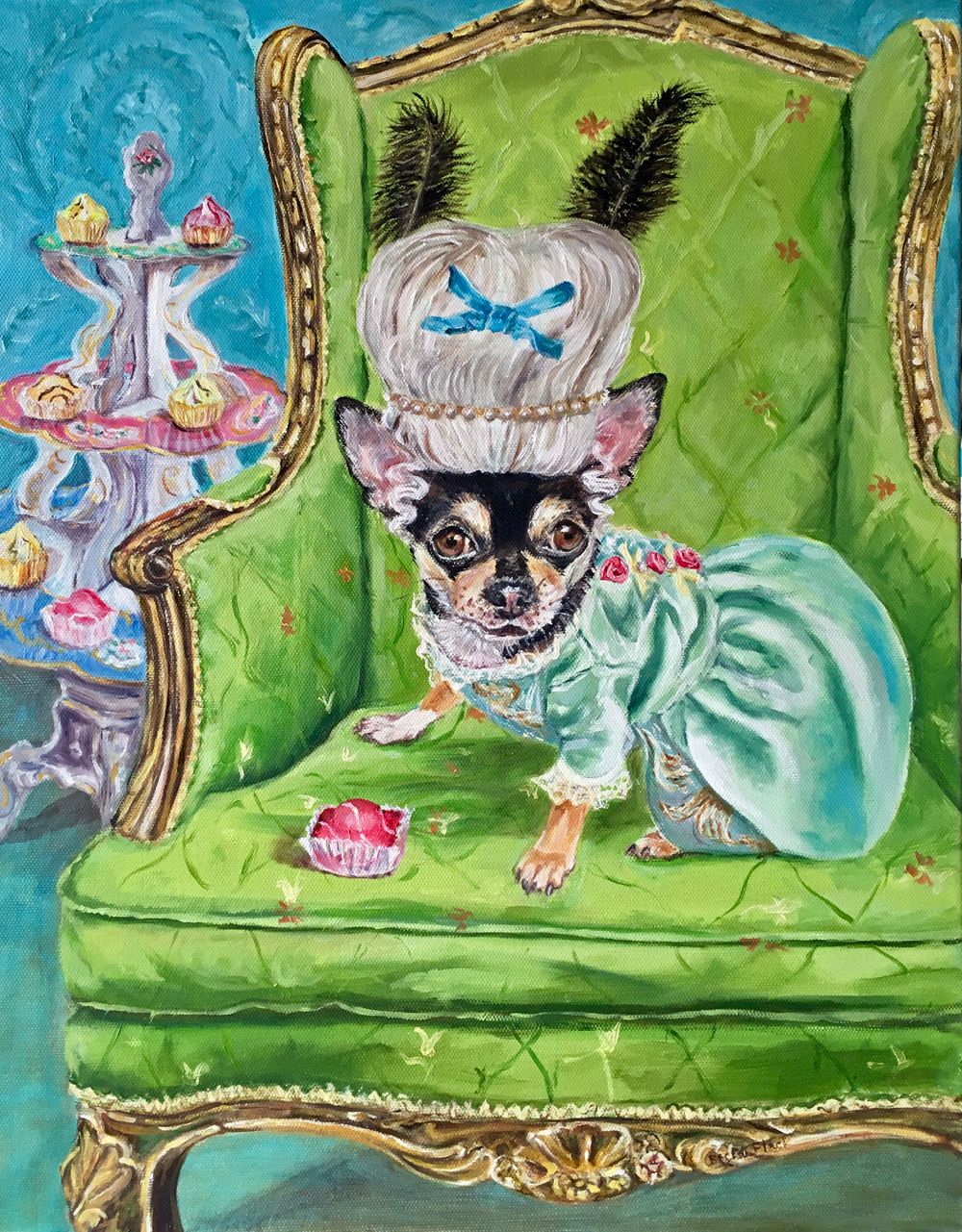 'French Fancy' (PA Real Life/Becki Flack)
She said:
"My mum says I treat Tita like a surrogate child, which may be true – even that inspired me though."
"I made a piece of art with a poem to go alongside it. It's about a witch who casts a spell to turn her dog into a human, but it backfires, and the witch turns into a Chihuahua."
Painting, on average, a portrait every other month, Becki has exhibited at various galleries, including the famous Chelsea Art Society in west London, and Wimbledon Art Fair, selling her pieces for anywhere north of £600.
However, while her work is sought after, some of her loved ones, including her mom, Jackie, 80, keep asking when she will start drawing something else.
"My mother asked why I couldn't paint something else, as not everyone likes Chihuahuas," Becki said.
"But I've got to stick to my guns. I can't paint something if my heart isn't in it."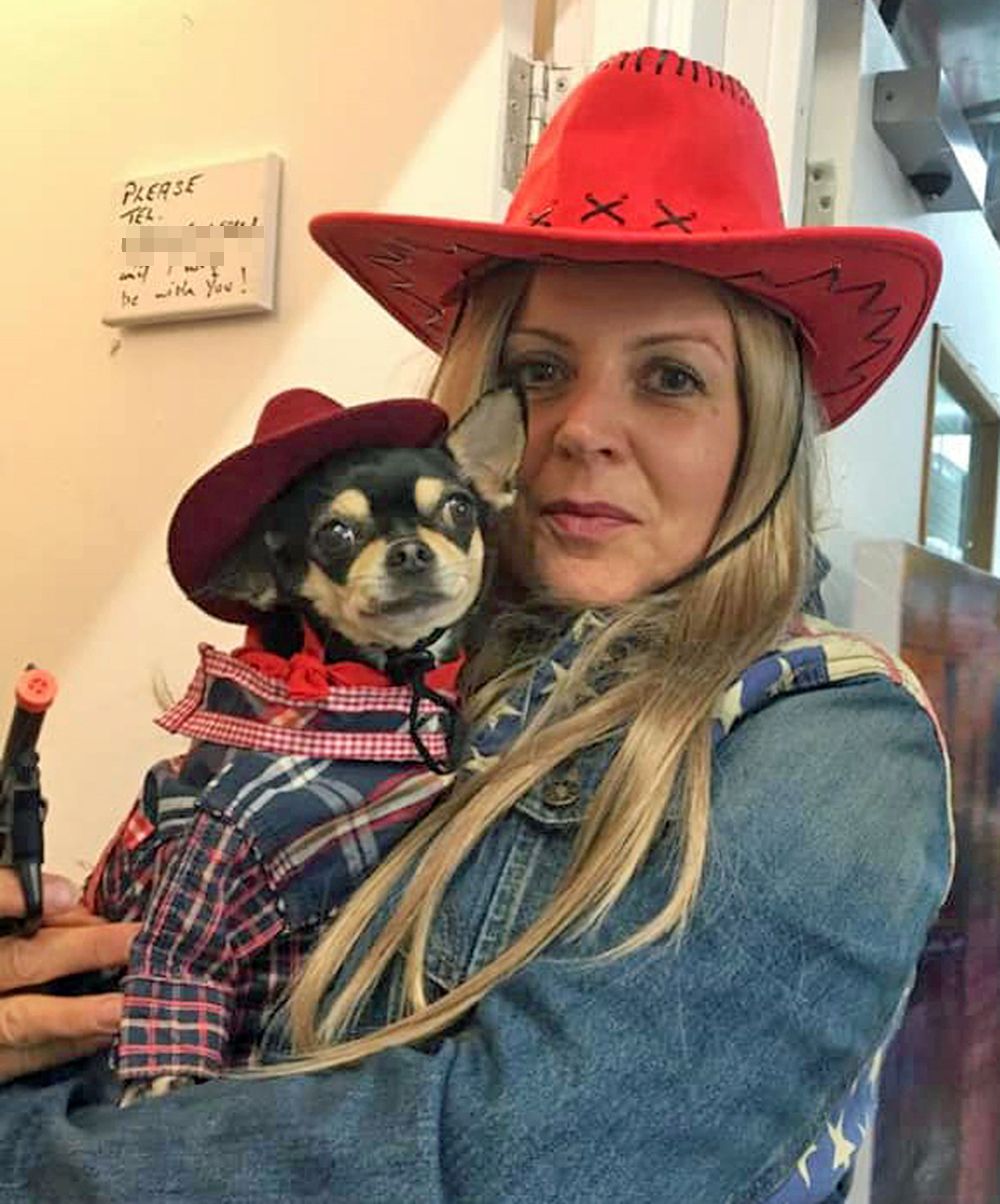 Tita and Becki as cowgirls (PA Real Life/Becki Flack)
She continued:
"My dad always said I should paint landscapes – that's where the money is – but there are already so many brilliant landscape artists out there."
For Becki, tiny Tita will always be the paw-fect muse, and she has no need for any new models.
Now, to make her work more commercially viable, she is also having her paintings printed on to pillows, cushions and greetings cards, which she sells online.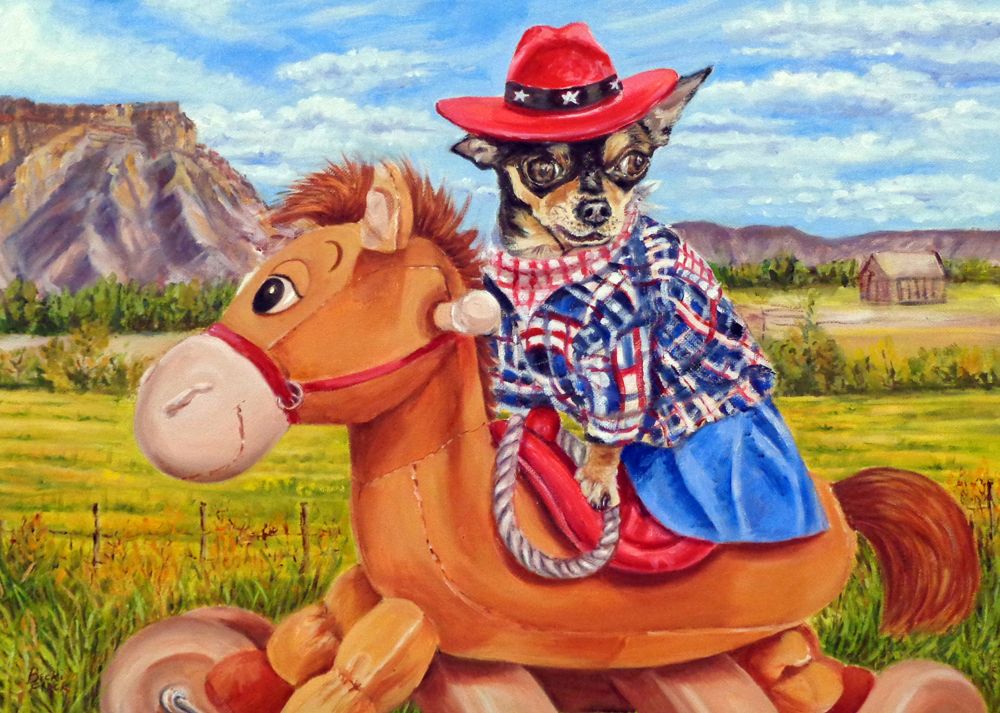 'Don't fence me in!' (PA Real Life/Becki Flack)
Hoping that people will, one day, go barking mad for her creations, she said:
"My art is a form of surrealism and, one day, I know people will catch on."
"My hope it that the art will take off and people will want to buy more and more. I have faith, it just takes time."
Becki is exhibiting three pieces of art at this year's Wimbledon Art Fair, taking place online, from May 14 – May 18. For more information, visit: www.wimbledonartfair.com