Arsenio Hall, an actor perhaps best known for the much-loved Coming to America, once had a strange run-in with former President Donald Trump. Hall—a stand-up comedian as well as an actor with 30 film and TV credits to his name—was also once the king of talk shows.
His "whoop, whoop" signature entrance became a pop culture moment.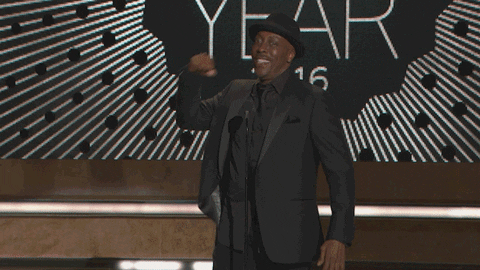 Giphy
Needless to say, Hall may not be in the spotlight as much, but he's also not a struggling unknown.
The strangeness with Trump recently came out during an interview alongside Eddie Murphy on The Jimmy Kimmel Show promoting their film sequel, Coming to America 2. The movie is highly anticipated among fans of the 1988 film, and it's set to debut on Friday, March 5, on Amazon Prime Video.
You can watch the segment here:
During their interview together, Kimmel asked Hall about his "celebrity mentor."
Hall, laughingly responded:
"We don't talk a lot."
Hall then recounted a bizarre moment in his life when Donald Trump took pettiness and passive aggression to the next level.
Hall had a history with Trump, in that he was a contestent on the former show host's The Celebrity Apprentice, and wound up winning his season.
But later during an interview, after his time on The Celebrity Apprentice, Hall answered a question about people who had inspired him during his career. He did not include Trump on his list.

Hall explained interviews are not always what the same after editing is done.
"Sometimes people don't mention everything you say."
But that didn't stop Trump from offering Hall an unsolicited response.
"He took the interview, and he wrote in Sharpie, 'No Trump,' and he photographed it and emailed it back to me. I think someone in his office did."
You read that right.
Trump printed the interview out, wrote 'No Trump' on it, took a picture of it, and then emailed that picture back to Arsenio Hall. Quite the process for a moment of passive-aggressive pettiness when Hall's biggest successes came before Trump's TV reality show.
Of course, people had fun with the story on Twitter.
@latimes Still learning that touching anything or associating with donald tRump is toxic? Is tRump the ONLY recours… https://t.co/io10JCVZ6T

— genghis galahad 🗽🦅✒🗡📜 (@genghis galahad 🗽🦅✒🗡📜) 1614749906.0
@latimes "NO TRUMP" - bwahahaha!

— Sukhavati (@Sukhavati) 1614754872.0
Not to mention YouTubers.

Jimmy Kimmel Live/YouTube

Jimmy Kimmel Live/YouTube

Jimmy Kimmel Live/YouTube

Jimmy Kimmel Live/YouTube
Whether we're talking about former President Donald Trump or anyone else, stories of someone being especially petty are nearly always funny.

Surely a person can't remember to list every single person who has been of influence or an inspiration to them over the years, but maybe that's not a good enough explanation for someone like Trump.