The Carroll Independent School District in Southlake, Texas has rejected two "In God We Trust" signs—one in Arabic and one over a rainbow background—saying it already has enough for its buildings.
According to Senate Bill 797, a recent adopted Texas law that requires public schools to bear the U.S. motto, the signs should bear the American and state flags and the schools don't have to pay for them.
So Sravan Krishna, a local resident and father, tested the limits of the law, only to be told that schools already have enough posters. But he wasn't buying that explanation.
Krishna hit back at the rejection of his signs during a school board meeting, saying it is "un-American" to reject the posters, especially when they do bear the national motto.
You can hear what he said in the video below.
Krishna said:
"It doesn't say you have to stop at one. That is your decision to stop at one. Why is more God not good?"
"And are you saying you don't have like one square foot of space in our buildings?"
"So this is also our national motto, so I think it's kind of un-American to reject posters of our national motto as well."
"And then some of you 'genius' are saying, 'Oh, it's in currency!' How can you say no to money? I mean, more money's good, right?"
"So you guys wouldn't, you know, reject more money because it has our motto, too, right?"
Board president Cameron Bryan did not take up Krishna's question, only saying that the school district had enough signs for all 11 campuses and its office building after accepting a donation at an August 15 meeting.

Signs were initially donated to the school district from the Christian cellphone company Patriot Mobile, which also funded the campaigns of several conservative candidates vying for school board positions in several districts, including Carroll.
SB 797, which you can read below, does not mention a limit on donated signs.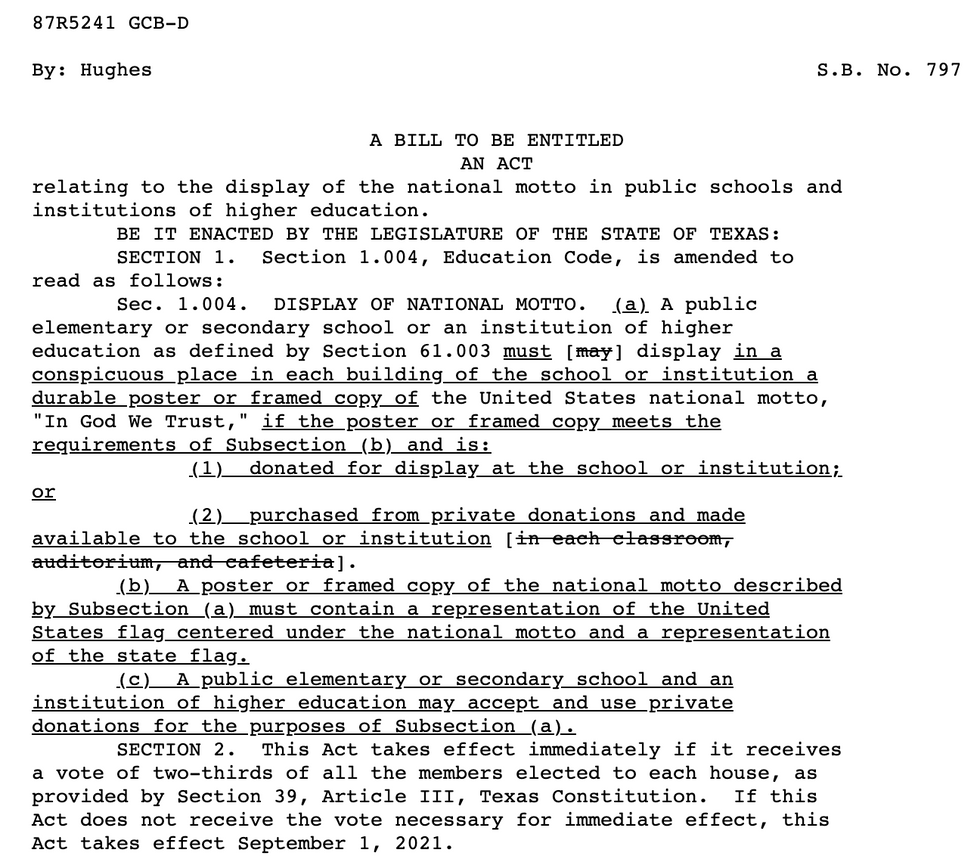 capitoltexas.gov
Many have come to Krishna's defense and pointed out SB 797's inconsistencies after footage of his remarks went viral.
Attempts to test the law's limits have prompted Texas state Republican Senator Bryan Hughes, who sponsored SB 797, to clarify his legislation, declaring in a letter to the Texas Education Agency that "the statutory prescription that the motto be displayed as it appears in the statute, and with no other 'words, images, or other information,' limits the legally mandated display of the motto to only posters or framed copies presented in English."
This isn't the first time the Carroll Independent School District has found itself at the center of controversy.
Last year, the school district attracted unsavory headlines after a top administrator advised teachers to present "opposing" viewpoints if they're going to assign books about the Holocaust.
The same school district also found itself in the news after board trustees voted 3-2 to reprimand a teacher who had assigned an anti-racism book to her class.
The book, This Book is Anti-Racist: 20 Lessons on How to Wake Up, Take Action, and Do the Work by Tiffany Jewell, was the focus of a complaint filed by parents who voiced their opposition after their child brought a copy home from school.