Alas, time does march on after a legendary, cherished moment occurs.
Apparently, the passing decades bring quarter-zips and conservative politics.
---
For many, the former 1980 Olympic Gold medalist USA Hockey Team's appearance at a Trump MAGA rally brought sudden and total disillusionment.
February 22, 2020 marked the 40-year anniversary of the USA Hockey Team's historic upset over the former Soviet Union Red Army team in the semifinals at the 1980 Winter Olympics.

It was a legendary day in U.S. sports history. In the midst of the Cold War and ever-rising tensions between the U.S. and the then-communist Soviet Union, a group of mainly college kids defeated the Red Army's four-time defending gold medalist team.
It was the tenderest of proxy wars.
In one corner were some punks from Boston and Minnesota. In the other, a bunch of seasoned, legendary athletes.
It was David versus Goliath.
To celebrate the four-decade milestone, Donald Trump invited the team to his presidential MAGA rally on February 21 in Las Vegas.
The timing and the setting was hardly a surprise. With the Democratic Primary race humming along, Trump has preceded each state vote thus far with his own MAGA rally in that state with transportation and security on the taxpayers tab.

Nevada was set to vote its choice for Democratic Presidential Candidate on the following day, February 22.
14 members of the former USA Hockey Team did not appear to have any crises of conscience throughout their visit, donning "Keep America Great" hats as they took group photos with the President backstage and lined up behind him during a moment in the MAGA rally.
There is a heavy amount of irony at play with the team's visit.

The "Miracle on Ice" victory drew its significance from the global political dynamics surrounding it: the U.S. and the Soviet Union were hardened enemies in the throws of a precarious, strategic war of ideals. And the U.S. team defeated its foe on the ice.
Trump, on the other hand, has spent all of his presidency enmeshed in controversy over the extent to which he has backdoor ties to Russia and former KGB officer Vladimir Putin, if he used those relations to win the 2016 Presidential Election and if he will use them to win the 2020 Presidential Election.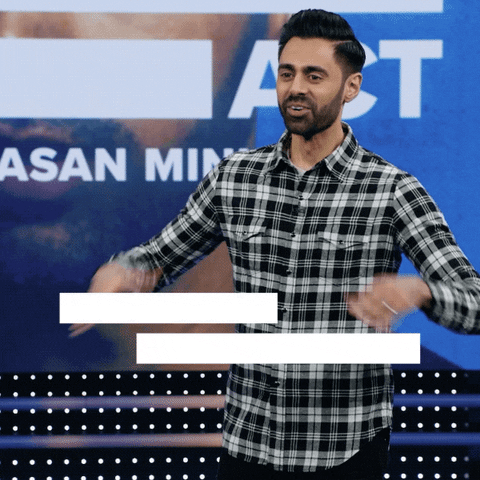 Giphy
After the appearance began to attract a good amount of negative backlash, the team's official Twitter—the same one that was super stoked about the backstage passes—assured that the visit was not the expression of any political leanings.
The team has not attended any campaign rallies for Democratic candidates.
Twitter was not interested in the assurance AT ALL.
With the general election on November 3 fast approaching, plenty more Trump rallies will be making headlines.
The process is sure to hold surprises and some further disillusionments as the incumbent President seeks to garner support with other household names.