Actor Wil Wheaton—best known for his roles in Stand by Me and on Star Trek: The Next Generation—excoriated billionaire Elon Musk after Musk mocked Nine Inch Nails musician Trent Reznor for leaving Twitter.
Last week, Reznor told The Hollywood Reporter he would leave Twitter shortly, saying Musk's recent acquistion of the social media platform personifies "the arrogance of the billionaire class."
Reznor added Twitter has become "such a toxic environment" without Musk's involvement and he would be deleting his account for the sake of his mental health.
Reznor's announcement came shortly after Musk announced he would reinstate former Republican President Donald Trump to Twitter, which meant lifting a ban Twitter imposed on Trump in the days following the events of January 6, 2021, the day a mob of Trump's supporters attacked the nation's seat of government on the false premise that the 2020 general election had been stolen.
Musk responded to the news of Reznor's impending departure, referring to him as "a crybaby."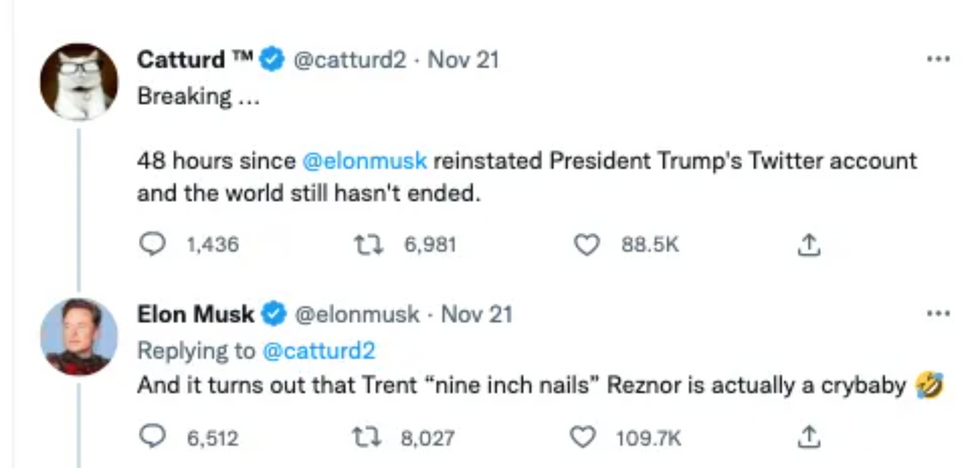 @catturd2/Twitter; @elonmusk/Twitter
Musk later followed up his mockery with another post saying Reznor might be better suited for a site like Etsy—the e-commerce company focused on handmade or vintage items and craft supplies.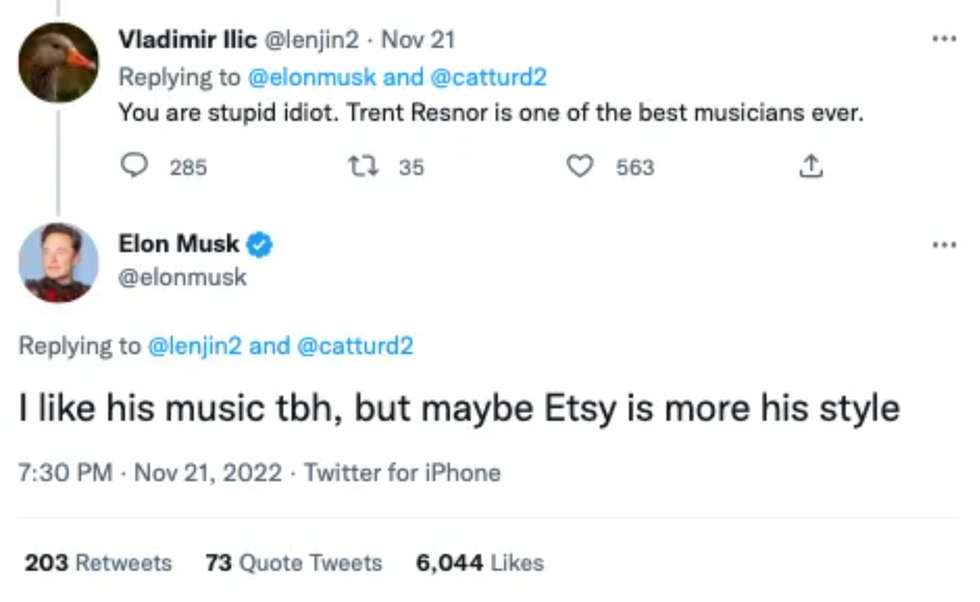 @lenjin2/Twitter; @elonmusk/Twitter
Musk's response to Reznor's concerns prompted Wheaton to admonish him in a Facebook post, saying he cannot fathom the "malevolence and total void of human experience that is Elon Musk."
You can see Wheaton's Facebook post below.
Wheaton wrote:

"I can not fathom the emptiness, the insecurity, the insatiable need for attention and validation, the staggering arrogance, the malevolence and total void of human experience that is Elon Musk."
"He's the richest man on the planet. You can't go anywhere or do anything without interacting with something he's part of in some way. There are literal millions of people who uncritically worship him, in spite of overwhelming evidence that he's a douchebag."
"Some number of them will come after me, as they come after anyone who points at their naked emperor. They'll spend entire days going after me and people like me, slavishly serving a man who does not even know they exist."

"They are his army of fools, uncritically serving his every whim. And it still isn't enough."
"He can have any material thing he wants, and he will *never* be happy or satisfied. He has no real friends. Every single person around him is either a viper, a parasite, or both."
"So what does he do? He bullies and threatens and harasses and trolls and behaves like the weak, scared, insecure child he has always been. That's a tragedy for him, but it's dangerous for us."
"He doesn't care what he destroys or who he hurts as he chases this existential thing he can not ever have."
"You know the saying 'hurt people hurt people'? He's a hurt person who is hurting our society, making people I care about less safe. The consequences of this one man's midlife crisis are global, and that terrifies me."
Many concurred with Wheaton's assessment and offered their own criticisms of Musk's petty, petulant behavior.
Conservatives had for months called for Musk to reinstate Trump to the platform and Musk finally caved to those demands, reinstating Trump after polling Twitter users. Musk suggested the decision to bring Trump back was done in the spirit of democracy, exposing himself to criticism from people like Reznor and his fellow musician Jack White.
White—best known as the lead singer and guitarist of the duo The White Stripes—said Twitter's new owner made an "a**hole move" by allowing Trump to return to the platform amid concerns that Musk's leadership style is worsening an environment already rife with misinformation and disinformation.
Though Musk has officially reinstated Trump to Twitter, Trump has opted not to join the platform, preferring to devote his time to his own social media site, a conservative playground and Twitter clone called Truth Social.
And while Musk has publicly defended Trump on many occasions, Trump wasn't particularly fond of him over the summer, referring to Musk as a "bullsh*t artist" shortly after Musk announced what proved to be a futile attempt to abandon his deal to purchase Twitter for $44 billion.