Uber customers in Miami are finding themselves victim to a new fraud by drivers.
---
It is called "vomit fraud" and it's when an Uber driver reports that a customer has vomited during a trip. A charge for vomit, a spilled beverage, or other bodily fluids can range from $80 to $150 depending on the severity. Such a report must include photos, but it seems that the drivers pulling stunts are using stock photos that they either staged or kept from an actual incident.
Victims of these accusations contact Uber via the "help" page, either online or on the app, and are sent photos of the alleged incident in response.
El Nuevo Herald, Miami Herald's Spanish-language sister publication, interviewed several customers who experienced such fraud. Customers shared details of their interaction with Uber's customer service, reporting that Uber repeatedly sided with the driver. One customer was successfully reimbursed by Uber after multiple emails, but another ended up disputing the charge with her credit card and then saw that Uber had canceled her account.
Fellow users share their own stories.
@laura_nelson I've had the same thing happen to me here in Mississippi! Although thank goodness the driver wasn't s… https://t.co/U1y4hc8R66

— Logan Kirkland (@Logan Kirkland)1532316775.0
@thedailybeast I was a victim of this kind of fraudulent claim... twice. One had no picture for me to dispute but U… https://t.co/xpzJtezxHL

— Eric 🇺🇸 (@Eric 🇺🇸)1532362590.0
@laura_nelson @SarahCassi This happened to a girlfriend of mine, but they claimed she'd sweat really badly in the car and left a stain.

— Kate Schroeder (@Kate Schroeder)1532313976.0
@MiamiHerald I had a driver last week never get near my location and he cancelled saying I was not at the pickup lo… https://t.co/JHbsJFjafW

— Griff (@Griff)1532355231.0
@LizPW @Uber Me too, in Albuquerque in August of 2017. When you get the notification, you feel like you have no r… https://t.co/NZIhoQFk4Z

— ✂️Trimmer Fredette ✂️ (@✂️Trimmer Fredette ✂️)1532354903.0
@MikeIsaac Happened to me. Fortunately, Uber CS reversed the charge (presumably they agreed it was unlikely I'd thr… https://t.co/EMFOkmy3km

— Jan-Erik Asplund (@Jan-Erik Asplund)1532282657.0
People seem to all have the same idea to protect themselves from vomit fraud — photo evidence.
@rickhirsch @MiamiHerald Taking photos is key, like we all learned to do with rental cars. Or maybe driver could se… https://t.co/L55lhD5ftb

— Nancy Dahlberg (@Nancy Dahlberg)1532271492.0
#Uber and #Lyft are just another variety of rent car where it pays to take a photo when you end your trip. https://t.co/dhm26Cr4RZ

— Michael R Shannon (@Michael R Shannon)1532350292.0
Uber reportedly stated that they are "actively looking into reports where fraud may be detected and will take appropriate actions on those accounts," and "with 15 million trips a day, Uber is unfortunately not immune to these types of incidents." They also claim to be "constantly on the lookout for fraud by rider and drivers," in their Community Guidelines.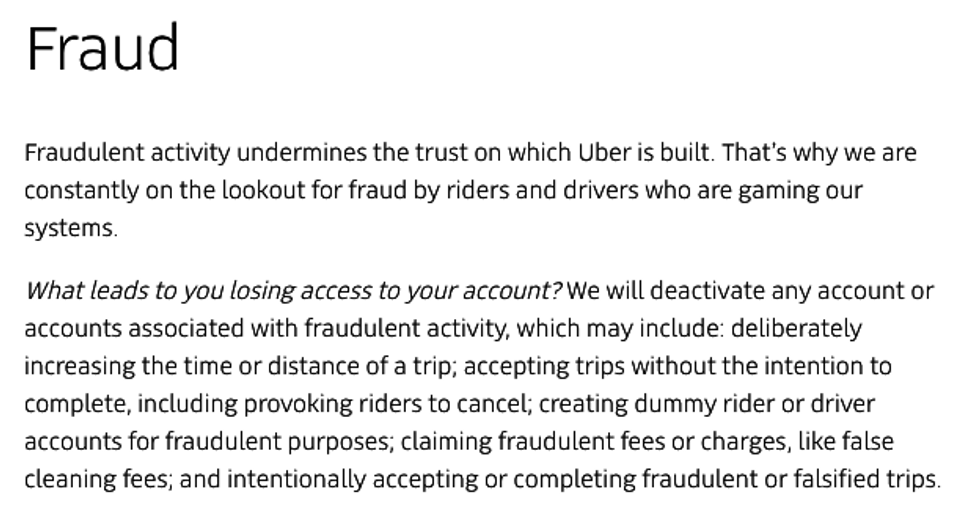 via Uber
Hopefully they will stand by their statements and fix this issue so that no one else is on the receiving end of this scam.
H/T: Miami Herald, Uber