President Donald Trump made a visit to Broward North Health Hospital on Friday on his way to his golf resort. He met with just 2 of the 14 survivors of Wednesday's school shooting, and for a total of only 35 minutes. But it gets even worse.
---
It was all smiles and thumbs up for Trump as he attempted the role of Consoler-In-Chief for victims of Wednesday's school shooting in Florida.
Take a moment to compare this to President Obama's reaction to the 2012 school shooting in Newtown, Connecticut that killed 20 children and 6 teachers. Here he is seen wiping away tears.
And he sacrificed a whole round of golf for the photo op.
The President then met with emergency services personnel and law enforcement, telling them they are doing an "incredible job, and everybody is talking about it."
After listening to the officer who arrested the gunman tell his story, Trump said, "that was so modest; I would have told it much differently," Trump said. "I would have said without me, they never would have found him." Yes. Trump actually said that.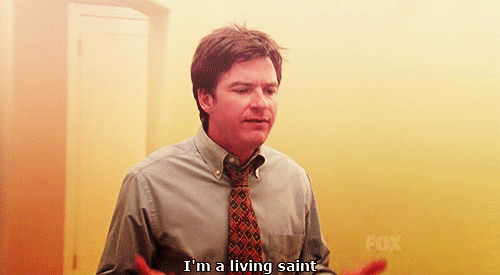 He also may have committed a "little light treason," but who's counting.
Trump then continued to Mar-A-Lago, where he threw a party and spent the weekend golfing.
Trump, in classic "everything is cool because I'm Donald Trump" style, was pictured partying with voluptuous blondes, appearing to be hosting quite the soiree. First Lady Melania Trump was reportedly nowhere to be found.
Following the shooting, Trump blamed victims, survivors, their families, and school officials for not preventing the attack.
"So many signs that the Florida shooter was mentally disturbed, even expelled from school for bad and erratic behavior. Neighbors and classmates knew he was a big problem. Must always report such instances to authorities, again and again!" Trump tweeted less than 24 hours after the incident.
One survivor of the attack completely torpedoed Trump's claim, recalling that the shooter had been a well-known threat within their community for years. The heart-wrenching video is below.
Five days later, Trump has yet to put forth any policy proposals to prevent these types of preventable tragedies from happening in the future. While victims and their families grieve and plead for gun control reform, Trump is left to wonder about the round of golf that got away.