Former Republican President Donald Trump declared "thugs" from the Department of Justice (DOJ) and the Federal Bureau of Investigation (FBI) "must be dealt with," issuing an inciting threat to his supporters in yet another claim that the 2020 general election was stolen from him.
Writing on his social media platform, the conservative playground Truth Social, Trump falsely claimed that the FBI was "absolutely" involved in a "coordinated effort to change election results."
He went on to suggest that the January 6 insurrection—the day a mob of his supporters attacked the United States Capitol on the false premise the election had been stolen—was justified.
Although well over 1,000 people have been indicted for the attack that left at least five people dead and resulted in over 100 injuries to law enforcement as well as millions of dollars in damages, Trump attacked the House Select Committee tasked with investigating the insurrection.
He argued the panel is stacked with "Political Hacks [and] Thugs" who "didn't spend any time investigating" his false claims of election interference.
You can see Trump's post below.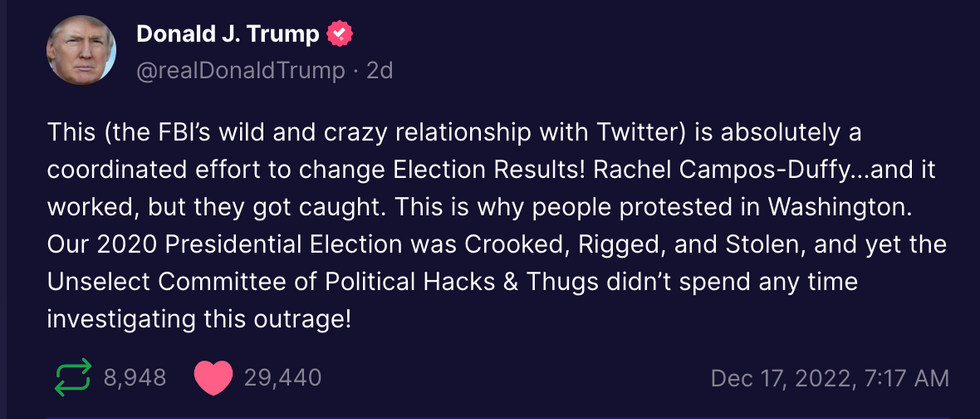 @realDonaldTrump/Truth Social
An enraged Trump soon after issued what critics said amounted to a call to action not dissimilar to the one he issued on January 6, 2021, when he urged his supporters to "fight like hell" at the "Stop the Steal" rally ahead of the attack on the Capitol.
He painted an image of a country in crisis, beseiged by the "Crooked FBI," the "so-called Department of 'Justice' and 'Intelligence,'" and "all parts of the Democrat[ic] Party and System," likening their influence to a "Cancer" rotting the country from the inside out.
He concluded:
"These Weaponized Thugs and Tyrants must be dealt with, or our once great and beautiful Country will die!!!"
You can see Trump's second post below.

@realDonaldTrump/Truth Social
Trump's remarks alarmed Luke Zaleski, the Legal Affairs Editor at Condé Nast, who said they are essentially "the exact speech he gave on January 6th."
Zaleski observed that Trump is "continuing the rhetoric that incites violence against the United States" through the use of the words "must be dealt with" in reference to federal agents investigating his alleged criminality.
Others were similarly perturbed and condemned Trump's actions, warning he incited terrorism against the United States in plain sight.
Trump's attacks against those tasked with investigating him come as the House Select Committee prepares to release its final report, which may back criminal charges against him. Transcripts from witnesses will also be included in the release.

Tomorrow, the House Ways and Means Committee will meet privately to discuss "what to do with the six years of Mr. Trump's tax returns that it finally obtained after nearly four years of legal efforts by Mr. Trump to block their release," according to New York Times reporter Maggie Haberman, who suggested the committee could "release them publicly, which would most likely be done in the final days of Democratic control of Congress."
Trump's legal troubles have only magnified his failure of his rather inactive 2024 presidential campaign to court many members of the Republican Party, who have turned away from him after last month's midterm elections did not result in the "red wave" GOP legislators and pollsters had predicted.