Donald Trump gave a glaringly unqualified correction of Chris Cuomo's latest tweet about Bill Maher's prediction of 45's future.
Here's what happened.
Geraldo Rivera carped on HBO's Real Time With Bill Maher host – who proclaimed that Trump won't leave if he lost in 2020 while talking with CNN's Chris Cuomo.
---
Rivera saw the interview posted by the Cuomo Prime Time Twitter account in which the page quoted Maher's statement:
"If he loses... he won't go. I've been saying that since before he got elected."
CNN left a typo while summing up Maher's prediction.

"'Real Time' host Bill Maher warns @ChrisCuomo that President Trump may not leave the White House is he loses the presidential election in 2020, saying it's something we have to worry about."
The account typed "...leave the White House is he loses" instead of "if" he loses."
Trump noticed the error after Geraldo Rivera bashed Maher, but the odd manner in which he corrected the typo was written out like a mathematical equation that just doesn't compute.

"is = if (Spell)! Not like Chris."

Remember when the White House misspelled "Teresa May" three times and the Department of Education botched spelling W.E.B. DuBois with "W.E.B. deBois?"
We can also thank Trump for his contribution of "hamberders,""unpresidented," and "covfefe" into the lexicon.
Shall I go on? "Our deepest apologizes" if additional examples of Trump destroying the English language is like nails on a chalkboard.
But this is the world we live in now, and Twitter is here to comment on the irony of trump correcting Cuomo's grammar.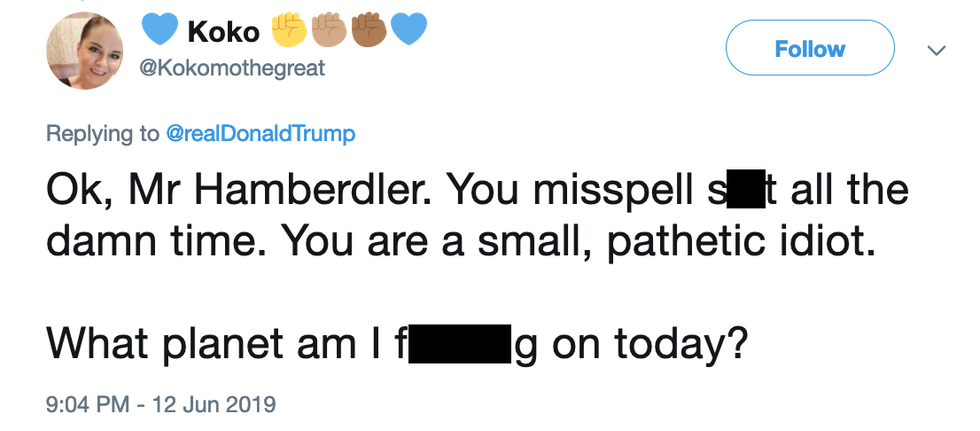 @kokomothegreat/Twitter
Questions about his health arose.

Some likened Trump's cryptic tweet to that of computer programming.

Let us not forget that this tweet was only the beginning.

Class dismissed.

If you love reliving every glorious moment of the President on Twitter, The Daily Show with Trevor Noah created The Donald J. Trump Presidential Twitter Library, available here.