On Wednesday, March 14, Toys "R" Us announced it would be closing or selling all of its U.S. stores in the face of almost certain bankruptcy. Since then, the once unquestioned king of toy sales has been endlessly eulogized on social media (though most of the stores have yet to actually cease operations). As a place where kids could be unashamedly excited and find cool products made just for them, the dying retailer holds a singular place in many consumer's hearts. But the closing of Toys R Us will have the largest impact on one person in particular: Geoffrey the Giraffe, an anthropomorphic savannah animal who is also Toys "R" Us's longtime mascot.
---
Geoffrey stumbled onto the set of "Jimmy Kimmel Live" on Thursday, March 15. He had a lot on his mind. It was not easy to watch.
Poor Geoffrey...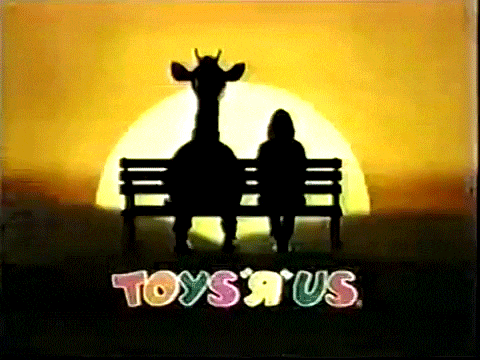 Giphy
Things started out innocently enough, with the mascot greeting the crowd in his usual buoyant tone, asking them:
Do you guys like toys?!
True to form, the audience responded with cheers! Geoffrey then dropped some bad news:
Well, I don't have any. Because we're bankrupt! *Giraffe Sobs*
@jimmykimmel @IAMGUILLERMO Poor Geoffrey😱

— ✊ Becca Chavez 💋 (@✊ Becca Chavez 💋) 1521229629.0
Geoffrey said some things he couldn't take back.
When Jimmy told the giraffe everything was going to be okay, Geoffrey responded:
Oh no it's not! No it's not because all you b*****s bought toys on Amazon! Now I'm out of a job!
It was at this point Jimmy smelled the alcohol on Geoffrey's breath. Sobbing, Geoffrey sang the famous Toys "R" Us theme song:
I don't wanna grow up
I'm a Toys R Us kid
There's a million toys at Toys R Us that I can play with!
...but not anymore.
Twitter was equal parts mocking and supportive, strange as that may sound.
@jimmykimmel @IAMGUILLERMO I was worried about the same thing when I read about Toys R Us. You thought a bull in a… https://t.co/iyb5XQHPLM

— Ken Honeycutt (@Ken Honeycutt) 1521218679.0
@jimmykimmel @IAMGUILLERMO Sorry Geoffrey... don't know where a toy pushing giraffe goes to find his next gig, but… https://t.co/xiLb4dLfqU

— Dorothy Gibbs (@Dorothy Gibbs) 1521214082.0
And fortunately, the stores up in Canada have yet to close (though many believe their days are numbered)!
@jimmykimmel @IAMGUILLERMO He's got a place to crash, still open up here in Canada :)

— Eddy Jones (@Eddy Jones) 1521214067.0
Geoffrey blamed his store's failure on Amazon and other online delivery websites.
Everyone agrees the rise of online stores like Amazon, combined with increased prominence from big-box retailers like Walmart and Target, contributed to the toy store's demise. However, many are also pointing a finger at the private equity firms that saddled Toys "R" Us with $5 billion in debt. In last September's bankruptcy filing, Toys "R" Us revealed they had to spend $400 million every year just to manage their debt, which made it incredibly difficult to turn a profit, let alone pay for store improvement and upkeep. The company hasn't posted a full-year profit since 2012, and has lost $2.5 billion in that time.
But, to be honest, I doubt any of that will help poor Geoffrey. Our hearts are with you, old friend! Hopefully you'll pull yourself up by your bootstraps and find a new, happy life.
@FredoDupoux Lmaoooo! That made me laugh but a sad laugh! 😂🤦🏽‍♀️ I cant get over it.

— M-P (@M-P) 1521212317.0
H/T - Huffpost, CNN Money, The New York Times