A White civilian faked being a police officer in order to berate a group of Hispanic teenagers enjoying a swing set in a public, all-ages park, in Fort Worth, Texas.
One of the teens recorded the confrontation on a smartphone and posted the footage online.
---
As expected of this sort of video featuring White "life monitors," it went viral.

Dubbed, "Swing Set Susan," the blond woman wearing a white and blue baseball shirt, athletic shorts and sneakers approached the teens who were minding their own business on a Wednesday afternoon.
"Susan" yelled at them:

"Stop! Stop! It's a children's park, stop. Stop now."
The woman aggressively stopped the swing while it was in motion. Because that moment is partially cut off from the video frame, it is difficult to determine if someone was still riding the swing.
The video that took place at Frank Kent's Dream Park serves as a continuing example of many others before it that focuses on the harassment of non-White people.
we were just trying to play 😔 i guess were adults https://t.co/7RaLogxV2C

— r lean ¿ (@r lean ¿)1571259708.0
this was the park that has NO age limit & is public lmao https://t.co/rFm28l8bFt

— r lean ¿ (@r lean ¿)1571265401.0
The woman detonated F-bombs when responding to the confused teenagers asking if they were children.

"No you're not! And if you think you're a f*****g child, are you over the age [allowed here]?"
The children responded in unison that they were, in fact, not over the age allowed in the park and protested.

Then she waved her arms and invoked her false authority over them by claiming she was a member of law enforcement.
"I'm a f—ing PD, so get the f–k out of here now if you're not here to play as a child. Read the f*****g sign."
When one of the teenagers confronted her by saying she was only 16, "Susan" huffed:
"Right. Then you're not a f*****g child. Thirteen or younger. Actually not, because you provoked yourself as a child and you're not even acting like a child. Are you?"
"You said you're 16. If you're not, I can literally arrest you as an adult. Which is your choice? Are you a child or are you a god-damned adult?"
@angeles630 @S2mba1 @arlenedgaf why is she so gd concerned abt age lmfao 😭

— riley 🥰 (@riley 🥰)1571372561.0
Her tirade was endless, according to the poster of the video.
@Meowdiuwu we left because we didn't want her to get even more mad but she kept arguing with us while we were leaving as well

— r lean ¿ (@r lean ¿)1571271481.0
@littlepoets @arlenedgaf She rolled up with all that force, big mad and for what??? A SWING?!?!

— That Florida Girl 🏁 (@That Florida Girl 🏁)1571320964.0
It turns out "Susan" is notorious for her confrontational park appearances.

The posted video prompted others to recall witnessing the same woman harassing others before this incident.
@arlenedgaf This woman was harassing others in the same park in another video. Here's a clear picture that was sent… https://t.co/MrUSrqTvF8

— Angel (@Angel)1571284776.0
The identity of "Susan" is alleged to be Samantha Louise Eley, who already has a police record for an assault charge and a DUI.
@S2mba1 @arlenedgaf Her name is Samantha Louise Eley. She's already been arrested for #assault & has a #dwi https://t.co/E5nEvfLKdY

— Angel (@Angel)1571319442.0
Fort Worth's Parks and Recreation Department issued a statement explaining that some of the playground equipment is meant for preschool children ages 2-5 or for school-age children ages 5-12.
But they added that the playgrounds "are open to all ages."

The Fort Worth Police Department tweeted that the woman in the video was not a member of law enforcement and later provided an update stating she may be "a possible local resident."
#UPDATE In regards to the video that was captured on Oct. 16 at 3:41 p.m. at the Dream Park located at 2001 Univer… https://t.co/iSboRGQn7b

— Fort Worth Police (@Fort Worth Police)1571325778.0
People are anxiously waiting to hear about her punishment or are demanding one.

@fortworthpd We want to see charges for impersonating a police officer https://t.co/XIs8MdSz1Q

— ness ♡ (@ness ♡)1571281286.0
@fortworthpd Thank you for taking this incident seriously. She was impersonating an officer and harassing children… https://t.co/KZoGAUyiIj

— azaletch (@azaletch)1571331803.0
@fortworthpd Not only arrested, but also charged. Not only was she impersonating an officer, but also she threatene… https://t.co/Grt31jvKjy

— r a i l a (@r a i l a)1571362000.0
@fortworthpd Nice to see y'all taking this serious. Her claiming that she's PD was the giveaway. She needs to be ba… https://t.co/iYsxA8I0P2

— Bell (@Bell)1571326733.0
@fortworthpd PLEASE charge her. anyone else would be charged, I really dont want to see white privilege happen here… https://t.co/kOeWeri5N4

— 💗 (@💗)1571326883.0
@fortworthpd Is it illegal for a 16 year old to sit on a swing? It's definitely illegal to impersonate a cop. Let k… https://t.co/HbN3nMZ82d

— SpicyUterus | Ariel (@SpicyUterus | Ariel)1571320258.0
Police who responded to a call about "Swing Set Susan" told the Fort Worth Star-Telegram that she may have been intoxicated.

On Wednesday, Samantha Louise Eley, 38, of Fort Worth, Texas was charged with impersonating a public servant, the Fort Worth Police Department shared on Twitter.
#UPDATE Samantha Louise Eley was charged today (Oct. 23) for Impersonating a Public Servant. These charges have… https://t.co/wRJhTNwGpR

— Fort Worth Police (@Fort Worth Police)1571863383.0
According to the Fort Worth Star-Telegram, it turned out she was already in jail in Tarrant County after a Monday arrest for a bond violation related to a previous arrest in a family violence case.

The privately funded Dream Park—which is located in Fort Worth's Trinity Park—opened in April and is known as a play space "custom-designed for children of all abilities to explore, learn and play."
Tired of the self-appointed life monitors? This shirt is available here.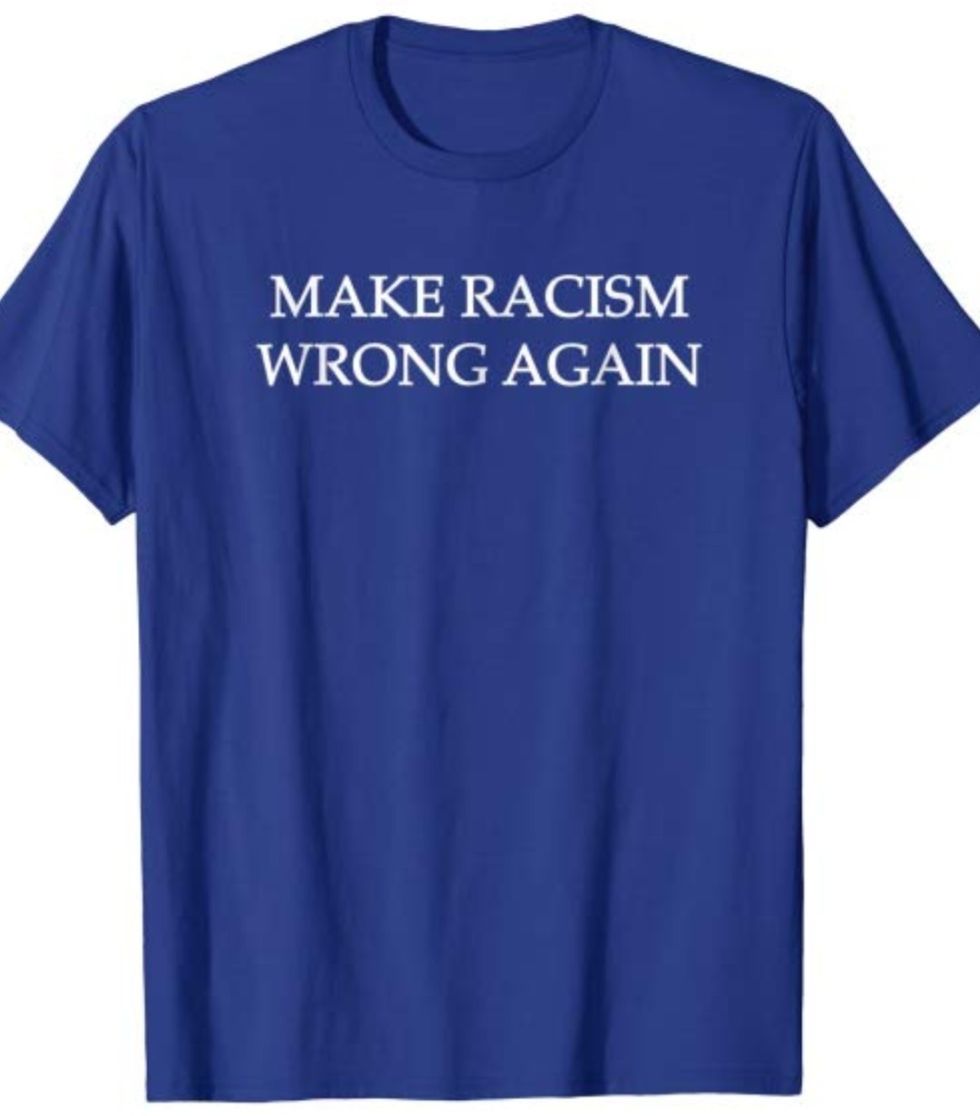 Amazon