We all know the feeling of looking forward to something, only for it to not work out the way we were hoping.
Hopefully, our disappointment wasn't also accompanied by feelings of embarrassment or being publicly humiliated.
Andrew Batton, a father in Grafton, Illinois was furious about the psychological impact on his 13-year-old daughter when she was publicly declined admission to a waterpark ride because she exceeded the ride's weight limit by 5 pounds. His issue was not with the park's safety protocols but rather with their failure to notify the public of them.
Batton stated that neither the park's information about their new ride, nor their signage at the entrance to their new ride includes anything about a weight limit.
Due to the pandemic and other obstacles, Raging Rivers Waterpark's newest ride, the Mississippi Monster, had been delayed multiple times. The Batton family had been looking forward to it.
But likely no one was looking forward to it as much as Batton's 13-year-old daughter who had been "a season ticket holder for her entire life."
When his daughter and a friend ascended the hill to the ride, Batton was surprised when his daughter was stopped after waiting in line, just before getting on the ride and told to step on a scale in front of everyone. Because she weighed 205 pounds and the weight limit on the ride was 200, she was told to leave the ride area.
Publicly humiliated for having to weigh herself in front of a gathered crowd and for having to walk back down the hill from the ride past everyone going up, the family left the park soon after.
You can watch more about the incident here:
Andrew Batton shared his experience in a since deleted Facebook post.
"[I debated] on posting this, but I think everyone should at least be aware. So Raging Rivers Waterpark in Grafton, IL., opened up their new water slide today after more than a year of delays, and words cannot describe my sadness, anger, and disappointment at the current moment."
"My 13-year-old daughter, who has been a season ticket holder for her entire life, has been beyond excited for this new ride."
"Through all the delays in the rollout and all the announcements leading up to it, there was never any mention of a weight limit. Neither was there any mention of a weight limit at the bottom of the hill as she and her friend excitedly climbed the hill to ride the Monster for the first time, only to get to the top and be confronted with a scale."
"Let's leave out the amazingly damaging, psychological impact of forcing a young woman to publicly weigh herself, but to have to see my daughter's face, eyes welling up with tears as she was turned away for being FIVE POUNDS OVER!"
"The employee was extremely upset, as well, and explained that this scene had been playing out all day, and many people had been upset or surprised by the restriction."
"I have so many questions, but my main one is why was there not any mention of the weight limit in the rollout to the opening of the attraction? At the very least, there should have been signage at the bottom of the hill to prevent people from having to subject themselves to public humiliation when found to be non-compliant with safety requirements?"
"Raging Rivers has been such a source of joy for my daughter throughout her childhood, and to have such an amazingly awful experience today has saddened me beyond words, as well as negatively impacted my daughter in a way that I am sure we are going to be discussing in therapy for years to come. And all over five pounds!"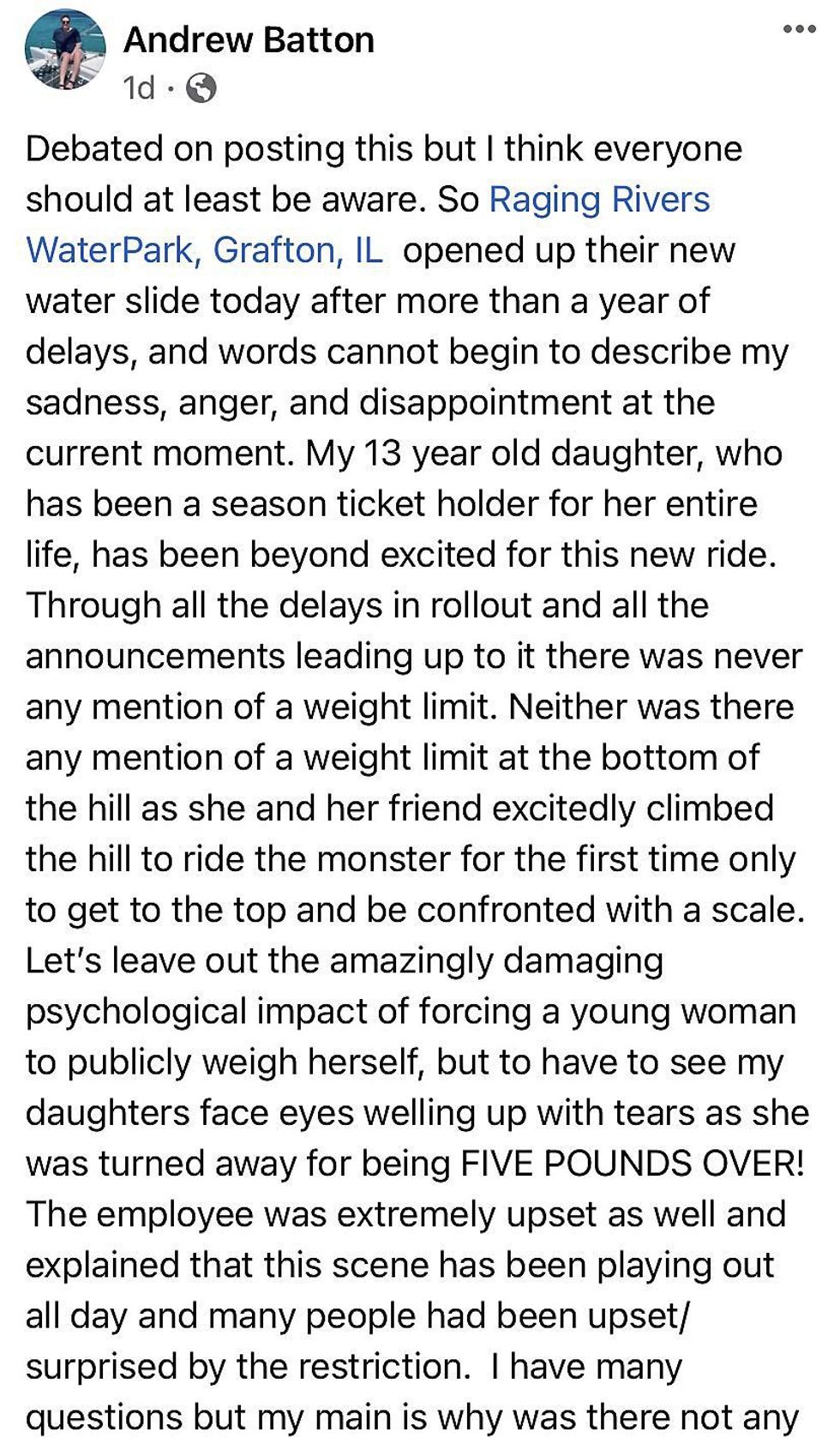 Andrew Batton/Facebook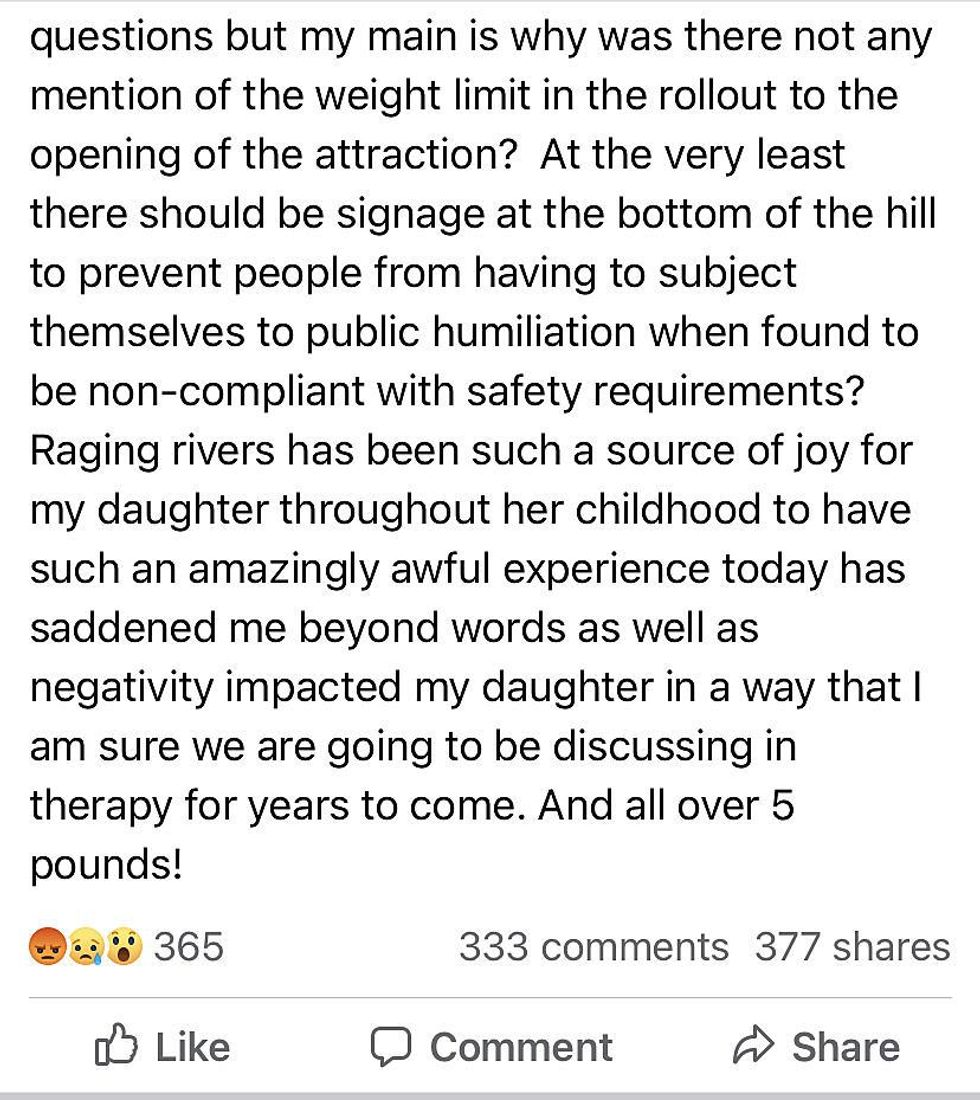 Andrew Batton/Facebook
Some defended the water park and said it was important for them to follow its safety restrictions—completely missing the fact the safety protocols were never the issue.

Still .issing Batton's point, some cited a terrible event from March 2022 that involved a child who was only one year older than Batton's daughter. Tyre Sampson was only 14 years old, 6 feet tall, and 383 pounds.
He rode the Orlando Freefall Drop Tower amusement park ride in Florida, but because he exceeded the weight limit of the ride by nearly 100 pounds, the safety harnesses were not designed to hold him in his seat.
Sampson died from blunt force head trauma.
A spokesperson for Raging Rivers Waterpark, Jimmy Holmes, issued a statement soon after claiming there is a sign at the bottom of the slide.
Holmes wrote:
"Our goal is never to embarrass anyone, but we must look out for their safety while visiting Raging Rivers."
"Raging Rivers takes an abundance of precautions to ensure the safety of our guests while enjoying our slides and attractions."
"The new Mississippi Monster Slide has a max weight limit of 200 lbs per rider. Signage is located at the base of the slide, alerting guests of this restriction."
"In addition, there is a scale that all guests who choose to ride the attraction must step on to ensure they meet the safety requirements for the ride."
"We will continue to follow manufacturer guidelines for safety while offering our guests a fun experience at Raging Rivers Waterpark."
While this was undoubtedly embarrassing for the teen who just wanted to try out a new and fun ride with her friend, it's clear the park had her physical safety in mind.
However this all could be avoided—just like the child's death in Florida—with clearly defined, visible, publicly available information and signage for any height or weight restrictions for every ride that is enforced by park personnel.