2021 has been rough for Republican Senator Ted Cruz of Texas.
First, January was a public relations nightmare for Cruz, owing back to Cruz's conduct throughout November and December, when he repeatedly echoed former President Donald Trump'sfalse claims President Joe Biden didn't win the election despite garnering over 7 million more votes and 74 more electoral votes.
So when the Capitol insurrection occurred on January 6, it was clear to many Cruz was complicit. He faced climbing anger for weeks following the attack on Democracy. Many even called for him to be censured, expelled or resign.
Now February doesn't seem to be going a whole lot better for him. His recent comments regarding an NBA Black History Month ceremony launched him into the cross hairs of people all over Twitter, Indy 100 reported.
Cruz fired off the tweet while watching an NBA game that included a brief nod to some of the most influential living Black figures: Barack Obama, Stacey Abrams, and Kamala Harris.
Cruz immediately slammed both the league and Turner Network Television (TNT), who broadcast the game, for injecting partisanship into their celebratory on-screen banner.
He noted that Obama, Abrams, and Harris are all Democrats. Cruz then listed the names of Republican Black figures: Tim Scott, Colin Powell, Condoleezza Rice and Clarence Thomas.
That tweet immediately ignited backlash.
People were baffled Cruz had the gall to weigh in at all.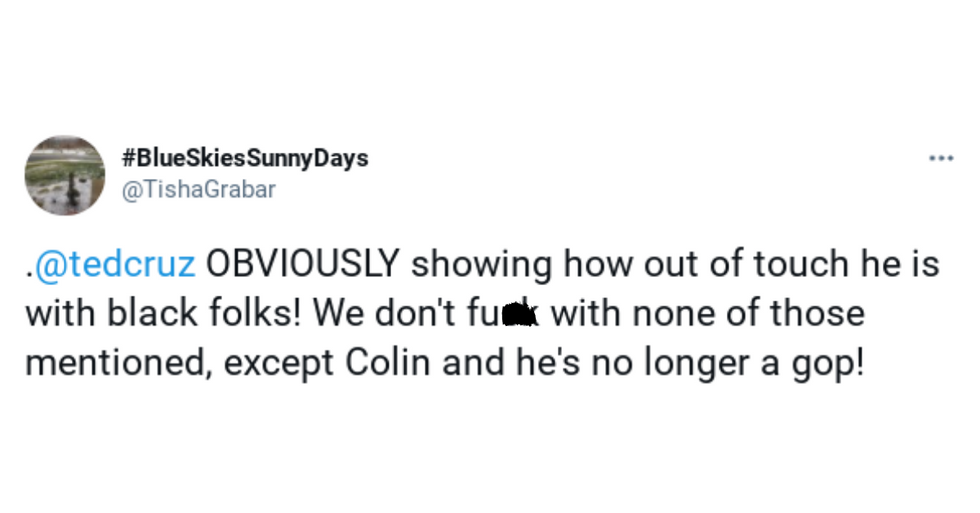 @TishaGrabar/Twitter
Critics explained just how not equivalent Cruz's proposed alternate list was.
And that Cruz apparently missed when Powell castigated then left the GOP.
Others took the opportunity to blast Cruz for what they deemed a history of not supporting Black people.
There is no reporting that suggests anybody anywhere plans to give Ted Cruz the reins for planning a celebration of Black History Month anytime soon.

And now, thanks to Twitter, we have a public record of exactly why that is.