A fourth-grade teacher from Cleveland revealed how little he earns in a TikTok clip that sparked a converation about an educator's salary in the United States.
In a stitched TikTok video responding to a question asking how much money he makes, Kyle Cohen said he made $31,000 before taxes in his first year of teaching.
@mr.kylecohen

#stitch with @itsnitababyyy #teachers #teachersoftiktok #teacherlife #money
When a viewer suggested an educator's salary "only" reflected the eight-to-nine-month annual work schedule, Cohen posted a follow-up video breaking down the eye-opening amount of hours he commits to in a normal work week.
@mr.kylecohen

Reply to @mikekarpinski291 #teacher #teachersoftiktok #teacherlife
Cohen broke down the numbers to explain how "ridiculous" it is to "only" work eight to nine months a year.

He said as a fourth-grade general education teacher, he puts in about 10 hours a day, working from 7 a.m. to about 5 p.m.
He multiplied that by 5—the number of workdays in a week—which is 50 hours. He then multiplied that by four weeks, totalling 200 work hours each month.
Because his calendar indicated he had a lot of meetings and events that teachers are required to attend, he also added an additional ten hours a week.

At the time of making the video, he said it was 6 p.m.and had parent-teacher conferences that went until 8 p.m., with more conferences to follow the next week.
The additional ten hours reflected the minimum amount of hours he spends doing lesson plans and constantly communicating with administrators and families of his students.
"It's roughly 240 hours a month, probably more, if we're being honest," said Cohen.
"But let's just say 240 hours times the 'nine months' that I'm working, right? So 'only' nine months, that's 2,160 hours of work."
"If I take that $31,000 of salary I earned in my first year of teaching...$31,000 divided by 2,160 hours, that's $14 an hour to be a fourth-grade-classroom teacher."
Cohen concluded he was making $14 an hour before taxes.
People collectively dropped their jaws.


@mr.kylecohen/TikTok

@mr.kylecohen/TikTok

@mr.kylecohen/TikTok
Cohen emphasized he didn't want to come off as "ungrateful" because he said he absolutely loves being an educator and wouldn't trade it for any other profession.

"I'm incredibly grateful to be in this field," he said, but he wanted to stress the fact that teachers "only" working eight-to-nine-months a year "who are being paid inappropriately for the amount of work that they are doing, it is a problem here in the United States of America."
Cohen ended the clip by saying it was a conversation "we are needing to have."

A discussion followed in the comments, with many TikTokers sounding off their frustrations over the salary of teachers.

@mr.kylecohen/TikTok

@mr.kylecohen/TikTok

@mr.kylecohen/TikTok

@mr.kylecohen/TikTok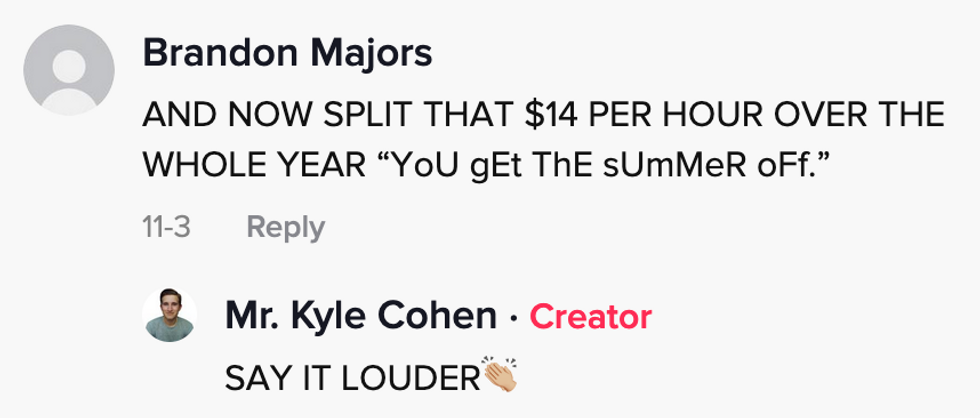 @mr.kylecohen/TikTok
@mr.kylecohen/TikTok

@mr.kylecohen/TikTok

@mr.kylecohen/TikTok
"Teaching is always referred to as being an 'underpaid job,'" said Cohen.
"Family and friends always made comments about the lack of salaries teachers get paid in this country."
"With that being said, I never allowed these comments to keep me from a field I knew I was meant to be in."
Refusing to be discouraged, Cohen said he hopes his social media clips enable more real conversations about meager earnings in education.
Speaking with In The Know, Cohen said:

"Our teachers — and students — deserve the best, and it is the unfortunate reality that we are far from making this dream a reality."