As speculation surrounding Taylor Swift's alleged romance with NFL star Travis Kelce continues to circulate, the pop sensation was spotted in New York City on September 8 donning a teardrop-shaped pendant adorned with an opal—the birthstone of the football-playing Libra.
The pendant in question is Foundrae's "Forever & Always a Pair" Opal Pear Pendant," which costs $1,150 and shares its name with one of Swift's famous tracks, "Fearless."
According to Foundrae's website, "each pair comes at a time in our lives when something just feels right. These pairs of pears, we absorb them, fuse them into our own hearts, and our heart grows as a result."
You can see Swift's pendant below.

Fans were quick to notice Swift's choice of jewelry and couldn't help but connect the dots.

@alyssawisser/Instagram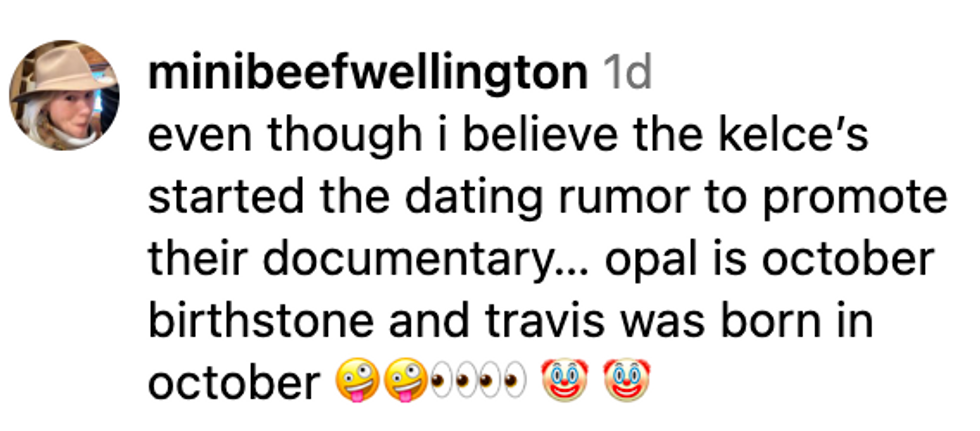 @minibeefwellington/Instagram
And they're pretty excited.
Swift's affinity for opals is not new; she has frequently incorporated the gemstone into her wardrobe and even mentioned it in her songs, such as in the Evermore track "Ivy."
Recently, reports surfaced that Kelce, the tight end for the Kansas City Chiefs, had been discreetly spending time with Swift for several weeks. While neither party's representatives have confirmed the dating rumors, this hasn't deterred NFL announcers, sports media figure Dave Portnoy, and even Travis's brother, Jason, from weighing in on the speculation.
Kelce had previously attempted to give Swift his phone number, in the form of a beaded friendship bracelet, during one of her Eras Tour shows in July. The dating rumors continue to fuel interest in Travis's love life, especially since his 2016 dating show, Catching Kelce.
Should the two confirm a romance, it would be Swift's return to the dating scene since the end of her six-year relationship with actor Joe Alwyn, a frequent collaborator with whom she shared the Grammy Award for Album of the Year in 2021 for their work on Folklore.