Students at a New Jersey high school walked out in protest on Monday after several students were told by a teacher to "speak American."
---
The incident happened last Thursday, when three students who were speaking Spanish were lectured by a teacher who told them that U.S. soldiers are "not fighting for your right to speak Spanish — they're fighting for your right to speak American."
A Snapchat video of the teacher's troubling remarks was shared later that day on Twitter:
"the men and women aren't fighting for your rights to speak Spanish they're fighting for your rights to speak Ameri… https://t.co/KjSe2WC4v7

— manny‼️😈💦 (@manny‼️😈💦)1507858223.0
According to students, the teacher in question, Laura Amico, is actually an English teacher who was subbing for an algebra class.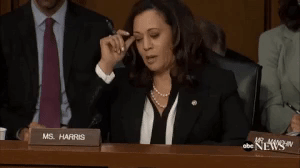 @RyobeatPeach how can you be an english teacher then say "speak american"

— EGtv.FatGoku (@EGtv.FatGoku)1507902369.0
One of the students, 16-year-old Junior Vianery Cabrera, told NBC News that she and her friends "were speaking about the Yankees" in Spanish "because that's how we feel more comfortable." Cabrera moved from the Dominican Republic to the U.S. three years ago.
After Ms. Amico started ranting about speaking English, Cabrera was indignant. "I laughed, because, first of all, that's not a language," she recalled. "I have the right to speak Spanish. I have the right to speak English. I have the right to speak whatever language I speak, and that's my right. There's no law that says that I should or I must speak English."
#EXCLUSIVE Cliffside Park student who was told by teacher to speak "American" speaks out #Immigration… https://t.co/zUtKNxxETI

— Cristian Benavides (@Cristian Benavides)1508171405.0
In fact, according to NBC News, nearly half of the student body admitted to speaking Spanish at home in 2016.
Twitter users were outraged by the teacher's comments:
@DonaldoHereni Imagine a Hispanic veteran hearing this happen to his/her child. "Speak American" is classifying Spa… https://t.co/0FJ2I1iVHd

— Craig Wilson (@Craig Wilson)1507950072.0
@amany_hamdan I most definitely emailed .I hope they do something about this situation. Honestly this is so disgust… https://t.co/DJh6dAbCUw

— 8-6 (@8-6)1507865321.0
The school decided to have an assembly on Friday regarding the incident, but apparently Ms. Amico didn't show up:
Update: My school had an assembly on what happened. Ms. Amico decided not to show up to school

— Ryobeat @ #G5👀🔥 (@Ryobeat @ #G5👀🔥)1507905667.0
But Cliffside PAYS her and as staff she represents Cliffside cause she educates our students! Like wtf we have to do something no?

— Ryobeat @ #G5👀🔥 (@Ryobeat @ #G5👀🔥)1507906148.0
So students decided to stage a protest:
ALL CLIFFSIDE PARK HIGH SCHOOL STUDENTS!!🤞🏽🌎❤️ #endracism #allunited https://t.co/UfTlbQSJSb

— manny‼️😈💦 (@manny‼️😈💦)1508099632.0
In total, around 100 students walked out of the school in protest on Monday. Once someone tripped the fire alarms, however, the entire student body of around 1,110 was evacuated.
After several dozen students walk out in protest, fire alarm triggered at Cliffside Park High School. Entire school… https://t.co/y9kPhP1CH5

— Christie Duffy (@Christie Duffy)1508168293.0
@northjersey Fire alarms go off, more students pour out of school, some waving flags https://t.co/67wwMZEUuF

— Mike Curley, Jr. (@Mike Curley, Jr.)1508168482.0
While students admit that most of the teachers and school administrators are very supportive, Cabrera wants something to be done.
"She should be fired," she said. "I don't think it's fair."
Please SHARE this with your friends and family.