Author Stephen King is well known for his disdain of President Donald Trump.
He's never been afraid to call things like he sees them when it comes to the President.
---
Most recently, King is incredulous that anyone could still be on the fence about whether Trump has done anything impeach able after the last week of impeachment hearings.
After multiple witnesses have testified, under oath, that Trump withheld aid from Ukraine in order to extort the country's leadership into investigating former Vice President Joe Biden and his son Hunter, it is hard to see why anyone would still have doubts.
King tweeted about the impeachment hearings on Sunday.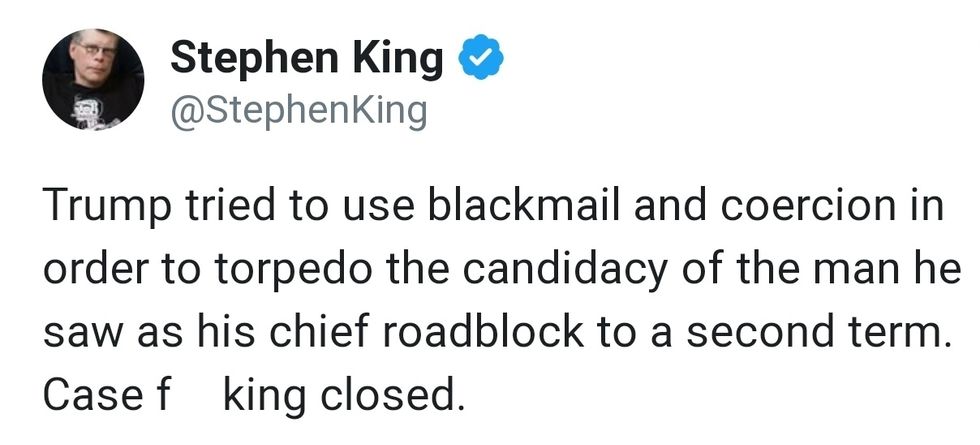 @StephenKing/Twitter
Trump and King have clashed on Twitter before, with the President resorting to blocking the author.

King told Stephen Colbert about the incident on his show last year.
"I might've said he had his head somewhere where a certain yoga position would be necessary to get it there. And that was it, man."
Many people on Twitter agreed with King.
A few pointed out other crimes that could be added to the list.
@StephenKing Also extortion and perjury

— 🆘️ bacon🥓bacon🥓bacon 🇺🇲🌊 (@🆘️ bacon🥓bacon🥓bacon 🇺🇲🌊)1574097249.0
@StephenKing https://t.co/4J6Jeh8xER

— Chad Keith (@Chad Keith)1574030718.0
@Grhymz1 @StephenKing Yep, we are living in scary times. https://t.co/UG9twZUn8Q

— Isis Twinkletoes #VoteLabour #JC4PM 🌹 (@Isis Twinkletoes #VoteLabour #JC4PM 🌹)1574074518.0
Some questioned how people could still not understand that the act of withholding aid was illegal, even if it ultimately failed and the aid was released anyway.

@StephenKing I don't understand how folks don't get that it doesn't matter that the money was released and that the… https://t.co/DOpnlmH1sV

— Alicia Ashtiani (@Alicia Ashtiani)1574086304.0
@WhistlingBatter @StephenKing More like The Dead Zone https://t.co/vlSSj72c2I

— Alfred E Newman (@Alfred E Newman)1574037273.0
@NilesHughes @StephenKing He did write it. It's called The Dead Zone. The similarities between Trump and the charac… https://t.co/Jhk7P4coQe

— Jon Richard DeCelles (@Jon Richard DeCelles)1574035902.0
@StephenKing This guy is scarier than all of your characters 😳

— Alex (@Alex)1574030684.0
Impeachment proceedings will resume on Tuesday morning. Those set to testify include Lt. Col. Alexander Vindman, the National Security Council's Ukraine expert, and Jennifer Williams, who serves as an aide to Vice President Mike Pence.

Williams has previously testified during closed hearings that the President's refusing of aid to Ukraine unless they investigated his political opponents was a move to serve his own "personal political agenda" and called the request "unusual and inappropriate."
Trump has lashed out at Williams on Twitter ahead of her testimony tomorrow, telling her to "read BOTH transcripts of the presidential calls."
He also suggested that she then "meet with the other Never Trumpers" to "work out a better presidential attack."
The movie based on King's book Doctor Sleep, available here, is currently playing on the big screen across the globe.