The most recent Star Wars installment left viewers with a lot of questions, most notably about Rey's parents. This theory answers them all.
---
Star Wars: The Last Jedi gave fans a lot to anticipate for Star Wars: Episode IX.

How will they incorporate footage of the late and beloved Carrie Fisher? Is Captain Phasma dead? Will Luke show up again?

But perhaps the most pressing question is: Did Kylo Ren tell the truth about Rey's parents?

Film Threat thinks they know. Check out their mind-blowing theory.

To recap, if this theory were true, Rey is the daughter of Han Solo and Qi'ra (played by Emilia Clarke). As we know, Kylo Ren's parents are Han and Leia. This would mean that Rey and Kylo Ren are half siblings. Sound familiar? Yep, that echoes the famous reveal in Star Wars: Return of the Jedi when Luke and Leia realize that they're twins.
Furthermore, Leia is on the Light Side whereas the child she bore is on the Dark Side. Qi'ra is on the Dark Side, but the child she bore (theoretically) is on the Light Side.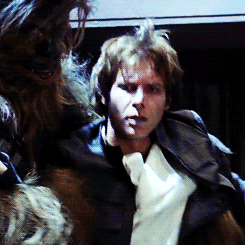 Talk about balancing the Force!
People are all about it.

@ThatChrisGore @FilmThreat @esquire More than plausible, I think! I definitely felt even on 1st viewing that Kylo R… https://t.co/e8bQ3r6jIM

— Jade (@Jade)1533776485.0
Mind. Blown. I am totally intrigued by this.🤔 https://t.co/JF89O0JE72

— Heather (@Heather)1533680983.0
This could actually be correct. Great theory. Thoughts? https://t.co/RTZ3jqEogz

— Eric Hemati (@Eric Hemati)1533816868.0
I don't usually go in for theories like these because they give me an unsustainable "spark of hope," but this one g… https://t.co/SwhZHyvVqe

— Drew (@Drew)1533760947.0
I'm loving this theory, and I can't believe I haven't heard it yet. Potential spoilers, so beware. https://t.co/njd9n1bQLc

— DaveStrrrikesBack!⚡ (@DaveStrrrikesBack!⚡)1533714647.0
But not everyone is buying it.
@slashfilm She would be middle aged...this is crushingly implausible.

— RetroZap! (@RetroZap!)1533580060.0
@slashfilm https://t.co/3FwGg01yag

— jvlfilms (@jvlfilms)1533580177.0
Do people really have to come up with increasingly implausible theories about who Rey's parents are? One of the bes… https://t.co/eJWKiCn87X

— Milo (@Milo)1533580249.0
#rant Stop trying to make Star Wars about the Skywalkers. Listen to Luke's lesson about the Jedi. To think to force… https://t.co/bZtNuAJWlq

— Jackson (@Jackson)1533664926.0
Why are people weird with #StarWars theories? Like... The whole point of Star Wars is that force sensitive people c… https://t.co/PMEl0ibVtF

— Steve Fiori (@Steve Fiori)1533830012.0
The problem with this fan theory is that it requires either A) Rey to be 30+ years old, and she's not - she was bor… https://t.co/tYRvyIWEFg

— Steve Lambson (@Steve Lambson)1533647892.0
I guess we'll have to wait until next December to really know.