Amateur skydivers have no choice but to rely on professionals to safely navigate their airborne journey safely back to terra firma.
But one woman might have opted out of her decision to jump out of a plane if she discovered beforehand her instructor held diametrically opposed views on science and health.
Tracy Sefl—who according to Indy 100 is a communications strategist and consultant for Democrats–discovered after the skydiving instructor with whom she entrusted her life wore a helmet with a decal, advocating, "Arrest Fauci."

The phrase is used by far-right conservatives who strongly oppose Dr. Anthony Fauci—the director of the National Institute of Allergy and Infectious Diseases and medical advisor to President Joe Biden's research on COVID-19 prevention and vaccinations.
While many on the left championed Fauci as a hero during the COVID-19 pandemic, critics on the right accused him of touting inconsistencies, goalpost moving, and hyper-caution. Many conservatives still deny the science and have accused the medical expert of lying.

Sefl took to Twitter and said of her dismaying discovery with the skydiving instructor:

"I literally put my life in this guy's hands, and we all loved him, but I didn't read the writing on his helmet until… you've got to be f'king kidding me."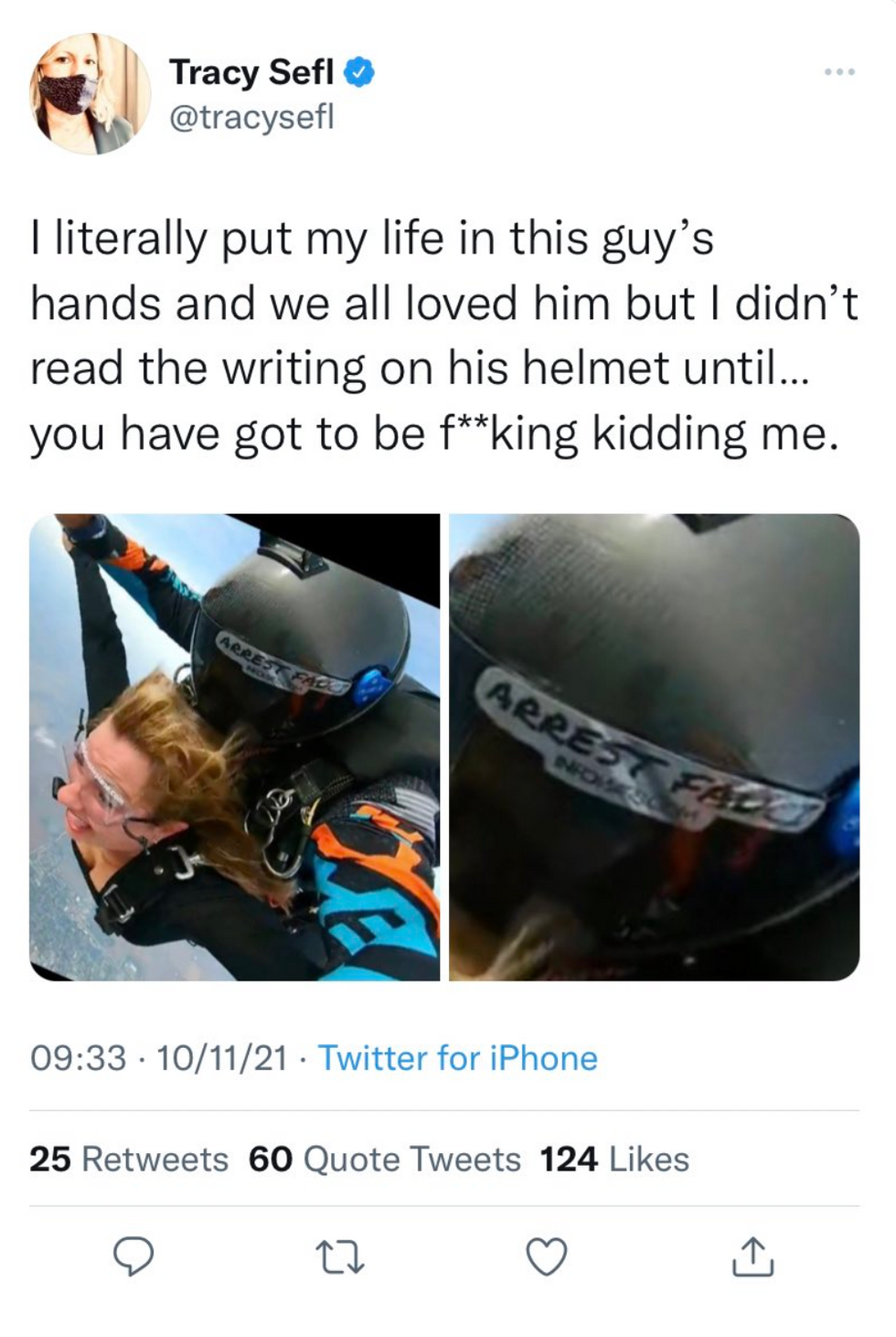 @tracysefl/Twitter
Sefl removed the tweet after she was mocked for admiring the instructor until seeing he was not a fan of Fauci.

Right-wing journalist Jack Posobiec managed to get a screenshot of Sefl's tweet before it was deleted, and he shared it on Twitter.
Posobiec tagged Sefl and asked:
"Why did you delete this?"
Since he didn't receive a response, his inquiry prompted many far-right users to fill in the gaps with their interpretations.

Some accused her of having a double standard.
Sefl has not responded when reached out for a comment.