After Roger Federer announced his retirement on Thursday, Serena Williams welcomed the Swiss tennis star to the "retirement club."
She went into further detail in a sweet Instagram post, which included a photo from a 2019 mixed-doubles match.
You can see her post here:
She wrote:
"I wanted to find the perfect way to say this, as you so eloquently put this game to rest - perfectly done, just like your career."
"I have always looked up to you and admired you. Our paths were always so similar, so much the same."
"You inspired countless millions and millions of people - including me - and we will never forget. I applaud you and look forward to all that you do in the future."
"Welcome to the retirement club. And thank you for being you [Roger Federer]."
Williams congratulated the 20-time Grand Slam champion on a "perfectly done" career.
Williams recently advanced to the third round of the U.S. Open. Her shoutout was seen as the clearest sign it was her final match.
Williams, who has amassed 23 major singles championships, previously stated she would gradually stop playing tennis after the Open but hasn't provided an exact date for doing so.
According to Federer, the Laver Cup in London, which runs from September 23 to September 25, will serve as his final Association of Tennis Professionals match.
Reactions in the comments of Williams' post were sweet and supportive.
First was the general sentiment the queen and king of tennis are retiring at once and thanked them both for world-changing careers.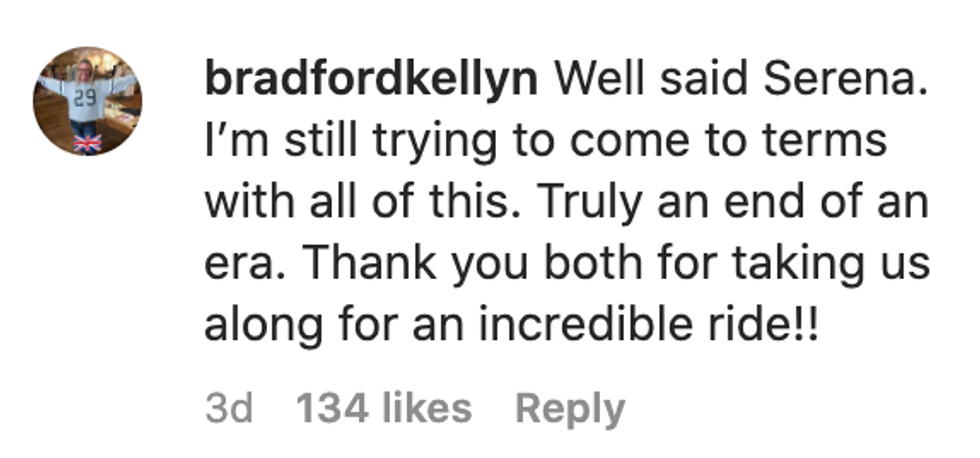 @bradfordkellyn/Instagram

@farrenroper/Instagram
Even celebrities and organizations got in on the comments.

@olympics/Instagram

@australianopen/Instagram

@katiecouric/Instagram

@jvn/Instagram
Many commenters posted pictures of goats, which stands for G.O.A.T. or "Greatest Of All Time."


@brennanjp/Instagram

@genejudith77/Instagram

@wadenator/Instagram
Best of luck in retirement to both Williams and Federer—they truly changed the world of tennis.