Former Republican President Donald Trump's indictment by a Manhattan grand jury for his role in a $130,000 hush money payment to adult film actress Stormy Daniels has brought renewed attention to his controversial position on the Central Park 5.
In 1989, five Black and Latino teenagers were wrongly convicted of assaulting and raping a White woman in Central Park. Trump, who was a real estate developer at the time, took out newspaper ads calling for New York State to adopt the death penalty in response to the attack.
Despite the convictions being overturned and DNA evidence exonerating the five defendants, Trump never expressed regret for his role in the case.
One of the exonerated members of the Central Park 5—Dr. Yusef Salaam who is now running for New York City Council—responded to Trump's indictment on 34 counts with a full-page newspaper ad of his own.
The ad has a bold headline:
"Bring back justice & fairness. Build a brighter future for Harlem!"
You can see Salaam's tweet below.
The ad reads in part:
"Being wrongfully convicted as a teenager was an experience that changed my life drastically. But the problem our community faced when my name was splashed across the newspaper a generation ago — inadequate housing, underfunded schools, public safety concerns, and a lack of good jobs — became worse during Trump's time in office."
"Here is my message to you, Mr Trump: In response to the multiple federal and state criminal investigations that you are facing, you responded by warning of 'potential death and destruction,' and by posting a photograph of yourself with a baseball bat, next to a photo of Manhattan DA Alvin Bragg."
"These actions, just like your actions leading up to the January 6 insurrection at the US Capitol, are an attack on our safety. Thirty-four years ago, your full-page ad stated, in all caps: CIVIL LIBERTIES END WHEN AN ATTACK ON OUR SAFETY BEGINS. You were wrong then and you are wrong now."
He even extended Trump the grace that he did not receive, saying he deserves the "presumption of innocence" and a fair trial before concluding:
"And if the charges are proven and you are found guilty, I hope that you endure whatever penalties are imposed with the same strength and dignity that the Exonerated Five showed as we served our punishment for a crime we did not commit."
The complete ad and its text are included below.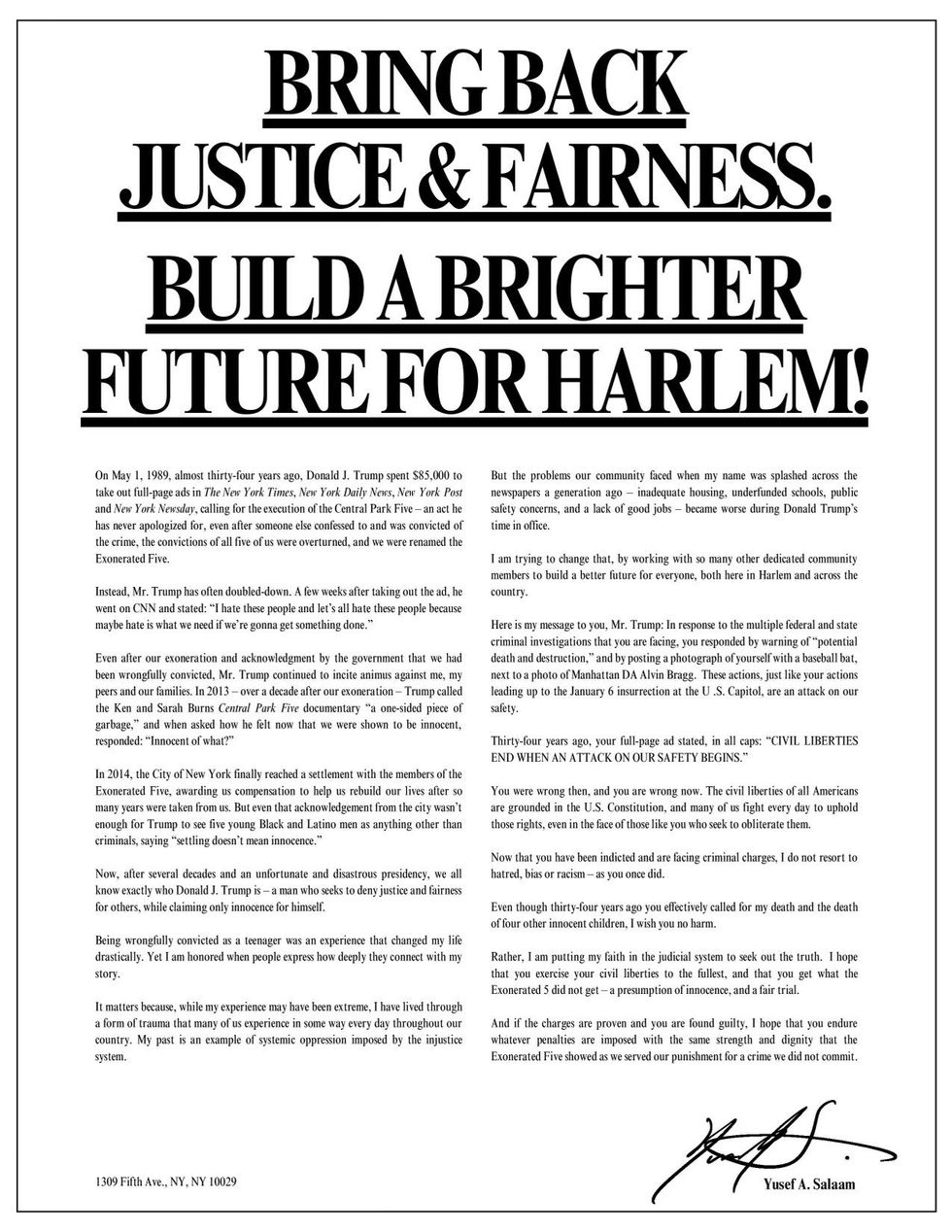 Yusef A. Salaam
Salaam's ad is the second time he's made headlines this week for his response to Trump's arraignment, having first referred to the news of Trump surrendering himelf to New York authorities as "Karma."
Many applauded his latest response.
Trump's comments on the case have been widely criticized.

In 2019, when asked about the case at the White House, Trump said the Central Park 5 had "admitted their guilt." His comments were viewed by many as a refusal to accept the evidence that the group had been wrongly convicted.
The case of the Central Park 5 has been the subject of documentaries and television shows, and it has become a symbol of the racial injustice in the American criminal justice system. The wrongful conviction of the five teenagers highlighted the systemic flaws in the justice system, including police misconduct, coerced confessions, and inadequate legal representation.
The case also revealed the impact of racial bias on the justice system, and how it can lead to wrongful convictions of people of color. The Central Park 5 case was one of the most high-profile examples of this bias, and it served as a wake-up call for many Americans to the deep-seated racial issues that exist in the criminal justice system.