Actor Ryan Reynolds has an epic online troll game and he appreciates the talents of others. He appreciates them so much, in fact, he sent a gift to another troll as a show of respect.
---
@Guy Inchair bought the web domains Avengers: Endgame.com and AvengersEndgameMovie.com after the release of the trailer for Avengers: Endgame, the sequel to Avengers: Infinity War. Both sites redirect to a YouTube channel showing Jimmy Kimmel spoof trailers, which change on a daily basis.
Guy Inchair made clear his intentions for hijacking the sites: He wants tickets to the premier of Avengers: Endgame.
I own https://t.co/sQcc4R3sCq and https://t.co/spo7Bift9L. But I don't want them. I want to trade them for tickets… https://t.co/704uFAlNFI

— Guy Inchair (@Guy Inchair)1544202521.0
People thought his negotiation tactic was genius.
@AGuyInChair That is some top-notch, petty trolling. *silent applause*

— Jason Paul (@Jason Paul)1544239350.0
@AGuyInChair 🤞🍀🎟️🎥👍 https://t.co/GyzgP15pEu

— Dommunity (@Dommunity)1544327627.0
@AGuyInChair Hold out, ask for a limo and tell them you also want to walk the red carpet and give interviews on your way in!

— bradassTV (@bradassTV)1544304244.0
@AGuyInChair Clever move! I like it! I hope you do get invited to the premiere!

— Peter Hordylan (@Peter Hordylan)1544283247.0
There may have even been some tightening of the screws. But relax! It was all in good fun.
I absolutely will NOT redirect the URLs to any site that would be concerning to the nice folks over at Marvel/Disne… https://t.co/ILS9VXZ3PG

— Guy Inchair (@Guy Inchair)1544678038.0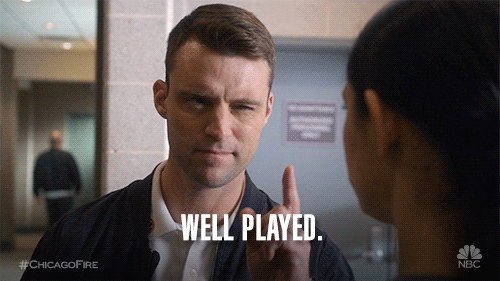 media.giphy.com
Reynolds, who stars in the Deadpool series, sent the fellow prankster a pretty impressive gift.
But Guy Inchair isn't joking about those tickets.
Package from @VancityReynolds just arrived! Wow! This thing is beautiful!!! ... And I will trade it immediately for… https://t.co/nxGRGoTtq2

— Guy Inchair (@Guy Inchair)1544810832.0
Holy crap! There's stuff inside too! (These have got to be worth two tickets, right?) They're from Canada! Or a Can… https://t.co/wAcglHUVDD

— Guy Inchair (@Guy Inchair)1544810841.0
People can't believe he would trade the gift.
@AGuyInChair @VancityReynolds I wouldn't trade it. Are you mad!! Whats wrong with you. Thats a gift from mr. #Deadpool aka @VancityReynolds.

— Evaristo Santeago (@Evaristo Santeago)1544920329.0
@AGuyInChair @VancityReynolds I can't believe it. I would keep it forever. https://t.co/gre4MBofIE

— Irene Fdez-Pedrera (@Irene Fdez-Pedrera)1544989502.0
@AGuyInChair @VancityReynolds Seriously, you would trade this awesome gift from @VancityReynolds for 2 movie tickets? I don't get it...

— Deadpool Photobomber (@Deadpool Photobomber)1545150487.0
@AGuyInChair @VancityReynolds I would keep it knowing that @VancityReynolds gave it to me !

— Matt Fereday (@Matt Fereday)1545047407.0
Reynolds popped in with this sweet message.
@AGuyInChair This isn't to say I'm proud of what you did. Just that I happen to love you.

— Ryan Reynolds (@Ryan Reynolds)1544814485.0
Aw, how sweet! Someone get this guy his tickets. He earned them.