Ruth Bader Ginsburg made one fan incredibly happy in the latest Supreme Court photo.
---
The Nortorious RBG, as her loyal supporters call her, sported a limited-edition Silver Pegasus necklace from Stella & Dot. The necklace was a gift from an admirer, Los Angeles-based lawyer Susan Hyman, who was inspired to send it to Ginsburg after seeing the 2018 documentary RBG.
Hyman told Town & Country magazine why she send the gift:
"...in appreciation for her pioneering life's work to advance women's equality. I wrote that I hoped she would wear it with pride and joy. [The necklace] reminds me of something a warrior princess like Wonder Woman would wear as armor into battle. It projects strength, confidence, and fearlessness.

"We feel that RBG was giving us a secret wink and nod in solidarity with us, and an appeal to keep on fighting for women's equality. She is one of us!"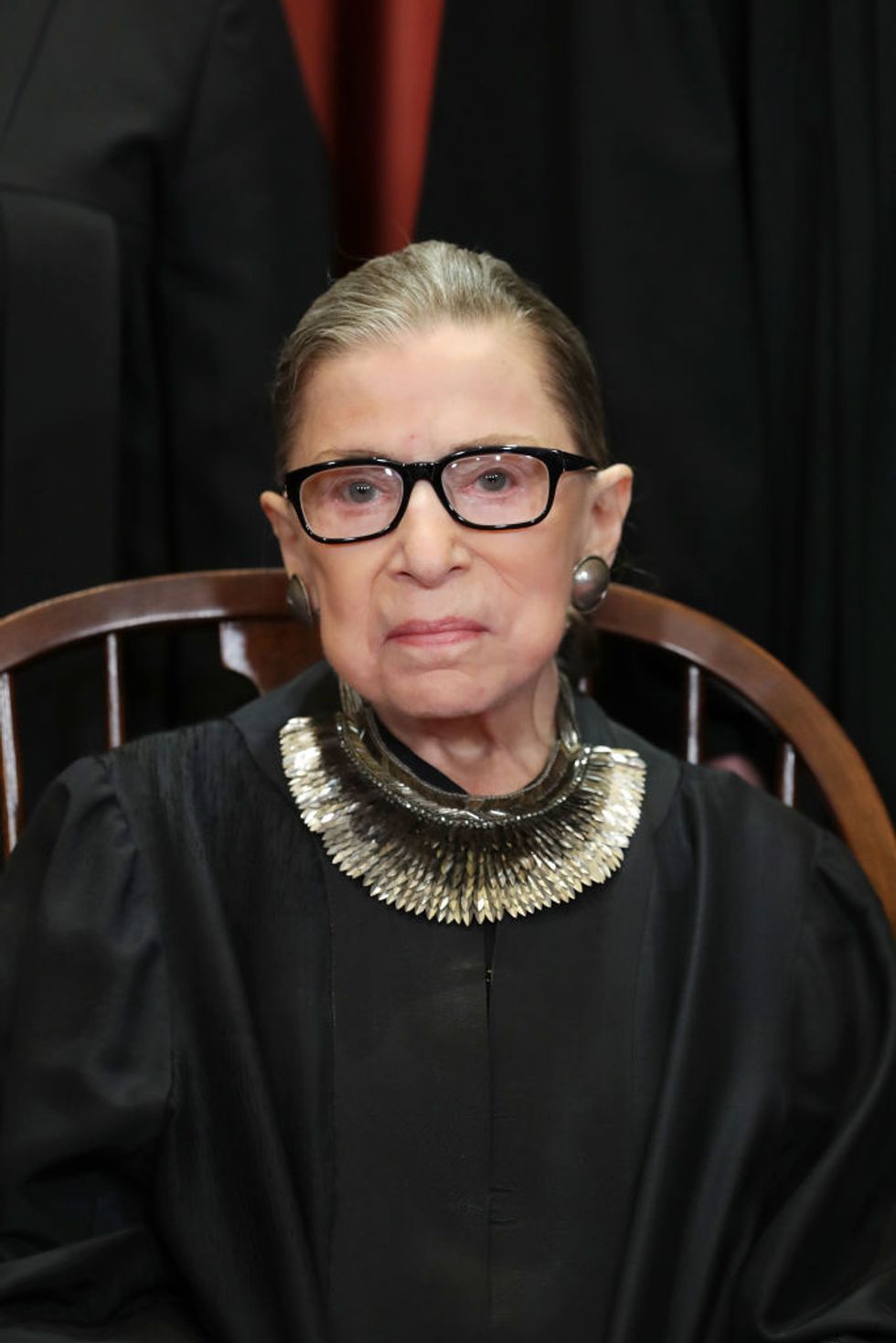 U.S. Supreme Court Justices Pose For Official Group Portrait Photo by Chip Somodevilla/Getty Images
The photo was the first RBG sat for with newly appointed Justice Brett Kavanaugh, whose controversial nomination and subsequent hearings angered and divided the nation.

A new film about Ginsberg's life, On the Basis of Sex, opens Christmas day.
Felicity Jones is Ruth Bader Ginsburg in #OnTheBasisOfSex. Meet the woman behind the legend – in theaters Christmas… https://t.co/PG98j6tSUH

— On The Basis Of Sex (@On The Basis Of Sex)1544480777.0
She recently spoke to a group of naturalized U.S. citizens.
"We are a nation made strong by people like you." Speaking to newly naturalized U.S. citizens, Supreme Court Justi… https://t.co/K45EC0GLfT

— ABC News (@ABC News)1545033836.0
@ABC I adore her

— Ana Elisa Fuentes (@Ana Elisa Fuentes)1545049124.0
@GottaLaff @DrJenGunter This woman is beyond amazing!!Go RBG! Love her to the core!

— TerriOutdoors (@TerriOutdoors)1545020477.0
@GottaLaff May she live long and continue to protect the law.

— Steve Bolin (@Steve Bolin)1544983455.0
@GottaLaff @MissLeslieG Exactly what makes this country great. The fact that you can achieve anything. We are the l… https://t.co/XAMmeWAxGJ

— JustSomeDude (@JustSomeDude)1544981899.0
@GottaLaff @joanwalsh Love this lady!😍

— Beverly Hill (@Beverly Hill)1544982824.0
@GottaLaff @everyhumanknows She is a (MY) real life true American hero!

— Deb (@Deb)1544983471.0
@GottaLaff Whatever fates control the universe please smile and look after this incredibly wonderful woman.

— ellieturgeon (@ellieturgeon)1544984521.0
We are glad to see Justice Ginsburg recovered and healthy.