After being subjected to much scrutiny for promoting false claims about COVID-19 vaccinations and repeated use of the n-word on his Spotify-backed podcast, it appears Joe Rogan hasn't learned the value of fact checking.
Rogan is again being cited for spreading misinformation.
This time, Rogan shared a story claiming 69-year-old former action star Steven Seagal had joined the Russian military.
On Monday, Rogan made light of the Russia-Ukraine conflict by sharing a now-deleted screenshot of the Under Siege actor wearing combat fatigues and toting a machine gun.
"If I had to guess the plot of this f'ked up movie we're living through I would say we are about 14 hours from the arrival of the aliens," wrote Rogan in the caption for his Instagram post.
The screenshot's headline read:
"Intelligence agencies around the world have spotted American actor Steven Seagal among Russian special forces positioned around the outskirts of Gostomel airfield near Kyiv captured by Russian airborne troops."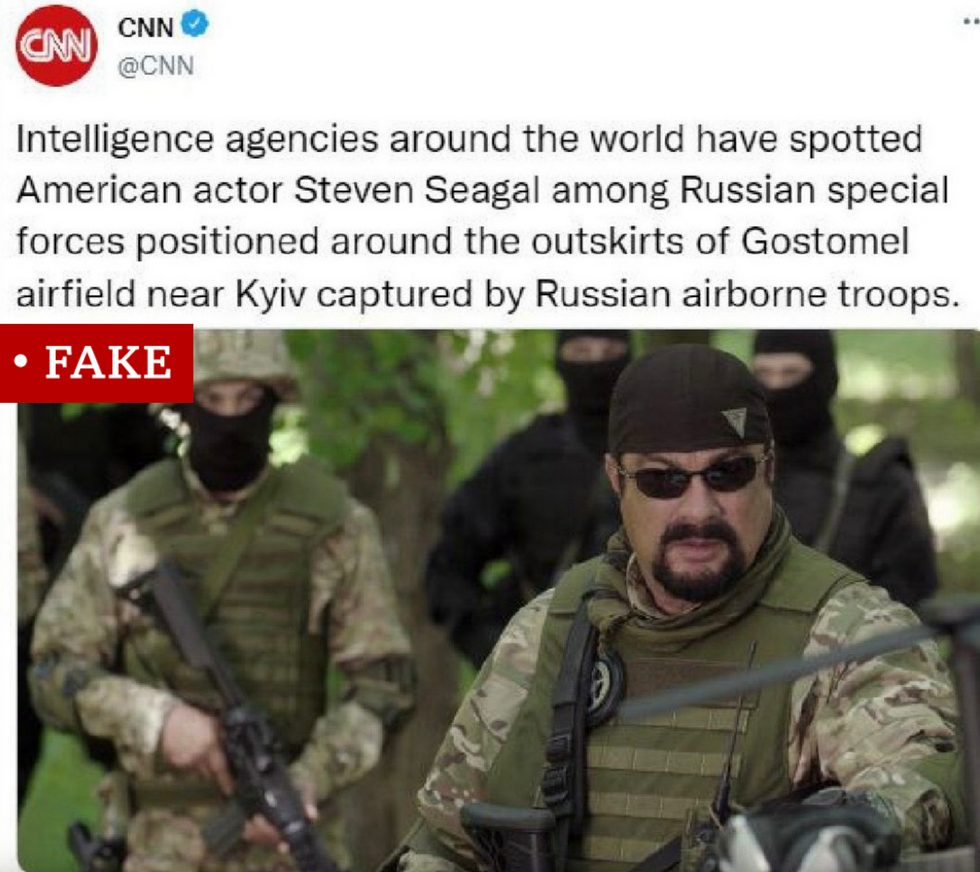 @Shayan86/Twitter
However, eagle-eyed users wise to Rogan pointed out the image was a production still of Seagal from either the 2017 film, Cartels or his 2016 movie Sniper, according to Queerty.

Regardless of the movie, the photograph was not an actual shot of the 69-year-old actor joining the Russian military in invading Ukraine.
According to the New York Post, one follower wrote:
"This is obviously photoshopped though. I may be a beluga whale but I do make memes for a living so I like to think I can detect a meme with my sonar."
Another detractor made a valid point.
"For anyone who thinks this is real: it's quite cold—about -2°C—in most of Ukraine. This photo was clearly shot on a warm day."
They added:
"@joerogan I'd laugh, but my friends are dying."
Given Rogan's background as a comedian, some dedicated followers insisted the post was a joke.

But his attempt at making a joke at the expense of the overseas crisis–in which Ukrainian civilians have been fighting for their lives against Russian military forces–didn't spare him from becoming a punchline himself or from being ridiculed.
Rogan has since updated his post, citing a 2017 article from The Washington Post about how Seagal was banned from Ukraine as a national security threat.

"I deleted my earlier post about Steven Seagal being in Ukraine because it was parody, which isn't surprising, but honestly it wouldn't be surprising if it was true either," Rogan wrote.
"He was banned from Ukraine in 2017 because he was labeled as a national security threat. I, like all of you hope the tragic situation is resolved there quickly."
Rogan's latest scandal followed his quest to "do better" after being blasted for how he used his platform through Spotify–which led to prominent musicians, like David Crosby, Neil Young, India Arie, and Joni Mitchell, to pull their music in protest.