Omarosa just released a new tape where you can hear Lara Trump offer her 15k a month to keep her mouth shut.
---
Last night, Omarosa Manigault Newman, former White House aide, spoke with MSNBC where she released her latest audio recording.
In the recording, you can hear Lara Trump, daughter-in-law of Donald Trump, tell Omarosa,
"It sounds a little like, obviously, that there are some things you've got in the back pocket to pull out. Clearly, if you come on board the campaign, like, we can't have, we got to...everything, everybody positive, right?"
To which Manigault Newman replied,
"Oh, God no."
In her interview with MSNBC's Craig Melvin, Manigault Newman said the recording was proof of
"an attempt [by the Trump team] to buy my silence, to censor me, and to pay me off."
Listen to the recording here.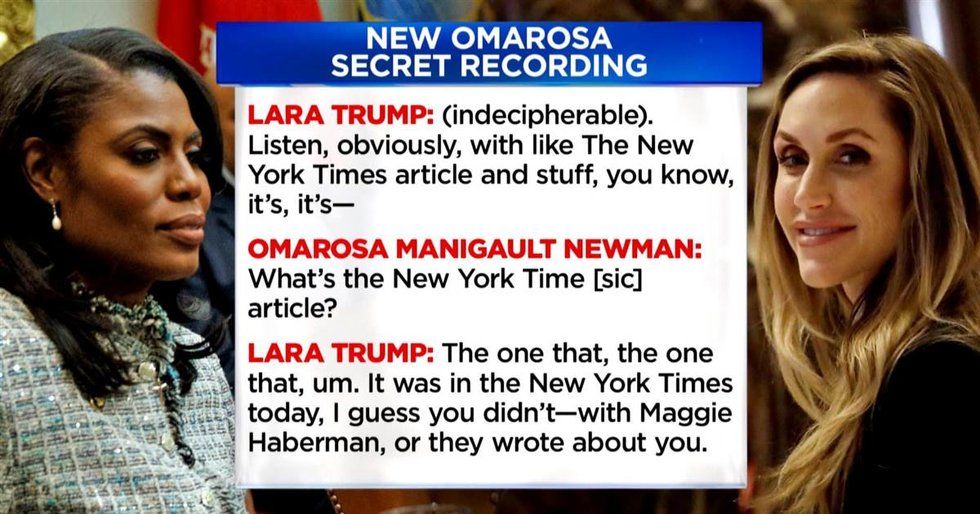 www.nbcnews.com
Omarosa Manigault Newman shared four excerpts of another secretly recorded audio tape of a conversation between her and Lara Trump. According to Omarosa, the tape was recorded on December 16, 2017.
Lara Trump can also be heard discussing Omarosa's potential salary, reminding her that the numbers would be public.
"And that all the money that we raise and that pays salaries is directly from donors, small-dollar donors for the most part. So, I know you, you were making 179 at the White House. And I think we can work something out where we keep you right along those lines. Specifically, let me see, I haven't even added up the numbers. But we were talking about, like, 15K a month. Let me see what that adds up to. Times 12. Yeah."
In other words, Lara Trump offers Omarosa Manigault Newman a $180,000 a year salary, of small-donor money, in return for her silence.
People can't believe their ears.
Others feel that the lack of consistency coming from the Trump family's mouths is outstanding.
And others are applauding Omarosa at her carefully crafted timing.
The countdown begins for the release of the next tape!