National Chocolate Day is a day we celebrate all things chocolate. Chocolate, which is made via a process that begins with the cacao bean, is an international phenomenon. And just in case we didn't have enough chances to eat chocolate in our daily lives, an entire day has been set aside for us to learn about, appreciate, and hopefully, consume chocolate.
Here are 3 things you've always wanted to know about National Chocolate Day:
---
1. It's Been Around Since The 1500s
National Chocolate Day was created by the National Confectioner's Association.
The National Confectioner's Association is a "trade organization that advances, protects and promotes chocolate, candy, gum and mints, and the companies that make [those] special treats." The US confectionary industry has a net worth of over $35 billion and the NCA's mission is to educate the public on incorporating the seemingly unhealthy treats into a balanced lifestyle. The industry itself holds over 55,000 jobs and several other industries (ie. Agriculture, retail, transportation) have over 400,000 jobs which depend on the well-being of the confectioners.
The Association established three National Chocolate Days in the USA over the course of the calendar year: July 7th, October 28th, and December 28th: all of which fall near major United States holidays: July 7th by Independence Day, October 29th by Halloween, and December 28th by Christmas. However, even more unofficial and official chocolate days exist:
World Chocolate Day/International Chocolate Day: observed on July 7th, which coincides with one of the dates of National Chocolate Day. Some sources believe that this particular chocolate day is based on the introduction of chocolate to Europe in the 1550s.
A second International Chocolate Day: observed on September 13th. The National Confectioner's Association has assigned September 13th because it is the date of chocolate entrepreneur Milton S. Hershey's (the founder of world famous Herhsey's Chocolate) birth.
Bittersweet Chocolate Day: observed on January 10th.
Milk Chocolate Day: observed on July 28th.
White Chocolate Day: observed on September 22nd.
Chocolate Chip Day: observed on May 15th.
Chocolate Ice Cream Day: observed on June 7th.
Chocolate Milkshake Day: observed on September 12th.
Chocolate Covered Anything Day: observed on December 16th.
So, if you miss this upcoming Saturday, October 28th's celebrations, fear not: you have a great many options to choose from.
2. It Was Established To Make People Less Afraid Of Eating Chocolate
National Chocolate Day was created by the NCA to educate the public about and celebrate the health benefits of chocolate.
American culture has long been in love with chocolate. In fact, during the American Revolutionary War [1775-1783] chocolate was so valued that it was often included in the soldiers' rations and given out instead of wages.
The American love affair with chocolate has come with its own slew of nutritional misinformation. For example, if you've ever heard somebody say "Don't eat chocolate, it gives you cavities!" That is incorrect. Research at the Forsyth Dental Center in Boston, MA., shows that the high basic level of cacao (the main ingredient in chocolate) can offset the high acidic level of the sugar. The acid in sugar is what causes damage to tooth enamel, and therefore, cavities.
The NCA's interest in American consumption of chocolate means that they want people to hear the correct information about the treat. Therefore, by establishing National Chocolate Day, they hope to stop the spread of misinformation and focus on the health benefits of an occasional chocolate bar.
3. Here's How You Can Celebrate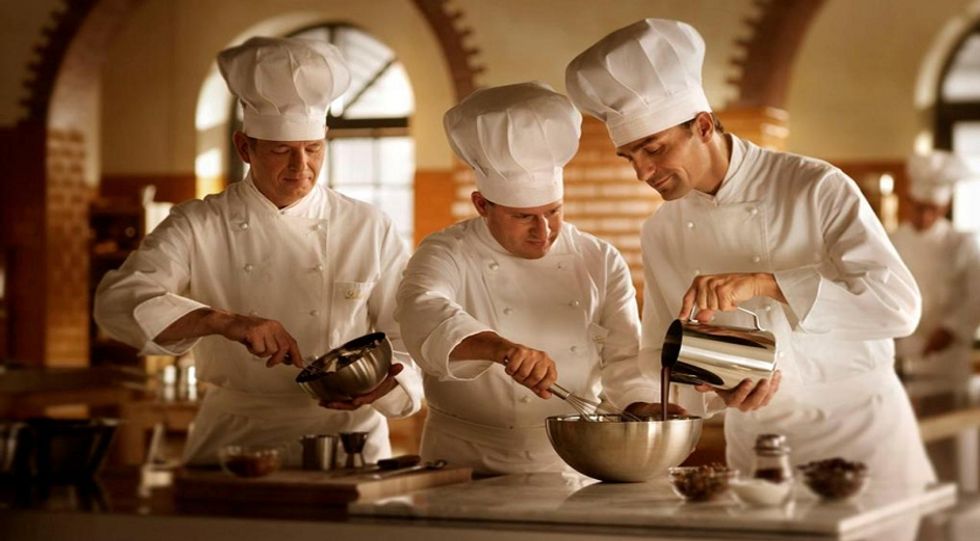 Well, I guess that's really up to you. But here are some fun ideas.
-Watch Charlie And The Chocolate Factory. Duh.
-Try out one of these ridiculous chocolate recipes.
-Check out a local Chocolate and Wine Festival like this one, or research chocolate and wine pairings and host your very own chocolate/wine party.
-Check out Hershey, PA. You can get a tour of Hershey's Chocolate Factory, or pay a visit to Hersheypark, a theme park that has 13 roller coasters and more than enough chances to indulge in all of Hershey's delicious products.
So, mark your calendar: October 28th, National Chocolate Day. Go forth and indulge.
Please SHARE this with your friends and family.