Two Big Lake School District high school students from Big Lake, Minnesota are in hot water after a racist "promposal" poster went viral across the internet.
In an Instagram story, the two White students were pictured holding a poster that read:
"If I WaS BlaCK I'd Be PiCking Cotton, But I'm White So I'm PiCking you. PROM?"
You can see local news coverage here:
Big Lake School District investigating picture of racist 'promposal'www.youtube.com
The photo went viral on Twitter shortly thereafter, causing widespread outrage.
The Big Lake School District was made aware of the viral photo by several people who contacted them.
In a statement, they said the district "does not condone racism, in any form."
"Our school has been committed to implementing the Hornet Way, as a way to develop and guide our students' character and actions."
"The Hornet Way teaches the values of respect, honesty, kindness, responsibility, and fairness."
"We believe those values extend to all aspects of our school community."
"The School District also is committed to ensuring that all students and staff are treated equally and can attend school and report to work in a comfortable and welcoming environment."
"Our expectations are high and we expect compliance by all."
This is not the first time this particular racist statement has shown up in a promposal.
A high school student from Sarasota, Florida, did the exact same thing in 2018.
The 2021 Minnesota sign is verbatim of the 2018 Florida one.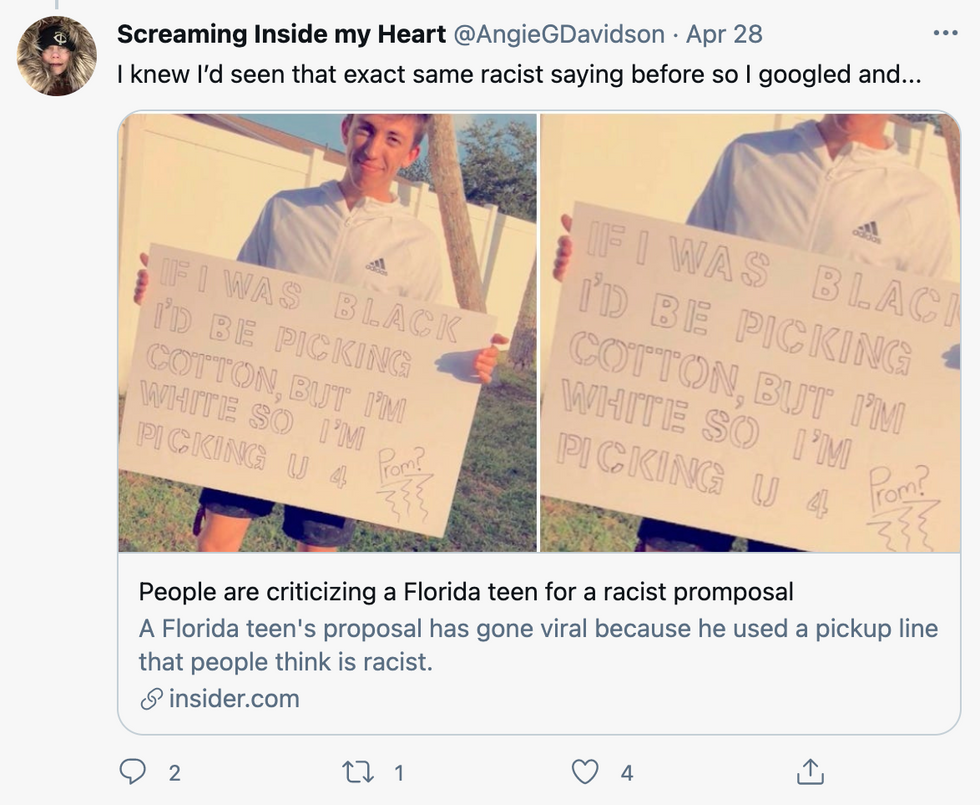 @AngieGDavidson/Twitter
Racism clearly is not confined to one state or one part of the country, as these incidents took place 3 years and many miles apart.
The teens in question in Minnesota have been dealt with "in accordance with School District policies," said Big Lake school district, but due to privacy laws in the state the actual consequences have not been made public.
While the young man in Minnesota was finding a racist promposal online, he should have put some effort into finding the consequences of that 2018 sign as well.
It would have saved himself and his date a great deal of public ridicule and school discipline.