So often in today's society, we find ourselves fixating on the wrong details of a story.
While the whole point may be to celebrate someone's successes or their survival, some of us instead focus on their size and appearance.
Take, for instance, the woman who was publicly body-shamed after being pulled from a frozen lake.
---
Korisa Miller was out ice fishing with a friend when she lost her footing on the dock and fell to the ice below. The ice quickly gave away and Miller had to hold on to the dock to survive.
It only took two minutes for her to lose all feeling in her legs, making it much more difficult to get out of the water.
Because of two local fishermen and several first responders from the Macomb County Sheriff's Department and the Harrison County Fire Department, Miller was pulled from the water. She was believed to be in the water for about fifteen minutes and has since been recovering.
You can watch the full rescue and read the Macomb County Sheriff's Department account here:
The sheriff's office posted:
"On 1/27/20 at 3:20pm, this young lady was fishing off of docks in Harrison Township. As she attempted to stand up, she lost her footing and slipped off the dock into the freezing water."
"The young lady's friend was a dock over and heard her fall; she looked over to see her friend struggling in the icy waters. Her friend was unable to pull her up to the dock and the young lady's body began to go numb."
"Two nearby fisherman heard the women's cries and came over to help. The two fisherman attempted to pull the woman up onto the dock but struggled as the young lady's body had become completely numb and she was unable to move."
"Her friend called for help as the fisherman held on to the young lady keeping her from slipping underwater and surely drowning. The Macomb County Sheriff's Office along with the Harrison Fire Department arrived on scene and were able to pull the young lady from the 36 degree water. She was believed to be in the water for approximately 15 minutes."
"The young lady is doing better today but wants to remind people to always fish with a partner and make sure you have proper, non-slip, footwear when you walking on any slippery surface. She is forever grateful to her friend and the fisherman that saved her life."
"We thank them as well."
It's a chilling account and shows what freezing temperatures can really do to the human body. Most focused on celebrating Miller's rescue and survival after the incident, as well as applauding those who responded to the call and acted quickly.

Some, however, focused more negatively on Miller's appearance, leaving comments on the Facebook video about her size and her clothing. Some referred to her weight as the primary reason why the ice gave way so quickly when she fell and why it was so difficult to pull her up to the dock.
Some also questioned her apparel choices for being outside in the winter.
Miller herself eventually made an appearance in the comments to set the record straight.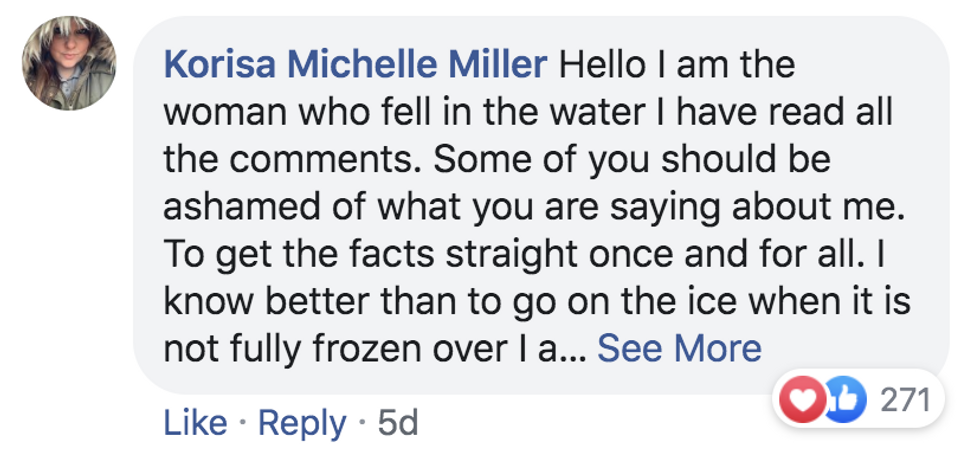 Macomb County Sheriff's Office/Facebook
She posted:
"Hello I am the woman who fell in the water I have read all the comments. Some of you should be ashamed of what you are saying about me."
"To get the facts straight once and for all. I know better than to go on the ice when it is not fully frozen over I am not stupid."
"I did have clothes on. I had a hoodie and a large winter coat on."
"When they tried pulling me up, my hoodie and coat was choking me so they had to rip it off of me. I did not go fishing in a tank top."
"I was fishing on the dock and when I turned around I slipped. My knee bashed the dock and I hit the ice. It took only a few seconds for the ice to give in because as all of you have been saying I am a thick woman."
"The spot where I fell in the water was 12 feet deep I had to hang on to stay alive. My best friend Melissa screamed for the 2 men to help keep me awake and keep my head above water."
"It only took about 2 minutes for me to no longer feel my legs. They tried so hard to get me up. Unfortunately due to the fact I couldn't feel my legs they kept hitting the dock."
"I used all my strength to stay awake. The moment you seen on camera was after I started to fall asleep and then I seen officer Davis and knew I was going to be okay. #korisabodypositivity"
The negative comments have since all been removed from the comment thread on the Facebook video, highlighting instead the celebration of Miller's survival and the persistence of the first responders.
The sheriff's office also responded to Miller's comment on their post: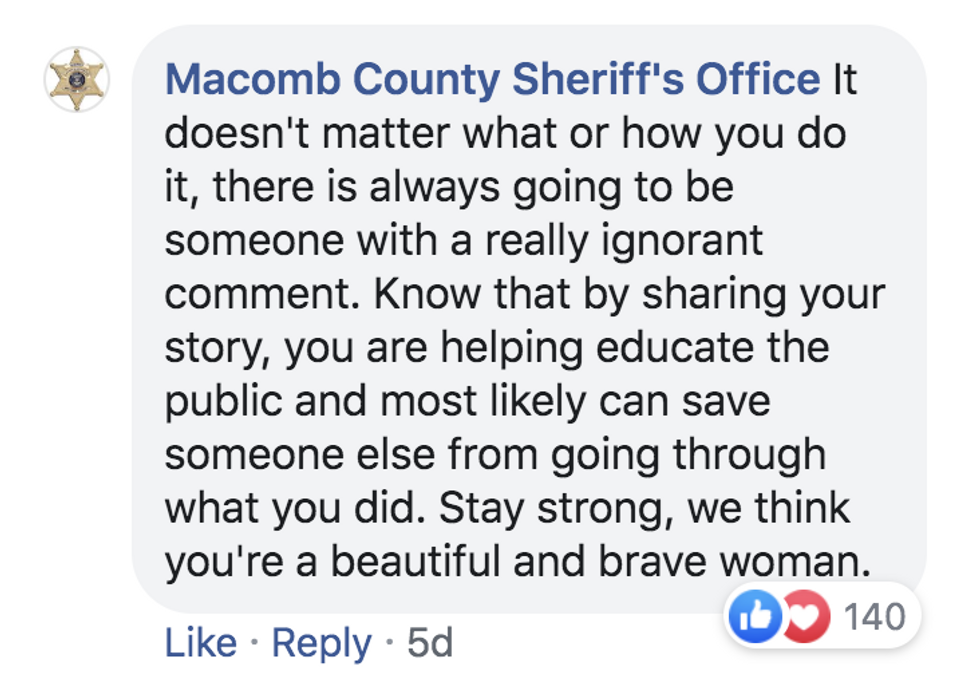 Macomb County Sheriff's Office/Facebook
They commented:
"It doesn't matter what or how you do it, there is always going to be someone with a really ignorant comment."
"Know that by sharing your story, you are helping educate the public and most likely can save someone else from going through what you did."
"Stay strong, we think you're a beautiful and brave woman."
Nearly 400 people have commented on the video in the days since Miller's rescue, including members from the community and some of Miller's loved ones.

Macomb County Sheriff's Office/Facebook

Macomb County Sheriff's Office/Facebook

Macomb County Sheriff's Office/Facebook

Macomb County Sheriff's Office/Facebook

Macomb County Sheriff's Office/Facebook

Macomb County Sheriff's Office/Facebook

Macomb County Sheriff's Office/Facebook
Though some took the opportunity to post negative comments, it's heartwarming to see the emphasis now shifted to what truly matters in the story, after their removal.