Several news outlets confused Ali Wong's husband Justin Hakuta for actor Randall Park in recently published stories announcing Wong and Hakuta's divorce, revitalizing the hashtag #wrongasian.
Parade Magazine shared the story accompanying it with a photo of costars Wong and Park at a Netflix premier for the film Always Be My Maybe in which the two played the main love interests.
Yet, the headline read "#AliWong and Justin Hakuta Splitting Nearly 8 Years After Marriage." Her husband was nowhere to be found in the picture.
See the photo below: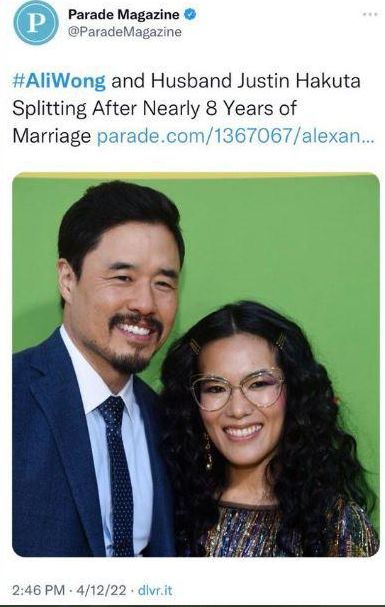 @ParadeMagazine/Twitter
User Phil Yu shared the story on Twitter, captioning the post:
"Come on!"
"Can we not ruin the news of Ali Wong's divorce with Wrong Asian racism?"
One person jokingly added:
"In their defense, Justin Hakuda and Randall Park were both Asian on the same night this one time."
MSN made the same mistake, featuring their story of Wong and Hakuta's divorce with a single photo of just Randall Park.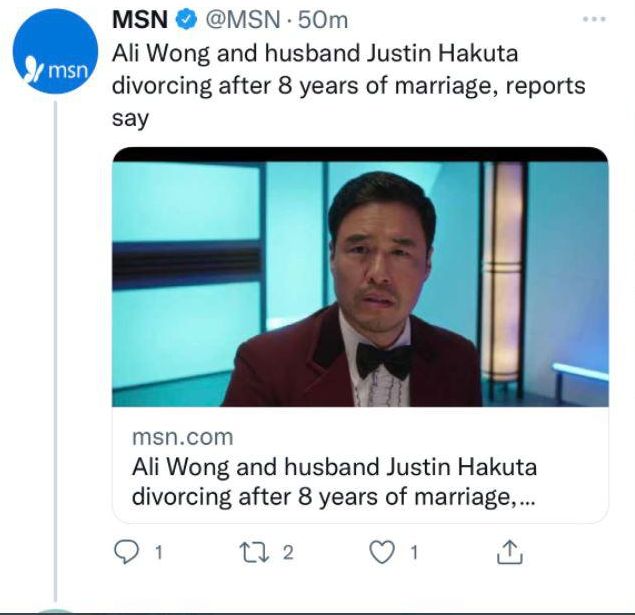 @MSN/Twitter
Someone sharing the MSN story said:
"Cool, but that's not her husband, that's Randall Park."
Yu also shared MSN's mistake, tweeting:
"And then you've got MSN over here with a photo that is neither Ali Wong nor Justin Hakuta. #wrongasian"
Wong and Hakuta, who have two daughters together, met in 2010 and were married four years later. Hakuta, not a TV personality himself, is an entrepreneur and formerly helped lead healthcare company GoodRX as its vice president.
Ali Wong works as a comedian, actress and producer, famous for her stand-up specials and gaining more recent attention for her role in the movie Always Be My Maybe which was released in 2019. She has included her husband in her standup, giving comedy fans some insight into their personal lives and Hakuta's many professional accolades.
Many are wondering how the media companies made such a blunder.
Parade Magazine has since put out an apology, saying:
"We understand how hurtful this photo mistake was and the impact it can have, and we sincerely regret it."
"We would like to apologize to Ali Wong, Justin Hakuta, Randall Park, and everyone who may have been hurt by our error."
"We will implement stronger measures going forward to make sure it doesn't happen again"
"Our sincere apologies."
Having also been mistaken for another Asian, one person tweeted:

"Embarrassing."
"An incident of interchangeable Asians. Using a photo of Ali Wong co-star Randall Park instead of Justin Hakuta."
"I have been mistaken for other Asians by people that I actually spend time with."
The hashtag #wrongasian is not a new one.
Other companies have made similar mistakes. Confusing different members of the Asian community has plagued the internet for years.
See the mistake Letterboxd made below.
"[W]hen you're the biggest female Asian movie star in the whole goddamn world and still get #WrongAsian-ed."
Crazy Rich Asians star Nico Santos spoke out in 2020 when he was mistaken for producer Han Jin-Won.
Dino-Ray Ramos retweeted:
"Further proving that Hollywood is ignorant."
"Do better."
"I'm tired. #WrongAsian"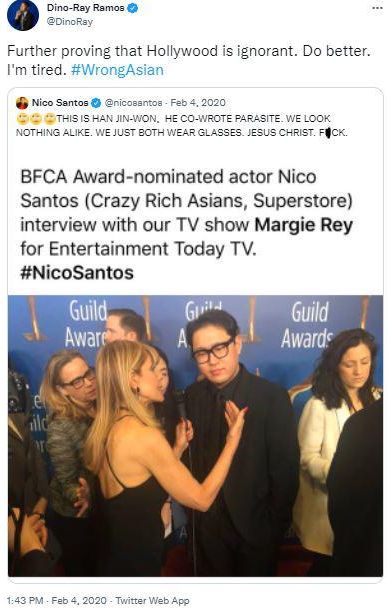 @DinoRay/Twitter
MSN has yet to provide a statement, but both publications removed the original photos from the articles, replacing them with images of Wong and Hakuta.