A video of a woman who discovered a horrific surprise inside her McFlurry dessert from McDonald's gave social media users the dry heaves.

TikToker @alexacarcione posted a clip of her harrowing experience in which she described the extra "crunch" in her creamy treat was not a clump of Oreo cookies.
"Surprise, it's a cockroach," she said.

"I spit that out the second I knew somethin wasn't right," read the text across the video of her showing the contaminated dairy delight.
Borrowing from the fast-food chain's slogan, she declared, "I am not lovin it."

She then panned over to the lifeless arthropod on top of her bed – presumably where the cream-soaked invader landed after being expelled from her mouth.
Warning: may induce nausea.

@alexacarcione

Don't eat @mcdonalds unless you enjoy cockroaches. All the manager said was "thanks for letting me know." THANKS FOR THE TRAUMA #fyp #EW #mcdonalds 🤮
It appeared the extra crunchy entity that took a dip into the McFlurry machine and was dispensed into Carcione's cup has been crushed by her teeth – which would explain for that unpleasant sensation she felt in her mouth while having the dessert.
"It was like eating a gusher," she wrote in response to a commenter who said the "crunch" could easily have been an Oreo.
Carcione continued:
"Pop. Felt like I was chewing on a shrimp shell."

@alexacarcione/TikTok
The yucky clip was seen over 200,000 times and has received 21.9K likes so far.
When a commenter suggested Carcione could legitimately sue the Golden Arches, she replied:
"I WISH this was a joke. I already called corporate."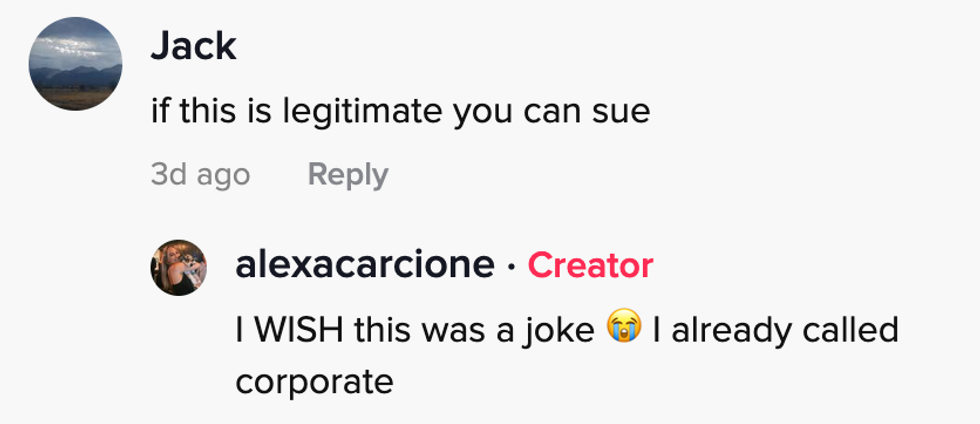 @alexacarcione/TikTok

@alexacarcione/TikTok
When she initially complained, Carcione claimed the restaurant's manager just thanked her for letting them know.
"They didn't even offer me a refund or apologize," she said, which subsequently prompted her to reach out to corporate.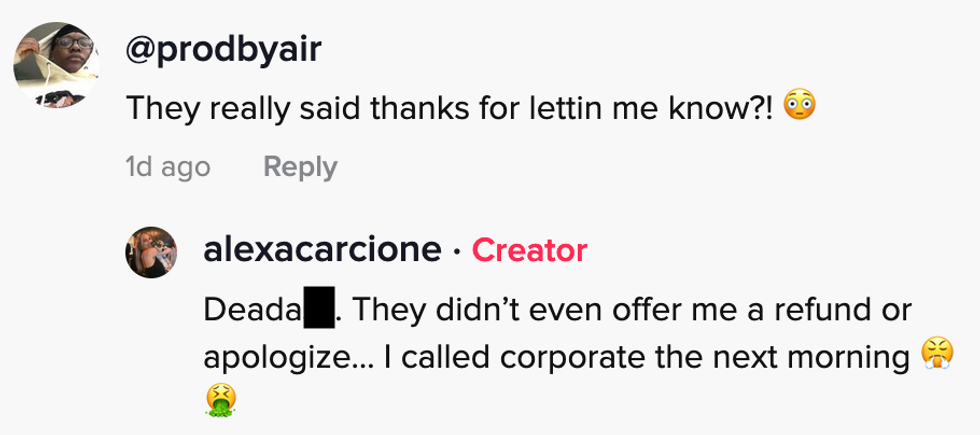 @alexacarcione/TikTok
Watching the video left a bad taste in people's mouths.

@alexacarcione/TikTok

@alexacarcione/TikTok

@alexacarcione/TikTok

@alexacarcione/TikTok
Apparently, other McDonald's locations have the same regular customers of the six-legged variety.


@alexacarcione/TikTok

@alexacarcione/TikTok

@alexacarcione/TikTok

@alexacarcione/TikTok

@alexacarcione/TikTok
Carcione said she would never order a McFlurry again, let alone trust anything else from their menu if she were to ever set foot inside a McDonald's in the future – although the prospect of that already seems unlikely.
She said she was "pissed" because she never goes to McDonald's, but she really wanted a McFlurry at the time. "Never again," she asserted.
Do better, Mickey D's.