Mason's Brewing Company, a brew pub in Brewer, Maine recently received some negative feedback for its restaurant but responded in a delightful way.
The review, which begins by assuring potential customers Mason's brews are okay, goes on to negatively comment on the atmosphere, which they say was a "Fruity place" and the brewing company's "Rainbow flag is inappropriate" making it "Not a place for traditional values."
Mason's Brewing Company responded directly to the review.
They wrote:
"Wow!! [name obscured] you seriously wrote that on a public forum?"
"A reminder to you that it is 2022 and not 1952."
"We actually do not have any tolerance for bigotry here at Mason's and we pride ourselves on being a brew pub that is inclusive of everyone...except you, please never visit us again."
After obscuring the poster's identity, Mason's Brewing shared the review on their Facebook and Instagram pages.
Both posts were captioned:
"We recently received this review and it would be an understatement to say we were shocked and somewhat horrified by the blatant intolerance that was displayed."
"It is, and has always been, our goal to provide a safe and welcoming environment where everyone can enjoy good food, good beer, and wonderful company, and we will continue to be that for everyone that walks through our doors."
"We are proud to have the rainbow flag hanging in our dining room and if our food is 'foo foo' we are proud of that too. #loveislove #allarewelcome #coexist #webringthefoofoo"
Reactions to the initial post and Mason Brewing Company's response came in swiftly as the post went viral.
First were the people who are members of—or allies to—the LGBTQ+ community, thanking Mason's for their stance.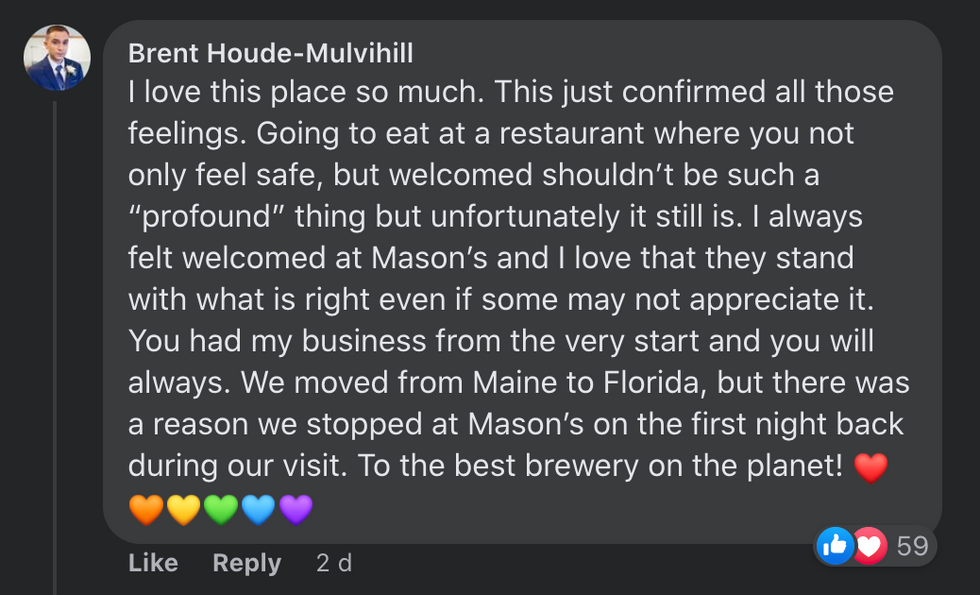 Brent Houde-Mulvihill/Facebook

Charlie Zorich/Facebook
Someone noted this reviewer had also left not-great reviews of other more famous institutions.

Andrew Dean/Facebook
However, the majority of commenters were people excited to go to Mason's Brewing Company for food and brews now.
Or—for people outside of central Maine—supporting them by buying merch off their website.

Lester French/Facebook

Celina Daigle Binns/Facebook

Christine Lutz/Facebook

Niskapisuwin Nil/Facebook

Marybeth Varney/Facebook
Others had some suggestions for the way Mason's can embrace their new notoriety.

Gary Desrochers/Facebook

Shannon Cee/Facebook
Worth a visit?
Brewer, Maine is a twin city in central Maine across the Penobscot River from the more famous Bangor, Maine—home to writer Stephen King.
Isn't it nice how making a comment like that on a public forum in 2022 actually gets a response from an establishment?
Life doesn't always get better right away, but it's reassuring to know some allies will put acceptance and love ahead of hate.