Kimberly Klacik, a Republican candidate for Congress, is getting dragged on Twitter for using a photo of empty grocery store shelves to bash Democratic President Joe Biden's supposed failures at managing the economy.
The problem?
Her photographic proof was of shelves at United Kingdom supermarket Tesco—complete with price tags in Great British pounds.
Klacik quickly deleted the post when her mistake was pointed out, but screenshots are forever, as the saying goes. Now, Twitter is roasting her to a crisp.
See a shot of her post below.

Klacik's tweet seemed to be a dig at Biden's "Build Back Better" economic and pandemic recovery proposal.
Klacik included the caption "A look at #BuildBackBetter" with the photo of the bare UK grocery store shelves, implying that Biden's initiatives have been a profound failure.
The United States is indeed having supply chain problems of all sorts, including with groceries—as are most parts of the world, due to skyrocketing post-lockdown demand combined with pandemic-related production shutdowns and labor shortfalls.
But our food shortages have luckily yet to come close to the degree of severity seen in the UK. Widespread food shortages and shortfalls in fuel have become a massive problem in the country due to pandemic-related supply chain issues, combined with long customs delays and a severe dearth of key workers like truck drivers caused by Brexit.
Klacik quickly deleted her post as soon as she was called out for her error, and it could have just ended there.
But then Klacik made the gaffe worse by claiming she was simply commenting on politics in the UK, where Prime Minister Boris Johnson had also used the phrase "Build Back Better" and by attacking the journalist who shared her "not a mistake, totally meant to do that!" post.
Klacik has yet to offer an explanation for why she, a candidate for the United States Congress who lives in Maryland, is so invested in UK politics and supply-chain issues.
But surely she has valid reasons!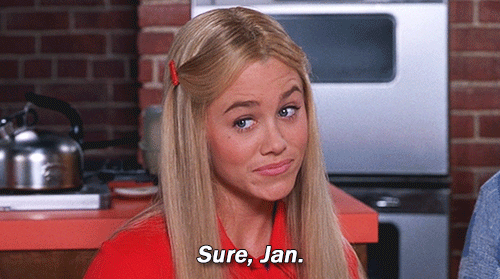 Giphy
Naturally, Twitter had a field day raking Klacik over the goals.

Klacik is currently running for the House of Representatives in Maryland's District 7.
She previously ran in 2020, when she lost to Democrat Kwise Mfume by more than 43 points.