Kendall Jenner has spoken out about a fake image of her holding a Black Lives Matter sign that went viral over the weekend for all of the wrong reasons.
The photo created a firestorm on Twitter, both for its terrible optics and almost-as-bad Photoshopping. But Jenner has strongly condemned the photo and clarified that she had no part in making or posting it.
The image hit Twitter on Friday and instantly went viral.
In it, the Keeping Up With the Kardashians star is seen holding a sign that reads "Black Lives Matter." But it is immediately apparent that the image is fake, leading many to assume that Jenner posted the fake photo for internet cred during the waves of protests following the murder of George Floyd.
Some compared the stunt to the controversial 2017 Pepsi ad in which Kendall soothes tensions between protestors and police by sharing a soda with a police officer, which was widely condemned and mocked as tone-deaf. But unlike the Pepsi ad, Jenner can plausibly deny involvement with the photo.
And that's precisely what she did on June 6, taking to Twitter to confirm she had no involvement with the editing of the image.
The photo, which appears to have originated on Facebook and first hit Twitter via tech influencer Andru Edwards, is so incompetently Photoshopped that it was instantly identified as fake.
The "Black Lives Matter" sign appears to be not so much held as attached to Jenner's hands.

But the biggest giveaway is that, defying the laws of physics, the sign seems to cast no shadow.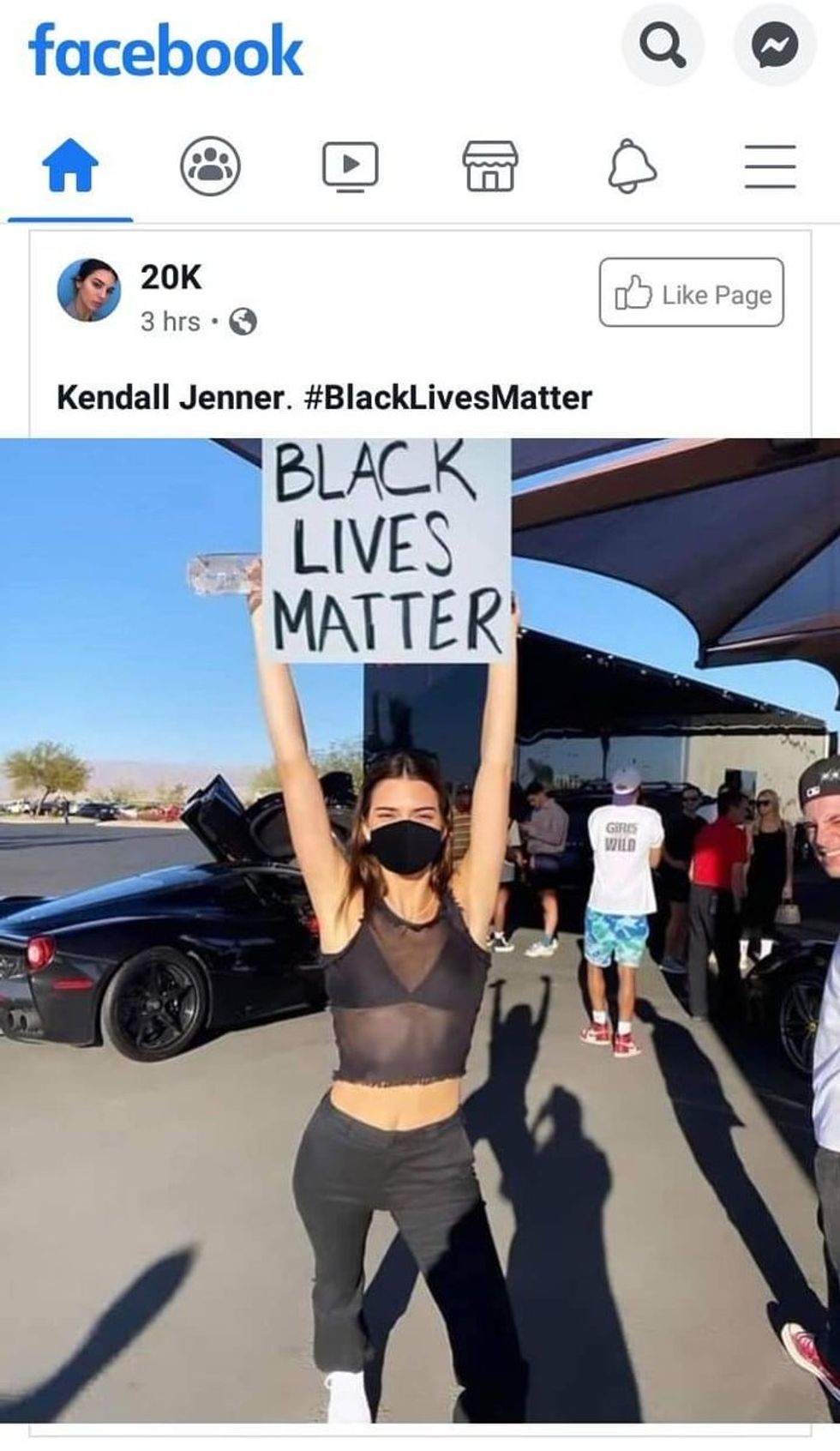 @AndruEdwards/Twitter
As Yahoo! News reported, the original image appears to have been taken in Novermber 2019, during an outing at a race track in which Jenner raced cars with celebrity friends like Tyler, the Creator and Fai Khadra.
On Twitter, reactions to Jenner's denial varied widely, from the Kardashian "stans" who supported her...
...to those who still found plenty to criticize.
But mostly, people just couldn't help but take the opportunity to poke more fun at the Pepsi ad.
As for the Photoshopped images' true origins, as reported by Insider, the Facebook page "20K" from which Andru Edwards seems to have gotten the image appears to no longer exist. Insider was unable to reach Edwards for comment.