If attorney George Conway has one regret it's introducing his wife, Kellyanne Conway, to Donald Trump. Now, the rift in their marriage caused by Trump is playing out for the world to see in the most bizarre way.
---
It all started with George Conway's Twitter account. He has been a very vocal critic of Trump, putting out tweets such as—
Cincinnati Enquirer/Suffolk 6/6-11/18 OH statewide 500 LV Unfavorable opinion of > Donald Trump: 58.6% > John… https://t.co/R9Ghj26kyn

— George Conway (@George Conway)1534177661.0
Interesting analogy. Likewise, what if a CEO routinely made false and misleading statements about himself, the com… https://t.co/uWEHAUX9HK

— George Conway (@George Conway)1534251775.0
It appears Kellyanne didn't appreciate her husband bashing her boss so she wanted to set the record straight, in a round-a-bout- fake source, alternative facts kind of way. Seems while speaking to Washington Post reporter Ben Terris, Kellyanne opted to throw her husband under the bus but requested she do it as a "person familiar with their relationship.
Terris wasn't having any of it and posted their entire exchange. Awkward. We can't help but wonder how this would get discussed in couples counseling.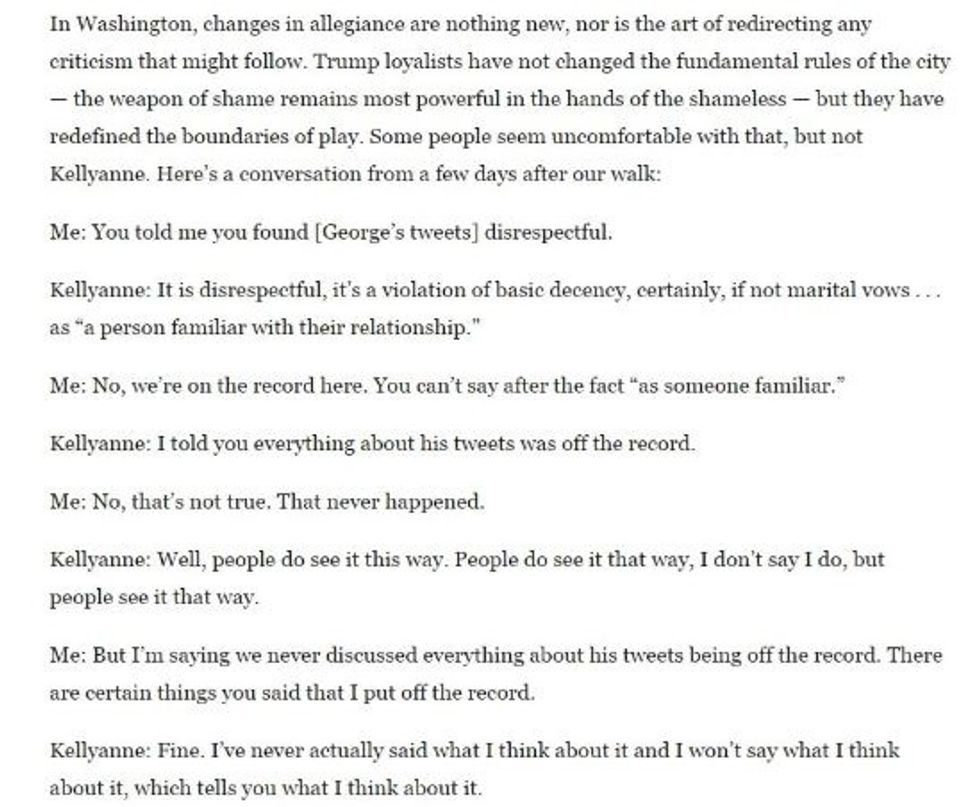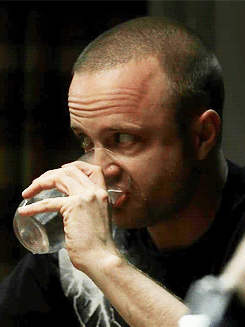 media.giphy.com
Twitter had a field day with this revelation.
I'm late to this but Kellyanne Conway trying to go on background to badmouth her husband tells you everything you n… https://t.co/iQmsDOTtGQ

— Haley Byrd (@Haley Byrd)1534373848.0
she tried to diss her husband via blind quote in the Washington Post https://t.co/o0sJN32qJD

— Clara Jeffery (@Clara Jeffery)1534373284.0
I really can't think of anything more on-brand than Kellyanne Conway trying to go off the record to attack her own… https://t.co/KGNGuO1cpf

— Simon Maloy (@Simon Maloy)1534380950.0
Kellyanne Conway trying to anonymously source herself to the press while bashing the press's use of anonymous sourc… https://t.co/m8lxvZ1HrX

— S.E. Cupp (@S.E. Cupp)1534384589.0
If you've wondered why journalists end up quoting anonymous sources, it's because of backdoor maneuvering like Kell… https://t.co/rexHQIRRPI

— Monica Hesse (@Monica Hesse)1534369427.0
This is the greatest exchange with Kellyanne Conway I've seen since 'alternative facts.' Just read.… https://t.co/bjuXz8J5Y6

— Kyle Griffin (@Kyle Griffin)1534370123.0
People certainly has some thoughts on the topic.
@kylegriffin1 @ruckus2 Oh, FFS. If anyone's talking to Kellyanne for anything but comedic value they're wasting their time.

— Pixburghgrrl (@Pixburghgrrl)1534423046.0
@kylegriffin1 Why, oh why, oh why do you folks keep interviewing her? Just stop.

— Carolyn McNabb (@Carolyn McNabb)1534387612.0
@kylegriffin1 She mentions "Violation of basic decency" & "marital vows." Do we need any more proof that she is a d… https://t.co/EaVXJezy0g

— RJ (@RJ)1534380563.0
@kylegriffin1 @real_farmacist A cat chasing it's tail has a better sense of direction.

— J Mo (@J Mo)1534371115.0
@kylegriffin1 @KellyannePolls is used to dealing with FOX "news" and Breitbart, both give her anonymity, referring… https://t.co/Pfp92Kv0oo

— Prufrock (@Prufrock)1534408730.0
You really can't make this stuff up.
H/T: Huffington Post, Newser