Katharine McPhee is making a small sacrifice for her safety. The actress/singer said she will not be wearing expensive jewelry around Los Angeles, and she blamed "woke voters" for the "sad state" of the city after a recent report of a crime in Beverly Hills.
On Wednesday, the America Idol alum took to her Instagram Stories and reshared a report about an elderly man who was apparently "jumped," "mugged, and beaten up" in "BH proper."
In her series of posts, she repeatedly endorsed Rick Caruso–the former president of the Los Angeles Police Commission and a member of the Board of Water and Power Commissioners–who is running for Mayor of Los Angeles.

According to screen grabs of McPhee's Instagram story shared by TooFab, the 38-year-old singer said of the alleged mugging incident involving three men who jumped out of a black SUV and beat up the elderly man before asking for his phone, money, and watch:
"This is literally my worry and thought every time I go out now. We need @rickcarusola."
"What's this world coming to?" she continued.
McPhee added:

"@streetpeopleofbeverlyhills I blame every single woke voter."
"Seniors getting beat up in [Beverly Hills] while walking. Keep voting for this. What a sad state this city is in."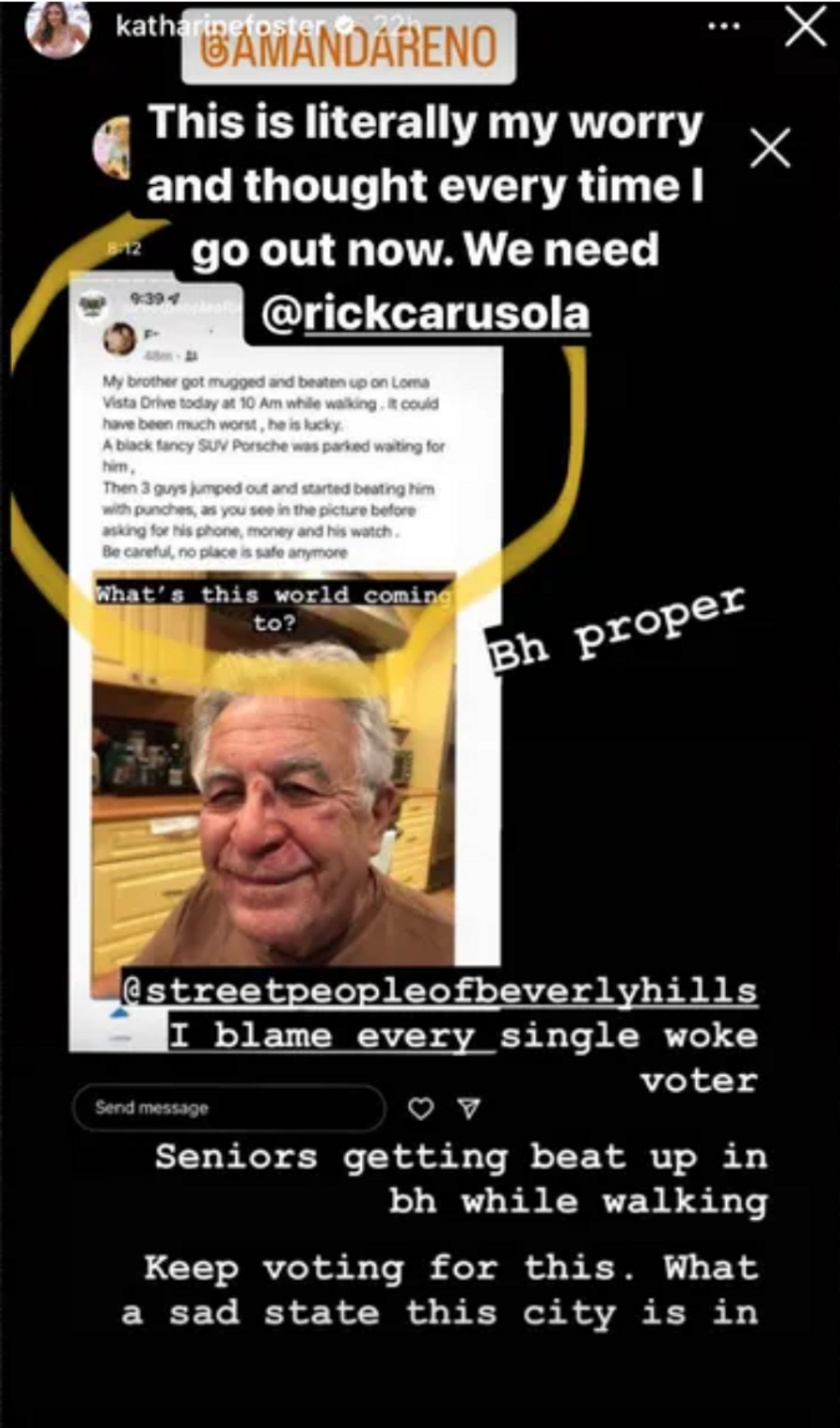 @katharinefoster/Instagram
The Scorpion actress also shared a screenshot of a conversation with her friend, Sara Mann, who told McPhee, "Don't wear your Rolex."
To which McPhee replied, "No rings no watches."

She emphasized her endorsement of the billionaire businessman as LA Mayor again.
"This is the real life text/convos you have with fam and friends about living in La now. We need @rickcarusola," she wrote.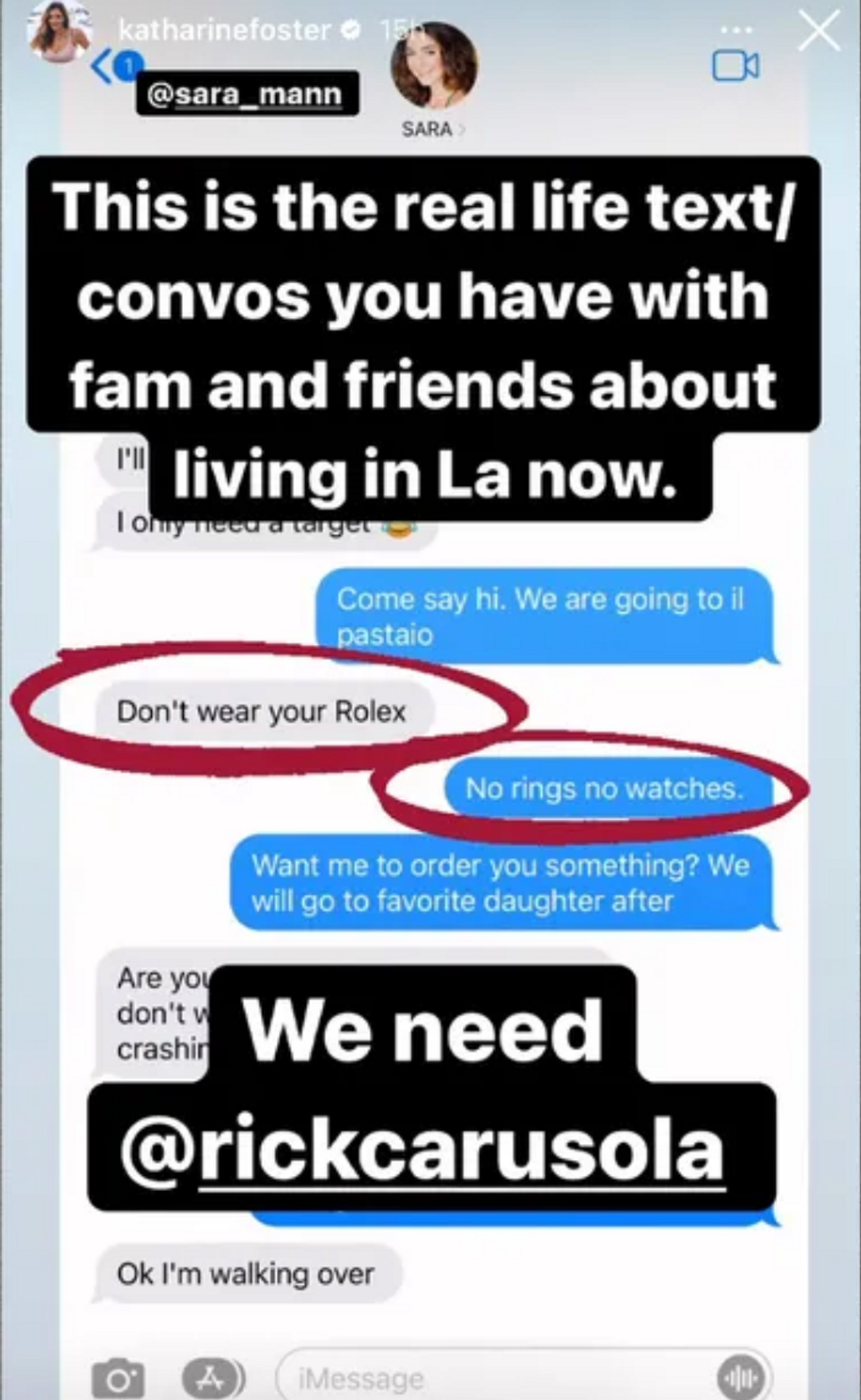 @katharinefoster/Instagram
The next post was a photo of McPhee holding up both hands to show evidence she wasn't wearing expensive jewelry.
"No rings or watches or anything out in LA anymore," she said, before tagging her mayoral candidate pick.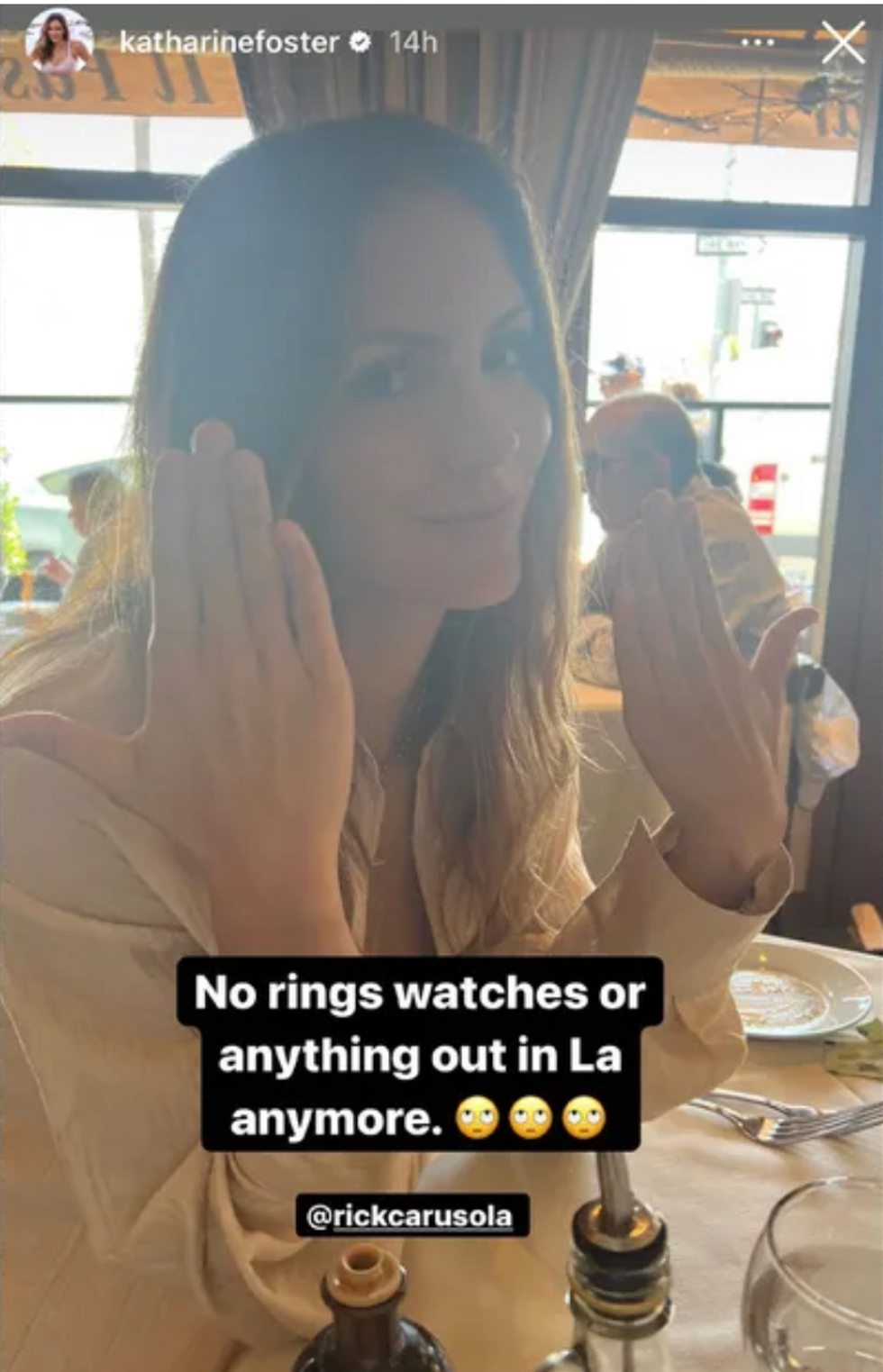 @katharinefoster/Instagram
There was little sympathy for the privileged 38-year-old who is married to big-time record producer, David Foster–who is 72.

Others took issue with her appropriation of the word, "woke," in criticizing LA voters.

While Caruso has the support of additional celebrities–including Kim Kardashian, Elon Musk, and Gwyneth Paltrow–his opponent, California Democratic Representative Karen Bass, has strong backing from Hollywood personalities like Jennifer Aniston, Steven Spielberg, and Jennifer Garner.
Caruso and Bass have advanced to the general election, which is set to take place on November 8.