Actress Kate Beckinsale proudly displayed the results of her strict workout regimen with an Instagram photo showing off her toned abs.
And when a troll came for her, she clapped back hard.

The 49-year-old Underworld actress–who stars in the dark comedy Guilty Party on Paramount+–snapped a photo from inside a trailer with the caption:

"Well hello #guiltyparty @cbstvstudios #paramountplus."
Many of her followers were impressed and left comments, like, "You are absolutely gorgeous," "nice abs" and "Beautiful as always."
But a troll who had nothing better to do than to go after a celebrity who is probably way out of his league thought trying to make a woman feel bad about herself was a splendid idea.

Well, he had another think coming.
An Instagrammer who goes by the handle @big_daddy_geo wrote:
"#midlifecrisis."
The actress managed to flip the uninspiring hashtag to apply to himself in one fell swoop.
Referring to the troll's profile thumbnail, she delivered the following sucker punch.
"Oh babes don't worry. Just lose the fade and the cheesy sunglasses and no one will know unless you buy a Ferrari which seems not likely."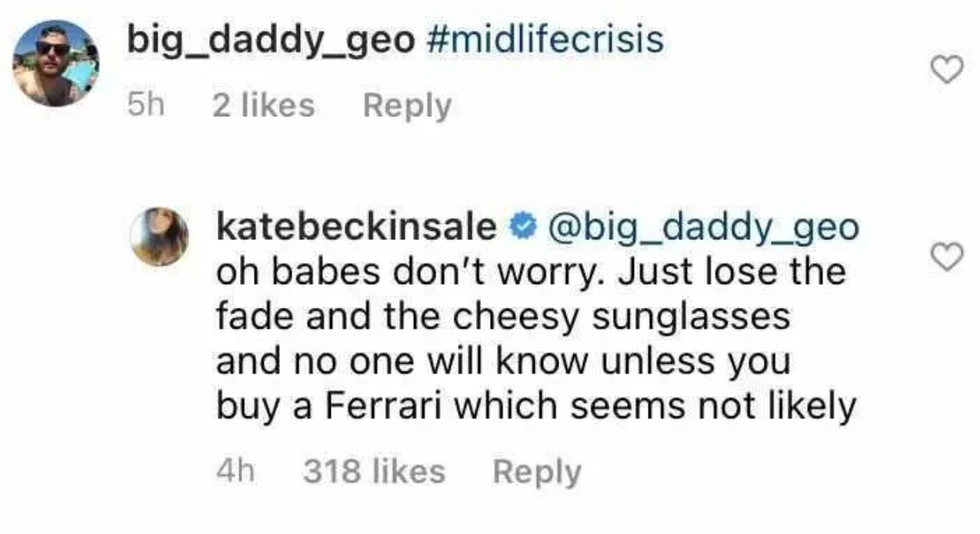 @katebeckinsale/Instagram
Her response was a certifiable TKO.
@katebeckinsale/Instagram

@katebeckinsale/Instagram

@katebeckinsale/Instagram
@katebeckinsale/Instagram

@katebeckinsale/Instagram
@katebeckinsale/Instagram
Meanwhile, the troll seemed to have pulled a disappearing act.

@katebeckinsale/Instagram
When it comes to her fitness journey, Beckinsale takes it very seriously.

Her trainer, Brad Siskind of Gunnar Peterson's gym, told Women's Health when she comes in for her training session six mornings a week, she wastes no time getting right down to business.
Said Siskind:

"The whole hour is work."
She also maintains a healthy diet that includes eating protein–usually chicken or eggs with grass-fed butter–and the rest of the day enjoying favorite meals like salads with radishes, brussels sprouts and safflower oil and salmon.

Although she'll go for the occasional handful of chips, she definitely avoids stimulants like caffeine or alcohol.
Beckinsale told the health magazine:

"I'm very connected to my body, so if I'm going to experience stress, I'm probably going to experience it physically."
"So it's usually a good idea for me to go do something physical to get rid of it. I kind of have to think of myself as a horse or something—time for a run around the paddock."

@katebeckinsale/Instagram
The actress didn't seriously start working out until her 20s when director Michael Bay famously told her to lose weight for 2001's Pearl Harbor.

"It wasn't great, it didn't make me feel good, and in general, I think women are body-shamed 100 million percent more than men. But on this particular project, I wasn't."
In spite of the body-shaming at the time, Beckinsale now finds exercise is "almost more important to me moodwise."
@katebeckinsale/Instagram
For those who are curious and interested in trying out Beckinsale's fitness exercises, Women's Health broke down her workout routine.

The article said:

"She starts with a full-body workout composed of eight compound exercises that each work two muscle groups simultaneously: a biceps curl as she squats, or situps with combination punches."
"After the set, she'll do 90 to 120 seconds of a cardio interval, like rowing or the VersaClimber, then do the eight exercises again—this time with heavier weights, added bands, or faster reps."
"After the 45 minutes it takes to complete both circuits, she'll finish with a cardio interval using a rubber Inertia Wave, or one-leg pushes on a curved SkillMill treadmill."
With that kind of discipline and hard work to acquire a fit physique, she abs-olutely deserves to enjoy a moment of harmless vanity from inside her trailer for an Instagram pic.
Her male colleagues are certainly doing it.
The only difference is male celebs are not getting called out for it as she did.