Ryan McKenna, the 13-year-old who forever fumbled with his smartphone to get a selfie with Justin Timberlake during the 2018 Super Bowl Halftime performance, was in for another surprise on Ellen.
"The Selfie Kid," who inspired a meme frenzy, sat down for an interview on The Ellen DeGeneres Show on Friday to discuss his newfound fame after inadvertently becoming part of Timberlake's performance, but he did not expect to share another moment with the "Can't Stop the Feeling" singer.
But this is Ellen. She takes delight in surprising her special guests.

---
The Patriots fan was already over the moon about attending the Super Bowl, but the added bonus of Timberlake grooving his way down the aisle near McKenna was an ever bigger touchdown moment. A moment he had to archive after forcing his way through the pumped crowd to get closer to the singer. If only he could unlock his phone in time...
Ellen teased, "There's someone on the phone who wants to say hi to you right now..."
Courtesy of the studio speaker phone, Ellen was able to connect Timberlake to his halftime show buddy. The pop star reached out over the airwaves. "Ryan?"
"Oh my God!" McKenna said, on the verge of tears.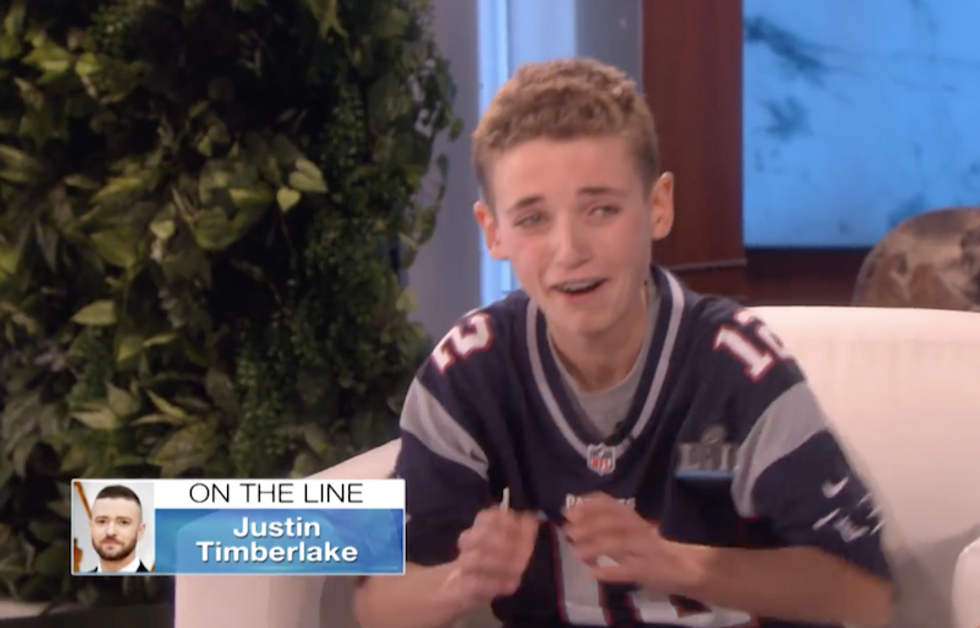 "Ryan?"(TheEllenShow/YouTube)
Timberlake followed up by saying, "It's nice to meet you, finally."
After Ellen praised the singer for his Super Bowl performance and thanked him for acknowledging her with a prearranged belly rub signal, she commented on how cool it was that Timberlake went into the stands and took a selfie with Ryan that was "obviously not planned."
But according to Timberlake, he was well aware of what he wanted to do during the song.
I knew I wanted to end the performance with "Can't Stop the Feeling" just because I know how people respond to that song and then, uh, cut to Ryan.
"Ryan becomes, like, part of your performance. He's remembered as much as that amazing performance. Everybody loves Justin and now he's a part of your life. I'm sure he'll send you money," Ellen joked.
Selfie Kid can't stop the feeling! https://t.co/RMiYflOAjW

— K-FOX 95.5 (@K-FOX 95.5) 1518219005.0
Turns out Timberlake did want to offer something for his new friend.
I tell you what I want to do because it was so unexpected that you came down and because all of this has happened, I thought to myself I really wanna meet you properly.
I'm going to be coming to TD Garden on tour to play in Boston. I'd like to invite you and your family to come.
"Ryan, I look forward to meeting you and taking our second selfie together," Timberlake said, as the teen thanked him through tears of joy.
As if things couldn't get any better, the NFL additionally offered McKenna's family four tickets to next season's home Patriots game along with free pre-game field passes.
Can't stop the feeling, indeed.
H/T - EW, YouTube, Twitter, Independent