Hollywood actor and vocal Trump supporter Jon Voight created a stir over the weekend after sharing a video on Twitter.
In it the 80year-old actor declares that racism was actually "solved long ago" and that President Trump is "not a racist."
---
The video came after a weekend in which two mass shootings in El Paso, Texas and Dayton, Ohio claimed the lives of 31 people and injured dozens more, with many blaming Trump's rhetoric about immigrants for being a major contributing factor to the violence in El Paso in particular.
In the video, 80-year-old Voight states that "too many are angered by the voice of racism" pointing out how the issue has persisted for the black community since the Civil War.
But then he proclaims:
"But this has been solved long ago by our forefathers, for peace and love."
He continues:
"It seems that the angered left and the angered minorities want to hold President Trump accountable for past lives. You see, we have been gifted with truth. And as I see it, anger is among the old chains that were binding to the people of slavery. Old wounds that still seem fresh."
After bringing up the Holocaust and then segueing into a patriotic speech about the opportunities that America provides, Voight then turns his focus to defending Trump, saying:
"These angered left-wingers preach love, but only pollute. We must understand that this is a nation of liberty, and this President is honoring all. He is not a racist, but a man who loves his country, and has every intention to make this land great again."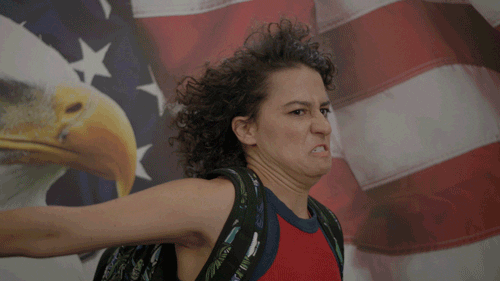 Giphy
You can watch the entire video below:
People were quick to call out Voight's bizarre speech.
An old rich white man explaining that racism is over didn't sit well with many.

People weren't feeling any sympathy for Trump either.
Voight has famously had a complicated relationship with his daughter, Hollywood actress Angelina Jolie.

And if this is any indication of what Jolie has had to deal with her entire life, perhaps we can see why.
Not a good look, Mr. Voight.
The bookAmerica's Unholy Ghosts: The Racist Roots of Our Faith and Politics is available here to learn more about the current state of institutional, documented racism in the United States.
Perhaps someone could send a copy to Jon?