A YouTube makeup artist responded after getting smeared for the release of his new make-up palette—The Cremated Collection—at a time when the ongoing pandemic continues to claim more lives.
Prior to launching his latest palette, Jeffree Star—the popular YouTuber and founder of Jeffree Star Cosmetics—teased consumers that if they loved rainbow colors, the new palette would not be for them.

---
Social media users castigated Star and accused him of trolling the global health crisis.
The palette uses descriptors like "Death Certificate," "Pallbearer," "Casket Ready" and "Embalmed" to name the shades in the controversial collection.
Fans were divided over the unfortunate timing of the product unveiling that was alleged to have been in the works for months prior to the pandemic.

Loyal fans were enthusiastic over the grey hues and gothic shades.

@jeffreestar/Instagram

@jeffreestar/Instagram
Others were mortified.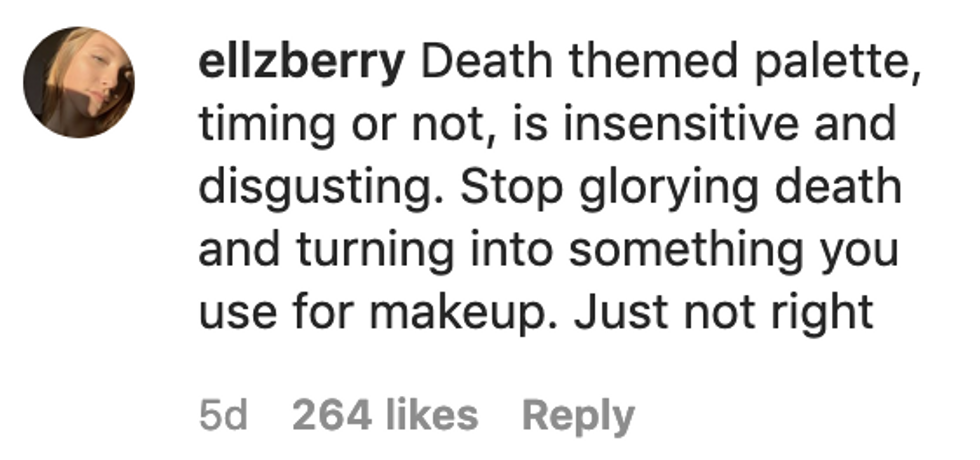 @jeffreestar/Instagram
Some came to his rescue, claiming that the grim collection—which dropped on May 22—has nothing to do with the pandemic.

The palette was designed and developed before the global pandemic was declared.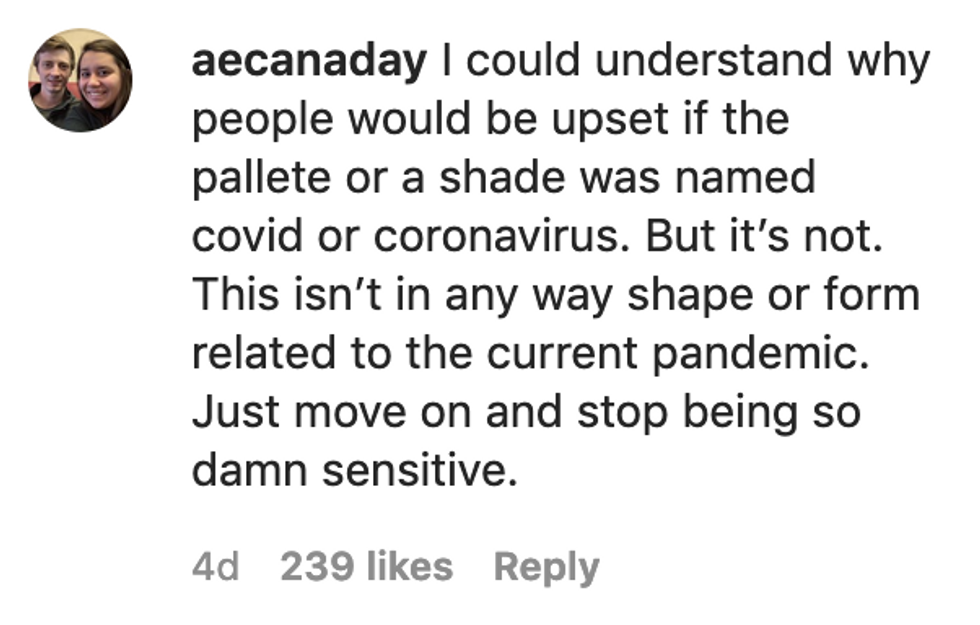 Criticism over the collection spread on to Twitter.
so ur gonna tell me Jeffree star is releasing a palette called 'cremated' during a global pandemic where thousands… https://t.co/MaDqy6dyx4

— chloe (@chloe) 1589643585.0
@ffschIoe Imagine naming a palette something so heavily centered around death at a time when thousands of people are dying each day.

— 🦖Tommy🦕 Marv my darling (@🦖Tommy🦕 Marv my darling) 1589693184.0
Star addressed the controversy in a YouTube video and explained that he didn't mean to be offensive and that his intentions never came from a "bad place."
Responding to the Backlash Over My Cremated Paletteyoutu.be
First off, Star mentioned that the palette's concept was hatched over a year ago and trademarked last September.
"It takes months and months and months—sometimes a year plus—to actually make a product."
Star then delved into the product that became the "talk of the town."
"There were some people saying, 'Jeffree, it's a little weird timing. There's a lot going on in the world.' But, for me, this is art and I never come from a negative place, you guys."
"My own father, who passed away, and my two dogs, who passed away last year, are all cremated and it is a tradition in my family. Now, nothing ever comes from a bad place."
The business owner said that further postponement in the makeup world would have conflicted with other projects and delayed the "Cremated Collection" for a 2021 release.
He said of his executive decision:

"I never want to give my customers a bad experience. I never want to sell expired makeup. So, as a business owner, I was like, 'We gotta get this out.'"
Before launching into the tutorial demonstration, Star ended the topic by saying he doesn't want to "discredit anyone's feelings."

"Everyone is allowed to feel how they want and interpret things how they do, so just know that I only come from a good place."
The death toll from the pandemic continues to rise with the viral pathogen claiming over 93,000 lives in the U.S. and over 328,000 lives globally.
Unfortunately, despite Star's virtuos intentions, the release of his macabre collection hit too close to home for many people suffering from the loss of loved ones.