Ivanka Trump is the First Daughter, both for President Donald Trump and as a title now that her father is President.
She also acts as a White House adviser along with her husband Jared Kushner.
---
Beyond that, people are a little confused about what she does aside from inserting herself into diplomatic situations where she seems unwelcome.
If you missed that story from the G20 Summit, here's the scoop.
And the memes.
Ivanka has been called complicit then claimed she didn't know what the word means.
complicit: (adj) involved with others in an illegal activity or wrongdoing through action or inaction
She's also been called feckless.
feckless: (adj) lacking initiative or strength of character; irresponsible; useless; incompetent; inept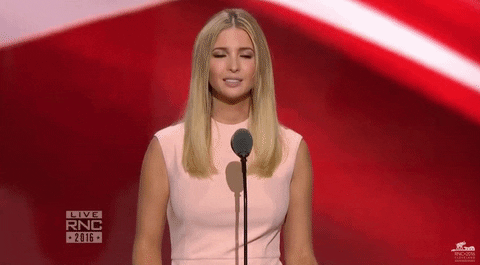 Giphy
But according to Ivanka Trump she "quietly works behind the scenes."

Ivanka Trump is already quietly working on her first major presidential project: https://t.co/3mbp5qPW7L https://t.co/2f4DGwrb6I

— ATTN: (@ATTN:)1481858041.0
With Congress and the White House at loggerheads over just about everything, @IvankaTrump is quietly working to adv… https://t.co/qMqg4I5Ndl

— Cheddar (@Cheddar)1560360986.0
@IvankaTrump has been quietly working with @SenatorFischer and others to make paid family leave a reality. https://t.co/VIMs4u90X8

— Working Mother (@Working Mother)1487379318.0
Currently—according to information given to news agencies—she's quietly working on gun control.

Ivanka Trump is calling lawmakers about the gun debate: White House said Ivanka "has trusted relationships on both… https://t.co/mpTsfbngap

— EssenViews (@EssenViews)1565726416.0
@nypost If @IvankaTrump was "quietly" working on gun reform, who informed the press? 3 guesses. Ivanka. Ivanka. Ivanka. #InsipidGrifter

— Patty Rose ⚘ (@Patty Rose ⚘)1565728105.0
However MSNBC's Stephanie Ruhle called BS on all the quiet work Ivanka has done.
& climate change & child separation policy & women's health & supporting lgbtq right Given the lack of success arou… https://t.co/j1NreTrlrg

— Stephanie Ruhle (@Stephanie Ruhle)1565727346.0
Ruhle was not alone in her assessment of Ivanka Trump's effectiveness.
CNN's chief legal analyst Jeffrey Toobin stated on The Situation Room:
"As far as I could tell, Ivanka Trump has led an accomplishment-free existence at the White House."
"The mythology that followed Ivanka Trump and her husband from New York, that they're really the moderates, they're really not racist, they really believe in gay rights—all of that has proven to be untrue."
Ouch.
@NormOrnstein @SRuhle She's just trying to stay in certain social circles.

— Troy Appel (@Troy Appel)1565728107.0
@coton_luver @pgmckim @SRuhle G*d damned right! And Trump's unsecured cell phone.

— MJA 🆘 (@MJA 🆘)1565804280.0
@anylaurie16 @SRuhle https://t.co/CG8g3Cy39s

— 🏳️‍🌈 Dick Clark (@🏳️‍🌈 Dick Clark)1565729784.0
@SRuhle All part of her stealth work for daddy. So stealth that we never see any results.

— Nick Polus (@Nick Polus)1565727507.0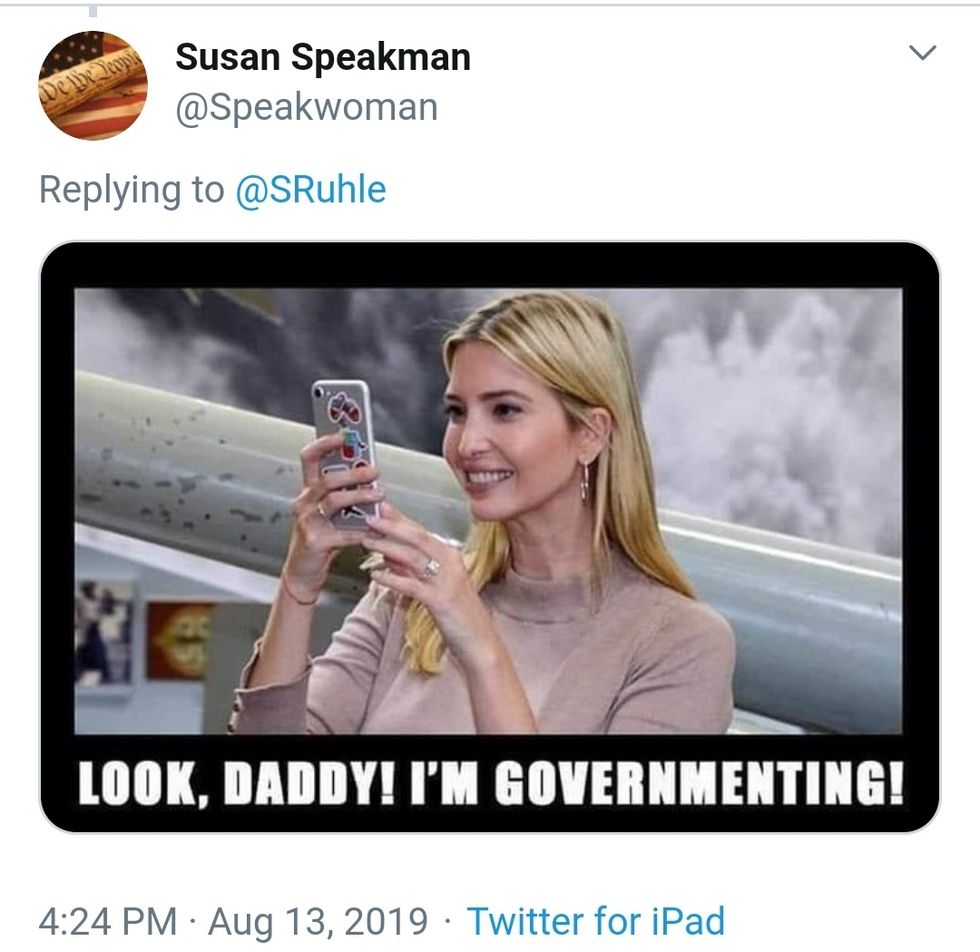 @Speakwoman/Twitter
Maybe it is time to speak up, because no one can seem to hear her quiet work.
Or see her invisible results.

The book Siege: Trump Under Fire is available here.