The thought of downloading and printing a home at a fraction of the cost of constructing a house seems inconceivable.
But, thanks to a startup company in Austin, Texas, whose team is comprised of big dreamers and innovators, ICON is making printing houses from 3D printing technology an affordable reality.
---
In March 2018, ICON worked with non-profit group New Story to unveil their first permitted 3D-model home using a prototype of the mobile printer.
Jason Ballard, one of the three founders of ICON told The Verge that the model home will serve as their office while developers test out living conditions and sustainability. "We are going to install air quality monitors. How does it look, and how does it smell?"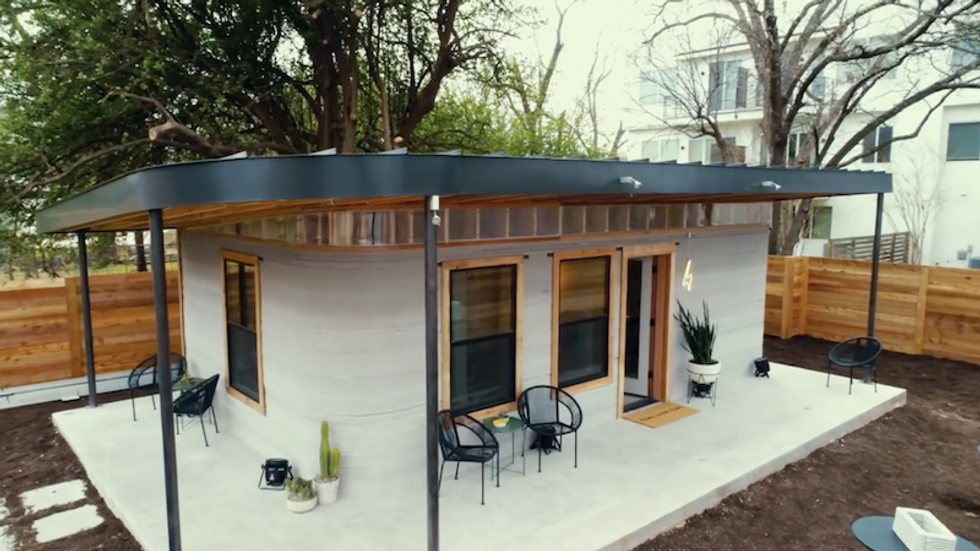 The first 3D printed home.(New Story/YouTube)
If the trial operation of the home goes smoothly, the company will be utilizing a production-scale 3D printer that will be able to construct a 600-800 square foot home within 24 hours. Sounds amazing, right?
The best part of the innovation is that the home with the previously given dimensions and rendering time will cost under $4,000. That's a price tag we can live with.
This company is 3D printing affordable homes in just 24 hours https://t.co/80E4TSrU7R

— NowThis (@NowThis) 1520976780.0
According to their website, ICON makes a commitment to working efficiently and safely.
As a part of this effort, ICON has developed cutting-edge materials tested to the most recognized standards of safety, comfort and resiliency and is designed to function with nearly zero waste production methods and work under unpredictable constraints (limited water, power, and labor infrastructure) to tackle housing shortages.
@nowthisnews This is a good use for such technology.

— T R U E (@T R U E) 1520976961.0
According to New Story, a billion people worldwide live without adequate and safe housing. Most families live to day-to-day on $1 to $3 wages and live in slums with dirty water and poor sanitation.
To pave the way for families living healthy lives with a roof over their heads, ICON and New Story are planning to build a community of 100 homes in El Salvador next year.
@nowthisnews This is amazing!

— Michael Czogalla (@Michael Czogalla) 1520977074.0
"We have been building homes for communities in Haiti, El Salvador, and Bolivia," said co-founder of New Story, Alexandria Lafci.
"It's much cheaper than the typical American home," Ballard said of the model home which consists of a living room, bedroom, bathroom and a curved porch. The Vulcan printer has the capability of printing an 800 square foot home for $10,000, but Ballard is determined to eventually run production costs down to $4,000.
There are a few other companies that have printed homes and structures. But they are printed in a warehouse, or they look like Yoda huts. For this venture to succeed, they have to be the best houses.
@nowthisnews We need them in the US as well...

— 202-224-3121 CALL (@202-224-3121 CALL) 1520977547.0
Eventually, Ballard hopes to bring the Vulcan printer to the U.S. to combat the housing crisis domestically, but concerns over labor union disputes due to requiring fewer construction workers could slow its debut here.
People are all for the innovation and cost. But there are still other concerns.
@nowthisnews Great idea! Now...who is going to provide cheap land to park the house on?

— The Brown Bomber (@The Brown Bomber) 1520984534.0
But overall, acquiring the model home is a goal.
@nowthisnews I'm ready for one of these. Living on $800 a month it would be wonderful to have my own little home.

— Wendy Goicochea (@Wendy Goicochea) 1520991623.0
So what's the next step for the 3D printer?
@nowthisnews Looks cool! 😍 I might need to have that and print myself a boyfriend 😂

— DontMeWagAko (@DontMeWagAko) 1520985094.0
This could be the beginning of something big.
@nowthisnews I love this. I'd like to build the world a home and live in perfect harmony🙏

— karen (@karen) 1520982516.0