Antonio Basco's wife Margie Reckard, 63, was among those who were shot and killed by a White nationalist domestic terrorist at a Walmart in El Paso, Texas, on August 3.
The grieving husband invited members of the public to attend his wife's services at Perches Funeral Home because he had "no other family" in the El Paso area.
---
The responses pouring in prove that there is still an abundance of love on the internet.

On Facebook, the funeral home asked for support for Basco.
"Mr. Antonio Basco was Married for 22yrs to his wife Margie Reckard, He had no other family. He welcomes anyone to attend his Wife's services. On Friday, August 16th, Perches Funeral Home Northeast on 4946 Hondo Pass from 5-9pm."
A number of people expressed their condolences and promised to attend the funeral on August 16th.

Those from the coastal states who were disappointed about being unable to attend sent cards and flowers, and many said they would light a candle at the time of the services in Reckard's memory.

Perches Funeral Home/Facebook

Perches Funeral Home/Facebook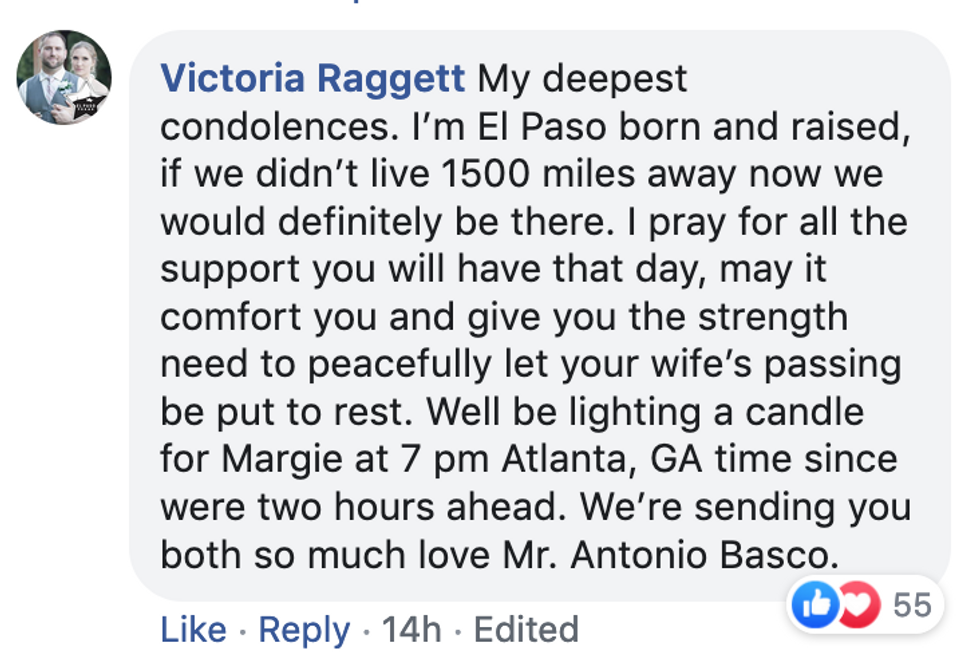 Perches Funeral Home/Facebook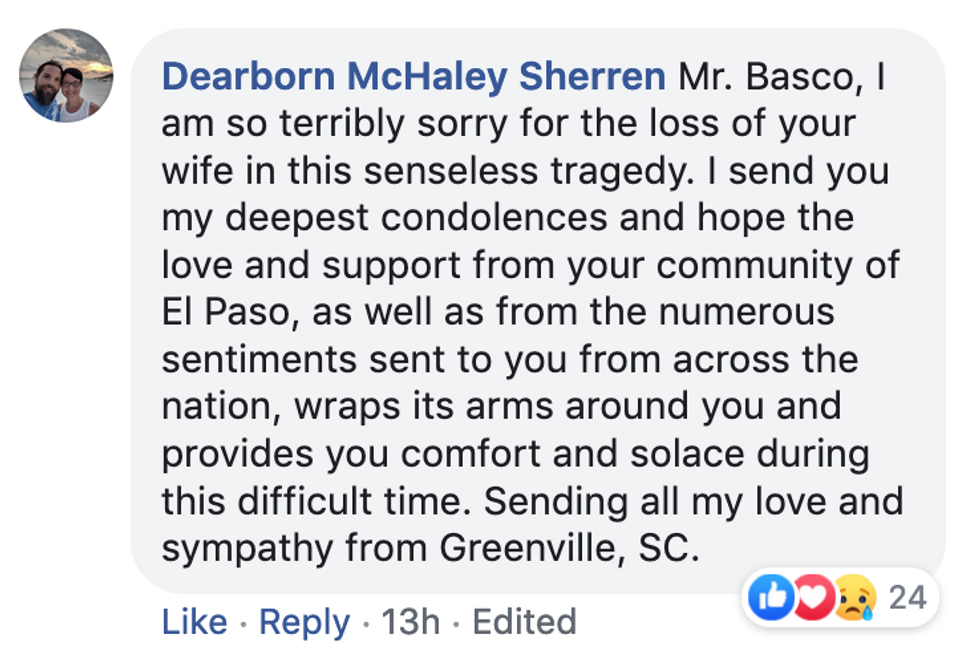 Perches Funeral Home/Facebook

Perches Funeral Home/Facebook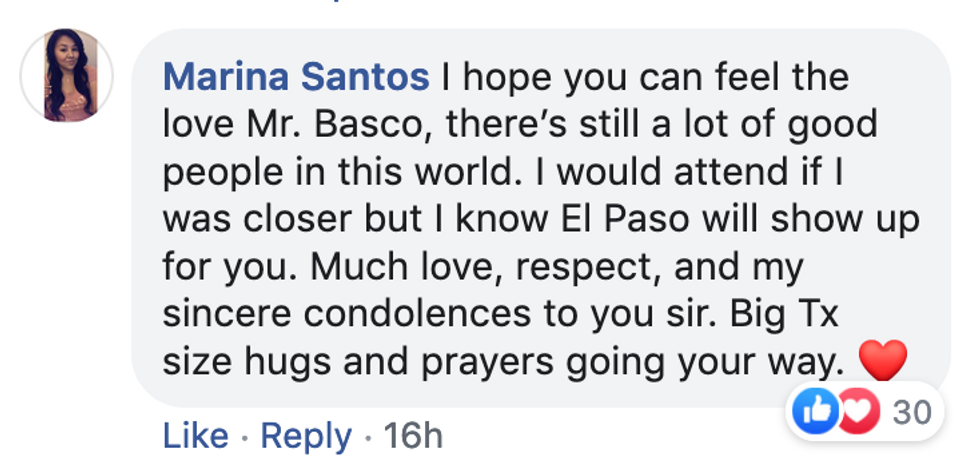 Perches Funeral Home/Facebook

Perches Funeral Home/Facebook

Perches Funeral Home/Facebook
Basco, who was married to Reckard for 22 years, told KFOX14 that he misses her more than ever.

"When I met her she was an angel and she still is. I was supposed to be the strong one but I found out I'm the weak one, and she's going to be missed a lot."
He added that they had a plan to live and die together.

"I just feel it and when we first met, that feeling came to each one of us, to each other, and we've been together ever since. We were gonna live together and die together that was our plan."
Margie Reckard. 63 years-old. "I'm like a puppy run away from its momma," said Antonio Basco, her husband of 22 yea… https://t.co/5rmpzORImz

— Beto O'Rourke (@Beto O'Rourke) 1565126095.0
Reckard's son, Dino, created a Facebookfundraiser on August 6 so that he could afford travel expenses to fly for his mother's funeral.
"I'm not one to ask for help at all but at the moment. I have no choice but to swallow my pride and ask for some."
"We need help with travel, lodging, and other expenses to get to El Paso Texas to lay her to rest. It's hard to believe that she is gone but she will never be forgotten."
The fundraiser has concluded after surpassing its $950 goal.
This is Antonio Basco. His wife of 22 years, Margie, was murdered in El Paso. Mr. Basco says he has no other fami… https://t.co/eDjSeJQPsn

— David Begnaud (@David Begnaud) 1565728966.0
If you would like to make a contribution to Margie Reckard's services, you can send flowers and cards to:
Perches Funeral Home
In Memory of Margie Reckard
4916 Hondo Pass
El Paso, Texas 79924
@BetoORourke Antonio has invited the public to attend services on Friday August 16 from 5-9. He does not have other… https://t.co/UbIxHt0G6Y

— Sarah (@Sarah) 1565744355.0
@DavidBegnaud Just had an epiphany. I can send flowers! Just spoke to Perches Funeral home in El Paso and if you wa… https://t.co/cXdzVYkv45

— Gigi Graciette (@Gigi Graciette) 1565736071.0
El Paso's mass shooting on August 3 is being categorized as domestic terrorism. Victims included 13 Americans, eight Mexicans, and one German, according to NPR.
The oldest murder victim was 90-year-old Luis Alfonzo Juarez, and the youngest was Javier Rodriguez, 15. A 2 month-old was among the many injured.

While the gunman was identified and much was reported on his White nationalist motives, stories about the victims' heroism and loss are starting to emerge.
They are the ones who shouldn't be forgotten.
To donate directly to victims and their families GoFundMe has set up a page with verified campaigns.
More information:https://www.gofundme.com/c/act/el-paso-shooting
Donations are being accepted by the El Paso Community Foundation for the victims of the shooting.
EPCF will waive administrative and credit card fees for all donations.
To donate: https://epcf.org/victims